Best soundbars for watching the World Cup: top speakers for all budgets
Getting one of the best soundbars means you'll hear every kick of the ball at the World Cup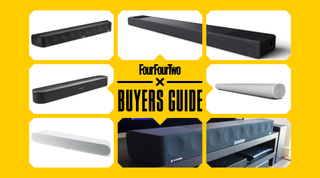 (Image credit: Future)
Ensuring you've got one of the best soundbars for your TV is a surprisingly important factor for football fans. Whether it's the shrill peep of the ref's whistle, the constant chanting of the South American fans, or just the sound of the ball hitting the back of the net, what you hear when watching football is almost as important as what you see. It's why watching a game in the pub with the TV on mute feels so wrong.
With the World Cup 2022 upon us, it's a great time to upgrade the way you experience the beautiful game, by making sure you've got one of the best TVs for watching football, and investing in one of the best soundbars too.
If you're still watching games using your telly's built-in speakers there's a load of audio treats you're missing out on, but that's easily fixable with the addition of a soundbar. And with the help of our team-mates at What Hi-Fi and TechRadar, we've selected a bunch that'll enhance your viewing of this winter's World Cup.
So whether you've got Champions League money to spend or are operating on more of a non-league budget, there's a slimline speaker here that'll please every ear.
Best soundbars for watching football
---
Sennheiser Ambeo Soundbar
Champions League (Less than £2000)
Price: £1799
Incredible sound
Surround perfect for big atmospheres
Absolutely massive
Can be fiddly to get the right spot
If you thought Harry Maguire's head was big, wait until you see Sennheiser's Ambeo Soundbar. With a whopping 13 speakers inside, though, it's no wonder it's about the size of a railway sleeper and weighs 18.5kg.
You'll need a similarly massive telly to plug it into, otherwise it'll just look ridiculous, but what its extreme heft gives you is a more authoritative and dynamic performance than any other soundbar around. Sennheiser has developed its own Ambeo processing that upmixes the audio and uses the 13 drivers to create 'virtual speakers', so it should sound like you're sitting right in the centre circle.
Read the full review on What Hi-Fi
---
Sony HT-A7000
Premier League (Less than £1500)
Price: £1299
Great bass
Lots of features
Easy set-up
Plain looks
Remote could have more options
With its unflashy appearance but consistently impressive performance, the HT-A7000 is a bit like the N'Golo Kante of the soundbar world.
Sony has squeezed five front-facing drivers, two up-firing speakers, a pair of tweeters, and a dual subwoofer into the 1.3m wide chassis, and while it's possible to add extra rear speakers and an external sub (at considerable cost), the 500-watt HT-A7000 sounds muscular and expansive all on its own, with particularly beefy bass. Connect it to a compatible Sony Bravia TV and it can use the telly's built-in speaker as part of its centre channel, but whatever setup you add it to this soundbar is an absolute winner.
Read the full review on What Hi-Fi
---
Sonos Arc
Championship (Less than £1000)
Price: £899
Packed with features
Simple, classic design
Great surround sound
Bass isn't the strongest
Doesn't suit every room
Some adjustment features are Apple only
Sonos has a soundbar for almost any size of TV – and if yours is 55in or bigger you could do a lot worse than hooking an Arc up to it.
Like all Sonos gear, setting up the Arc is a breeze, with everything done via the accompanying smartphone app, so you'll soon be enveloped in its detailed and weighty sound. It has 11 speakers inside, some of which are angled upwards or to the sides, which means the sound bounces off the walls and ceilings to create the impression of size and height. Bass could be a bit more forceful, but it's hard to find anything better without spending considerably more money.
Read the full review on TechRadar
---
Sonos Beam
League One (Less than £500)
Price: £449
Brilliant sound
Great consistency across soundscapes
Lacks ports
Not the best looking
If you don't want to spend more on the soundbar than you did on the telly, or don't have a living room the size of the Bernabeu, the Sonos Beam should fit the bill nicely.
With its curved ends and compact dimensions, the second-generation Beam sounds bigger than it looks. With five front-facing speaker arrays powered by the same number of digital amplifiers, it manages to deliver greater sonic scale and weight than you'd expect, with plenty of rich detail and depth. Like the bigger, more expensive Arc above, the Beam also has Amazon Alexa and Google Assistant onboard, so you can control it without getting off the sofa.
Read the full review on What Hi-Fi
---
Sonos Ray
League Two (Less than £300)
Price: £279
Good for dialogue
Compact size
Narrower sound
Apple-only adjustment features
Sonos's smallest soundbar isn't as accomplished as the others, but the Ray is still an excellent addition to almost any TV.
Designed to work with any set between 24in and 50in, there are only four forward-facing speaker drivers behind the polycarbonate grille, plus a bass reflex system, so it's best suited to smaller rooms that don't take so much to fill. That doesn't mean it sounds weedy though. The Ray has four amplifiers inside that produce a clear, punchy soundtrack with a decent amount of detail, even if it's not the most cinematic. It noticeably improves dialogue, though, so you won't miss a word of those post-match interviews.
Read the full review on TechRadar
---
Sony HT-SF150
Non-league (Less than £100)
Price: £89
Good build quality
Really cheap for a soundbar
Lacks a little detail
Sound doesn't match up to pricier models
Just like £8.9m isn't going to get you Erling Haaland, £89 won't buy you the world's best soundbar either, but it will get you something that sounds better than the speakers built into your TV: the Sony HT-SF150.
Solid, well-built, and just under a metre wide, you can connect it to a TV worth much more and it won't look out of place. And while it lacks the bells and whistles of a more expensive 'bar, its two pairs of speakers and bass reflex port offer plenty of power, adding the kind of weight and scale that'll increase your enjoyment even if your team's losing. Don't expect miracles and you won't be disappointed.
Thank you for reading 5 articles this month* Join now for unlimited access
Enjoy your first month for just £1 / $1 / €1
*Read 5 free articles per month without a subscription
Join now for unlimited access
Try first month for just £1 / $1 / €1