Best surround-sound speakers for the watching football: top packages for all budgets
Best surround-sound speakers for the World Cup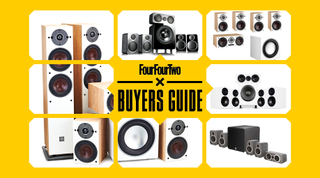 (Image credit: Future)
When it comes to watching football at home, you can't beat a proper surround-sound system.
For most people a soundbar for watching football will be more than enough, but if you want to sit right in the middle of the sound and feel like you're out there on the pitch with Harry Kane, Gareth Bale or Kylian Mbappé (albeit with more snacks), we've had a word with our team-mates at What Hi-Fi (opens in new tab) to help us pick out a speaker package for every budget. If you've sorted out the best TV to watch football on, this is the logical next step.
Unlike a soundbar, you'll need an amplifier to power these 5.1 setups – so called because they're made up of five separate speaker channels and a subwoofer – which means they're only really for those who are serious about their home cinema. But if you've got the right kit to do them justice, these setups will put you right in the centre of the action.
---
Dali Oberon 5 5.1 Speaker Package
Champions League (Under £2000)
Brilliant, seamless sound
Nothing significant
While there's nothing wrong with winning ugly, the world's best teams do it in style – and Dali's Oberon 5 5.1 Speaker Package (£1,699) is an eye-catching collection of speakers that also sounds absolutely phenomenal.
Available in Black Ash, Dark Walnut, Light Oak, White, this is a surround-sound setup that has no weak links: you can mount the rear speakers on stands or the wall, the floorstanders flank a brilliant centre speaker, while a 170-watt subwoofer has the power to rumble the room. Equally adept at delivering power and subtlety, with a brilliant grasp of all aspects of the frequency range. If you're looking for the best, look no further
Read the full review on What Hi-Fi (opens in new tab)
---
Wharfedale Diamond 12.1 HCP
Premier League (Under £1000)
Impressively integrated sound
Nothing significant
Like all of football's greatest sides, a good surround-sound system needs balance. Building a great squad is all about finding players that complement each other, and Wharfedale's Diamond 12.1 HCP (£999) is a highly effective team.
With two powerful floorstanders either side of a compact centre channel, a pair of bookshelf speakers at the back, and a beefy 200-watt subwoofer anchoring the whole team, this is a brilliantly consistent 5.1 system with plenty of dynamism and loads of clarity. While it'd be a stretch to call it compact, as serious surround-sound setups go it's practically sized, too.
Read the full review on What Hi-Fi
---
Q Acoustics 3010i 5.1 Cinema Pack
Championship (Under £750)
Brilliant compact package
Subwoofer could be more punchy
It's rare that a futsal player makes the jump to 11-a-side football, but Q Acoustics' 3010i 5.1 Cinema Pack (£649) is comprised largely of speakers you'd usually find in hi-fi setups.
Alongside a 150-watt subwoofer and a compact centre speaker, you get two pairs of bookshelf speakers to take care of the front and rear channels. They make things sound lively and entertaining, with a good sense of scale and space. While the sub isn't the most punchy, this is a stylish package that can still fill a decent-sized room with ease.
Read the full review on What Hi-Fi
---
Wharfedale DX-2
Very affordable
Struggles at high volumes
Manchester United defender Lisandro Martinez might only be 5'10" tall, but El Carnicero is surprisingly good in the air, so if the former Ajax man was a set of speakers he'd be Wharfedale's DX-2 (£329).
The four satellite speakers you get in this affordable package stand just 19cm tall, with a shorter but wider centre channel and a 70-watt subwoofer that's compact enough to squirrel away in a corner, but the sound they create is anything but small. There's plenty of detail and punch here, and while they're designed for smaller rooms, there's still a decent amount of weight – especially considering how much they cost.
Thank you for reading 5 articles this month* Join now for unlimited access
Enjoy your first month for just £1 / $1 / €1
*Read 5 free articles per month without a subscription
Join now for unlimited access
Try first month for just £1 / $1 / €1