Best TVs for watching football 2023: Top screens for all budgets ahead of the World Cup
These are the best TVs for watching football – because nothing warrants a new telly like a month on the sofa watching football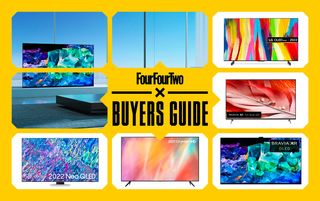 (Image credit: Future)
Finding the best TVs for watching football on is one of the most important things you can do. By the time the winners of the 2022 World Cup lift the trophy on Sunday December 18 there will have been 64 games played in Qatar – and every single one of them will be live on TV, so don't you think it's about time you upgraded your old set?
With the help of our friends at What Hi-Fi (opens in new tab) and TechRadar (opens in new tab), we've found some of the best tellies out there for watching football. That means they deliver incredible picture quality as well as handling motion with as much confidence as Thibaut Courtois coming to claim a corner.
So whether you've got Champions League money to spend or are operating on more of a League Two budget, there's a telly here that'll make even the dreariest end-of-the-group-stage dead rubber impossible to take your eyes off.
---
Best TVs for watching football
Sony A95K
Champions League (Under £2500)
Available sizes: 55in, 65in | Price of model reviewed: £2400
Incredible picture quality
So thin it can be fixed almost flush to a wall
BT Sport and Now apps installed for watching football
More features than you'd need for just watching football on
Not hugely better than most standard OLED TVs
Unless you drive a Bentley and often bump into Jack Grealish when you go on holiday, Sony's A95K is probably out of your price range, but if you want the best there's really no other option.
Available in 55in and 65in models, its Quantum Dot OLED technology joins forces with Sony's Cognitive XR processing to produce the most lifelike World Cup viewing experience this side of Qatar. Contrast is stunning, colours are vibrant, and detail is plentiful, while the Acoustic Surface Audio+ technology, which turns the whole screen into a speaker, means it sounds better than most tellies, too.
Read the full review on What Hi-Fi (opens in new tab)
---
LG C2
Premier League (Under £2000)
Available sizes: 42in, 48in, 55in, 65in, 77in, 83in | Price of model reviewed: £1899
An excellent all-rounder
Natural picture
Best OLEDs are brighter
Slight bass rattle might affect crowd noise
When it comes to performance per pound, LG's 65in C2 is the Pascal Gross of the TV world: a consistently effective option that earns every penny of its price tag.
Powered by LG's excellent webOS interface, this OLED model impresses across the board, with a picture that's bright and punchy without looking unnatural, and Alpha 9 Gen 5 AI-powered picture-processing that promises improved contrast and detail. It also up-mixes stereo audio into virtual surround sound, so the England band should sound as inspiring/annoying as ever (delete as applicable).
Read the full review on What Hi-Fi (opens in new tab)
---
Samsung QN85B
Championship (Under £1500)
Available sizes: 55in, 65in, 75in, 85in | Price of model reviewed: £1199
Amazingly bright
Very slim
Can be reflective
Struggles with black tones – could be issue for pitches with lots of shade
With some group-stage games kicking off at 10am UK time, you might need to close the curtains to block out that winter sun, although that should be less of an issue if you're watching on this 55in QN85B.
It uses Samsung's Neo QLED tech, which shines light through tiny nanocrystals to produce the colours, so the picture can get much brighter without sacrificing contrast. That means well-lit rooms are less of an issue for the QN85B, and with its excellent viewing angles it's also a great choice if you've invited the whole street round to watch a match. It's also fitted with six speakers that fire the sound out at different angles, so everyone should be able to hear the commentary clearly, too.
Read the full review on TechRadar (opens in new tab)
---
Sony Bravia X90J
Available sizes: 50in, 55in, 65in, 75in | Price of model reviewed: £699
Great upscaling
Highly recommended for sport
Limited viewing angles
Bit of screen glare
Despite practically every new TV being capable of showing a 4K picture, the broadcast coverage of the World Cup tops out at standard HD, but the picture-processing skills of Sony's 55in X90J will have every game looking its best.
This mid-range LED TV, which comes in sizes between 50in and 75in, uses much of the same tech as Sony's more expensive screens, so you get a bright and punchy picture that controls contrast and motion as calmly as Zinedine Zidane receiving a Hollywood pass. It's great at upscaling, too, which means it takes a high-def picture and fills in the gaps to make it look like 4K.
Read the full review on TechRadar (opens in new tab)
---
Samsung AU7100
Available sizes: 43in, 50in, 55in, 58in, 65in, 70in, 75in, 85in | Price of model reviewed: £399
Excellent value for money
Simple set-up for provided stand
Speakers aren't great
Mild colour compression
If your budget is more Mansfield Town than Manchester City, the 43in version of Samsung's AU7100 is impossible to beat.
While its picture quality is obviously not as impressive as the more expensive sets on this list it's still an accomplished performer, with clearly defined edges, plenty of detail and a nice subtle approach to colour. Motion is smooth too, although you might need to tweak the 'Judder Reduction' setting to get it looking its best. Like most tellies under £500 the AU7100's audio game leaves a lot to be desired, although it works pretty well with voices, so you should be able to hear the commentary without any issues. That said, you'll still be better off pairing it with a soundbar.
Read the full review on What Hi-Fi (opens in new tab)
Thank you for reading 5 articles this month* Join now for unlimited access
Enjoy your first month for just £1 / $1 / €1
*Read 5 free articles per month without a subscription
Join now for unlimited access
Try first month for just £1 / $1 / €1