11 South American talents ready for the big European move
Jonas Giaever profiles some of the hottest talents on the continent and examines their chances of a move to the Premier League or beyond this summer...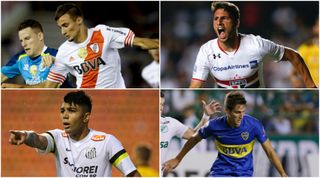 Gabriel Barbosa
Age: 19
Nationality: Brazilian
Club: Santos
Position: Striker
When Neymar left the pitch for the final time as a Santos player in 2013, it was the 16-year old Gabriel Barbosa who replaced him. Simply known as "Gabigol" due to his goalscoring record, he was known in Brazil long before making his debut.
In fact, having been at Santos since the age of eight, Gabriel scored over 600 goals for Santos' youth teams. Though often compared to Neymar, he operates in a more central role for his club side.
Barbosa has quickly become a crowd favourite if used as a striker, or playing in a wider role to make space for Ricardo Oliveira. All the European big guns have been following his every move.
His finishing is nothing short of sublime while his technical ability allows him to create chances for himself. He has become a constant threat, and even though he perhaps doesn't mimic Neymar's swagger and playfulness, he has become a worthy successor to the role as main man up front at Santos.
It could be a big summer for Barbosa, as he's been called up to Brazil's Copa Centenario squad and will most likely feature alongside Neymar in the Rio Olympics.
Gabriel Jesus
Age: 19
Nationality: Brazilian
Club: Palmeiras
Position: Winger/striker
While Gabigol is the one compared to Neymar, many believe it is his namesake at Palmeiras who resembles the Brazilian superstar.
With his ability to run at defenders, cause all sorts of havoc with his technical ability and finish off chances, Gabriel Jesus is a player sought after by the biggest clubs around Europe.
There's a reason that Manchester United are rumoured to have already put in a bid to secure the 19-year old sensation. He impressed at youth level, often scoring more goals than he had games, and at 19 years of age he has 15 goals in 52 matches.
Jesus combines electric pace with immense technical ability and has become known to embarrass defenders on a regular basis. The hope is for him and Gabigol to steer Brazil towards success for years to come.
Marlos Moreno
Age: 19
Nationality: Colombian
Club: Atlético Nacional
Position: Winger
Many hail Moreno as the brightest talent in South America. The 19-year old Colombian has shown his talent by often single-handedly running Atlético Nacional's attack.
His pace and power is a sight to behold, but he also has the technical ability to weave in and out and be a livewire for his team. He also seems to possess enough footballing IQ to understand the importance of involving others in the build-up and therefore seems a more complete player for his young age.
Has been one of the breakout stars of this year's Copa Libertadores and has also been given his national team debut by Colombia national team coach José Pékerman.
Zeca
Age: 21
Nationality: Brazilian
Club: Santos
Position: Left-back
Another throwback to the offensive Brazilian full back, Zeca has proven over the past couple of seasons that he can combine offensive contributions with solid defensive ability.
Though he made his debut in 2014, he fell behind the likes of Caju and Eugenio Mena as the starting left-back. He has since proved his critics wrong and made the position his own at Santos.
Zeca uses his speed to penetrate the opposing defence and tracks down his man with ease. He's added another layer to his game by becoming a reliable passer and is expected to start for the Olympic team this summer, being held in high regard in Brazil.
Thiago Maia
Age: 19
Nationality: Brazilian
Club: Santos
Position: Defensive midfielder
Maia has become the personification of the phrase "leaving everything on the pitch" as he has become known for almost being carried off the pitch at the end of games. Not because of injuries, but because he just can't run anymore.
The young defensive midfielder works and works at the heart of Santos' midfield and breaks down his opponent in order to let creative forces like Lucas Lima run free going forward.
He's a no-nonsense, tough tackling midfielder, but has the ability to open up play with great passing ability as well. Though this is usually not what he is asked for at Santos, he would give any team flexibility and a sense of toughness about it should he sign for a European side this summer.
Jonathan Calleri
Age: 22
Nationality: Argentinian
Club: São Paulo
Position: Striker
It was expected that the Argentinian frontman would leave for Europe once it became clear that Boca Juniors could no longer keep hold of him. A passport issue stopped his European adventure before it even started, but his move to Brazil has been a huge success.
Calleri's transfer to São Paulo has only proven that he's one of South America's premier strikers. A danger in the box, he's as good on the ball as he is playing on the shoulder of his last defender.
The Argentinian has racked up the goals for São Paulo this season and they've come in every variety. With him inside the box his side can rely on presence, power and impressive technical ability.
It seems likely Calleri will need to move to Europe before a national team call-up is likely. Competition for the attacking positions in the Argentina team is tougher than ever, but Calleri certainly seems like one they can rely on for the future.
Romel Quinonez
Age: 23
Nationality: Bolivian
Club: Bolívar
Position: Goalkeeper
During the Copa América in Chile last summer, Quinonez introduced himself to the world by providing a few incredible saves and seemed like a potential match winner at the back for a limited Bolivia side.
He has since become the national team's first choice goalkeeper at the age of 23. Quinonez seems to have the raw, natural ability to become a commanding figure at the back for both club and country.
It's obvious that there still are flaws to the young goalkeeper's game, but the talent he has displayed is something most teams around South America and Europe will become drawn to.
2016 could become a huge year for the young keeper, as he will be playing in both the Copa Libertadores and the Copa Centenario.
Rodrigo Bentancur
Age: 18
Nationality: Uruguayan
Club: Boca Juniors
Position: Central midfield
The Uruguayan midfielder failed to impress during a trial with Uruguayan giants Peñarol aged 13, but was welcomed into the fame academy at Boca Juniors at first glance. He has never looked back since.
Named as a personal favourite of club legend Juan Román Riquelme, it is Bentancur who has been given the reigns to distribute the ball and dictate play ever since the famous number 10 left La Bombonera.
Despite some similarities, Bentancur operates in a deeper role in which he uses his understanding of the game and passing abilities to set up his teammates. He's also great at carrying the ball through the lines, causing trouble for the opponents, and could potentially become the next great Uruguayan playmaker.
Bentancur is yet to make his debut for the national team, but he's caught the eye of Real Madrid, who were reportedly close to signing the 18-year old in January. The playmaker is certainly someone who won't remain in South America for much longer.
Giovani Lo Celso
Age:20
Nationality:Argentinian
Club:Rosario Central
Position:Winger/attacking midfielder
It's almost becoming a habit that the Argentinian town of Rosario produces the most talented of footballing minds. Whether it's Lionel Messi and Angel di María on the pitch or Mauricio Pochettino and Marcelo Bielsa off it.
The next in line is 20-year old Giovani Lo Celso, who's been an absolute revelation this season for local side Rosario Central. Either moving in from the wings or in his natural number 10 position, he's made a habit of using his excellent vision, speed and wand of a left foot to scoop the ball through to his attackers.
Lo Celso has become Central's most important player this season and is now destined for European football. It's perhaps no surprise that it seems likely that PSG will be his next club, especially given that his style of play carries some resemblance to a former Central great – Angel di María.
Emanuel Mammana
Age: 20
Nationality:Argentinian
Club:River Plate
Position:Central defender
This young Argentinian defender shares a historic record alongside current Barcelona man Javier Mascherano. They are the only players in the history of the Argentina national team to debut for the country's senior side before they'd made their first team debut at club level.
That's how much the Argentinians believe in Mammana and why his development is of huge interest. He started off as a midfielder (much like Mascherano) but has made the centre back spot his own.
Classy on the ball, great technique and passing ability is backed up by strong awareness and the ability to be a step ahead of his opponent at all times. Mammana has been linked with Milan and several English clubs as of late – he could be the next great Argentinian defender.
Sergio Díaz
Age: 18
Nationality: Paraguayan
Club: Cerro Porteño
Position: Striker
Born only a few months before his countrymen went to the 1998 World Cup, Sergio Díaz was something of a sensation when he made his debut at the tender age of 15. That was also the age at which he scored his first senior goal for the club and he was promptly included in the Paraguayan Under-20 side that played the South American Championship a year later.
There he scored two goals as the youngest player in the tournament. His balance, movement and finishing now looks way beyond his 18 years and Diaz has drawn comparisons with both Lionel Messi and Sergio Aguero.
He's stagnated a bit since, which was to be expected, but the extreme talent is still on show at a regular basis in the Paraguayan top flight. Diaz was linked with several English sides as well as Roma, and that might be the next logical move should Díaz see his talent blossom.
Thank you for reading 5 articles this month* Join now for unlimited access
Enjoy your first month for just £1 / $1 / €1
*Read 5 free articles per month without a subscription
Join now for unlimited access
Try first month for just £1 / $1 / €1
Get FourFourTwo Newsletter
The best features, fun and footballing quizzes, straight to your inbox every week.