5 big questions around James Rodriguez's shock move from Real Madrid to Bayern Munich
From new galacticos to the Ancelotti impact, Kiyan Sobhani examines five questions posed by James Rodriquez's loan move from Real to Bayern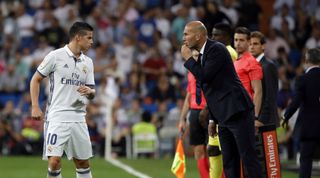 On May 14, towards the end of La Liga's 2016/17 season, James Rodriguez was subbed off the pitch for Carlos Casemiro. In what initially looked like a routine change in the 60th minute, James took his time, applauded each section of the Santiago Bernabeu slowly and walked off like he'd never wear a Real Madrid shirt again.
That was the last image of Rodriguez at the Bernabeu and, apart from a cameo in the tail-end of Real Madrid's league-clinching game in Malaga, was the last image ever of him in a Real Madrid shirt. The Colombian watched the Champions League final from the stands in a suit. It was a troubling evening for a player of his stature, evidently deemed expendable by Zinedine Zidane.
This summer, the inevitable happened: James's departure was confirmed - only not on the expected terms. On Tuesday, Bayern Munich announced that they had reached agreement on a two-year loan (with an option to buy). A strange deal which raises several questions.
1. Why have Real undersold one of their stars?
Real Madrid had made up their mind to jettison James long before the season ended, yet have still loaned (and ultimately will sell) him for a less money than most expected. But the market matters - and demand matters. James Rodriguez was at the back of a queue that included Gareth Bale, Isco, Marco Asensio and Lucas Vazquez.
During the Carlo Ancelotti era, James enjoyed plenty of minutes as a central midfielder - hounding and pressing opponents high up the pitch alongside Luka Modric and Toni Kroos. But those positions became crowded under Rafa Benitez and Zidane. During the limited opportunities he was offered in a deeper role, he struggled to find his comfort zone in defensive schemes. He looked far more comfortable in attacking positions - only he wasn't selected regularly enough in them to maintain his value.
Florentino Perez may have wanted to recoup a combined £140m from the sale of Rodriguez and Alvaro Morata - and to use that to fund a pursuit of Kylian Mbappe - but Real Madrid drove James's value into the ground, rendering him nearly superfluous.
2. Have Madrid strengthened a Champions League rival?
Of course, Real Madrid did pinch Toni Kroos from Bayern in 2014, so nobody can be sure what future dominoes will fall between these two clubs after this James loan deal. Could Real have convinced Manchester United to part with up to and over £60m for the player? It's not inconceivable.
Madrid opted for another route, either due to a lack of offers or to maintain an excellent relationship with Bayern Munich. Although perhaps at the short-term cost of strengthening a side who's major aim is to wrest the Champions League from Madrid next season.
If anyone wins here, it's Bayern. They'll receive a star who's yet to peak in virtually a risk-free scenario. They get to take a crack at reviving a superstar for €10m - €5m each season until 2019. If it doesn't work out, no real harm done. But if it does, the reported option to buy (of €35m) will be easy to cover.
3. Will Carlo Ancelotti bring out the best in James?
Rodriguez played the best football of his career under the Italian in 2014 and would be ecstatic at the prospect of a reunion. It was under him that he tormented defensive lines, playing intricate passes around the edge of the box and schemed his way through deep-lying defences. In fact, it's hard to believe that that was only two seasons ago.
With the acquisition of Colombia's golden boy, Ancelotti now possesses depth to bolster his front line. James can rotate with Arjen Robben and Thomas Muller, but also provide an alternative attacking threat to that posed by Kingsley Coman and Franck Ribery. Bayern fans should really be excited by the range of options they have, particularly in light of Douglas Costa's move to Juventus.
4. Are Real freeing up space for a new galactico?
Unlikely. James had to be shed regardless. The team was cluttered and top-heavy, so no matter how much fans enjoyed having such a talented option on the bench, that needed to be addressed.
The 18-year-old Kylian Mbappe may still be in Perez's thinking - be it this year or next - but this was an independent move which makes all kinds of sense. If Alvaro Morata gets sold this summer (possibly to an increasingly desperate Chelsea), then maybe it's a question to revisit.
5. What does this mean for Bale, Isco, Asensio, Vazquez and Ceballos?
The last three players are the real winners. There's already a plan in place for Gareth Bale within the team, while Isco's progress last season almost certainly gives him a more prominent role. However this creates further space into which Marco Asensio can grow. And Vazquez should benefit too; another player who had to watch the Champions League final from the stands, he has also seen a direct competitor depart.
Reported new signing Dani Ceballos is a more intriguing case. While his ideal position is as a two-way central midfielder, he can also play in a higher role. His versatility will see him slot in anywhere from in front of the midfield anchor, from where he can unnerve defenders with his carving runs and accurate through balls. Without James in the way, Ceballos - assuming he becomes a Real Madrid player in the coming days – wins too.
Recommended...
Thank you for reading 5 articles this month* Join now for unlimited access
Enjoy your first month for just £1 / $1 / €1
*Read 5 free articles per month without a subscription
Join now for unlimited access
Try first month for just £1 / $1 / €1
Get FourFourTwo Newsletter
The best features, fun and footballing quizzes, straight to your inbox every week.