Fantasy football team names: 49 excellent (and awful) ideas for yours this season
You can spend longer thinking up a witty moniker for your boys than it takes to pick them in the first place – but fear not, for help is on hand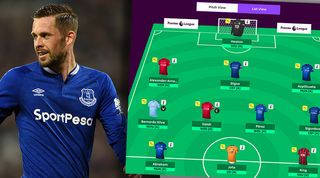 We could have spent hours trying to think up some terrific fantasy team names for ourselves, based on years and unthinkable hours playing the game.
But we had a better idea – asking the hive mind of Twitter. What are @FourFourTwo's followers calling their carefully curated sides of 2019/20? 
SEE ALSO 27 essential Fantasy Premier League tips from old winners and experts
BUDGET BUSTERS Fantasy Premier League bargains: cheap defenders, midfielders and forwards
We've chucked in several of our own, of course, for your pleasure. Starting with…
The 'classics'
These will either a) never get old or b) already feel so old that they're back in fashion again. That's how it works, right? 
Norfolk n' Good
Ctrl + Alt + De Laet
Game Of Throw-Ins
Inter Yermam
Khedira Pin Drop
Murder On Zidane's Floor
ABCDE FC
Fifty Shades Of Andy Gray
Krul and the Gang
Obi One Kenobi Nil
The Cesc Pistols
Cesc and the City
Le Saux Solid Crew
Dzeko and the Bunnymen
Blink 1-Eto'o
Men Behaving Chadli
Gylfi Pleasures
The good…
*raucous applause from Team FFT*
AC a little silhouetto of Milan
Gangsters Allardyce
Sound of the Lloris
Flying Without Ings
Come Digne With Mee
Champagne SuperRovers
Lingardium Leviosa
Enter Shaqiri
Willian Dollar Baby
Michu at De Gea Ba
Who Ate All Depays?
Moves Like Xhaka
3 Men and a Bebe
Dukes of Hazard
Lallanas in Pyjamas
Delph & Safety
The Kouyate Kid
Netflix and Chilwell
The bad…
Dreadful insults to punning everywhere. 
Stay Together For De Ligt
Salt and Vinagre
Livorno Let Die
Werther's Origi-nals
Origi-nal Gangster
A Bridge Eto'o VAR
Egg Fried Reus
Lauren and Vardy
1Bissaka2Bissaka3Bissaka4
LaVideocazette
Balotelli-Tubbies
… and the dirty
The VARginas
Your Mum's Zohore
Leavemyarselona
NOW READ
QUIZ! Can you name the 50 most expensive Brazilian player transfers ever?
LIST 8 managers whose appointments were deeply, deeply unpopular
Quizzes, features and footballing fun
Get the best features, fun and footballing frolics straight to your inbox every week.
Thank you for signing up to Four Four Two. You will receive a verification email shortly.
There was a problem. Please refresh the page and try again.