How Thiago Silva almost died in Russia – but returns for his greatest shot at redemption
Before his rise as one of the world's great defenders, his career – and life – was nearly over. This World Cup takes the Brazilian back to his brush with death, as Michael Yokhin explains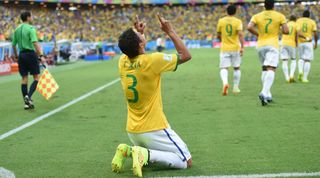 As Thiago Silva arrived in Russia for the World Cup, he won't have been able to ignore the memories of his worst nightmare.
Thirteen years ago, the Brazilian star nearly died of tuberculosis in a Moscow hospital, and was apparently rescued by Russian doctors. He spent nearly six months alone in a room, fearful that he wouldn't be able to play football again. Those days were absolute torture, but now he returns to the country as an ageing superstar eager to get back on track. Could Russia save his international career after saving his life?
You might wonder how Thiago Silva found himself in Moscow in 2005 in the first place. The answer is simple, even though few remember that he was signed by Dinamo Moscow from Porto in January of that year. The then-20-year-old defender was virtually anonymous at the time, and hadn't played a single minute for the Portuguese giants, instead turning out for their reserves in the second division. But agent Jorge Mendes recommended him as a rising star, and the Russian club readily paid €4m.
In fact, the Brazilian youngster was just a tiny part of a huge project. Dinamo's new president Alexei Fedorychev wanted to take the league by storm, Mendes wanted to sell as many players as possible, and thus the Moscovites acquired no fewer than seven players from Portugal in January 2005 – then five more in the summer. Among them were some big names – midfielder Costinha and Brazilian striker Derlei, who were instrumental in winning the Champions League with Porto in 2004, as well as Greek Euro 2004 champion Georgios Seitaridis.
A lesser-known figure was goalkeeper Nuno; these days Wolves's new manager and continuing a very long and fruitful cooperation with Mendes.
The only player to succeed in Russia was Portugal's Danny, who became a legend at Zenit. All of the others failed miserably, and some had serious attitude issues that ruined the ambitions Dinamo project. As for Thiago Silva, Dinamo fans didn't hear his name at all – he never actually played for the club.
Thiago falls ill
That could have been different. Oleg Romantsev, the famous former Spartak and Russia coach who is considered one of the finest specialists in the country, was chosen to coach the Portuguese colony by Fedorychev, and was mightily impressed by the defender during his first training session. "The guy is brilliant," Romantsev remarked afterwards. The doctor was less delighted, because Thiago got tired quickly.
It turned out that all of the players were signed without undergoing medical checks, and the Brazilian looked sick. The symptoms didn't go away: high temperature, coughing, sweating. At first, the medical team assumed it was just a heavy cold. A few days later, they became truly worried and sent him for thorough checks in the clinic. The results were frightening: Thiago was ill with tuberculosis, and had had it for around nine months. "If the disease had been discovered a couple of weeks later, you would have died," the doctor told the Brazilian in hospital.
Death indeed seemed a possibility at one stage. The end of the defender's career was much more likely, though, because the medical staff advised that most of his right lung should be cut out in order to improve chances of survival. Thiago refused, but spending time at the hospital was extremely tough. His mood improved when his parents and girlfriend arrived and practically lived with him in Moscow.
Dinamo paid all the bills, but never counted on the player. The club were just delighted that Thiago hadn't infected any other players in the squad. His contract was nullified when he was out of the hospital, and the defender returned to his homeland. He decided to quit football, only to be persuaded to continue by his mother.
It took time, but Thiago Silva managed to regain his self-confidence and become a key player at Fluminense. Eventually, it turned out that Romantsev was absolutely right about him – Silva was brilliant. After moving to Milan in 2009, he gradually became one of the top players in the world in his position, and was even compared by some to the great Franco Baresi.
The Brazilian was supreme when Milan won the Serie A title in 2011, and fans were heartbroken when the club sold him to Paris Saint-Germain for €42m a year later. But the move turned out to be rather unfortunate for him, too. Granted, titles haven't been a problem in France, but his image is not what it used to be. When thinking of the best centre-backs in the world, Silva's name doesn't come to mind nowadays. His performance during the infamous Barcelona 6-1 comeback in the Champions League last season seemed to confirm that.
International issues
His situation with the national team is not rosy either. Thiago was still a substitute behind Lucio and Juan at South Africa 2010, but the home World Cup in 2014 should have been his tournament, especially as captain. The reality was different. The leader was criticised after refusing to take the penalty in the shootout against Chile in the last 16.
Then he was very needlessly and foolishly booked in the quarter-finals against Colombia, getting suspended for the semi-finals against Germany when the Seleção were thrashed 7-1 in one of the most astonishing results of all time. Thiago might not have been on the pitch that evening, but the disappointment in him was still great; he should never have received that fateful yellow card.
Ever since, the nation has rarely trusted him fully. Dunga, who replaced Luiz Felipe Scolari as coach after the 2014 World Cup, gradually discarded Silva, and he wasn't even part of the squad at the 2016 Copa America. After that, he only took part in five World Cup qualifying fixtures – just two of them in the starting lineup. The current coach Tite, who is hugely popular, prefers Marquinhos and Miranda as his first-choice pair in central defence. Thiago, now a 33-year-old veteran, is only supposed to be on the bench.
And yet, fate tends to find curious ways to close circles. Moscow is a very special city for Thiago, and it's a time to reflect and put things into perspective. He could have died in 2005 but has enjoyed a glamorous career instead, and now he is back in the country where he had his worst ever experience. Could it be also the right country for his finest ever achievement?
World Cup Wonderland: stories, interviews and more
Quizzes, features and footballing fun
Get the best features, fun and footballing frolics straight to your inbox every week.
Thank you for signing up to Four Four Two. You will receive a verification email shortly.
There was a problem. Please refresh the page and try again.