Opinion: Alexis Sanchez isn't world-class – and here's why
By Chas Newkey-Burden published
Chas Newkey-Burden analyses just how good the Gunners' Chilean maestro really is…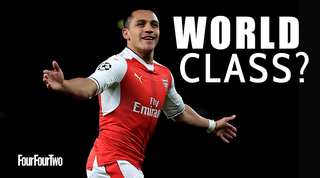 In his playing days Alan Shearer was incisive, bold and accurate. As a pundit he can be dour and vague. Doled up like a resurrected BHS mannequin, he sometimes seems keener on man-spreading and tedious running jokes than the sort of expert analysis of which he is surely capable.
But when he was talking about Alexis Sanchez on last Saturday's Match of the Day, he was bang on the money. Despite playful pressing from host Gary Lineker, Shearer refused to agree that the Chilean forward can yet be described as "world-class".
Alexis is a fine footballer on a cracking run of form. He is currently the top flight's joint top scorer with Diego Costa, even having played fewer minutes than the Chelsea beast.
Top shot
But Sanchez is also a footballer whose qualities attract hyperbole. Take his hat-trick against West Ham, which prompted the latest tsunami of worship. The Gunners' opponents were a demoralised bottom-five team, missing eight players through injury, including three-quarters of their first-choice back four.
The Hammers were in a sorry state from the start, and any droplet of confidence they may have taken onto the pitch evaporated when James Collins hobbled off after seven minutes. By half time their fans were booing them loudly and after the final whistle, Slaven Bilic admitted his team had shown zero "dedication" on the day.

"His technique, intelligence & hard-work knits his side's attacking phases together..."https://t.co/SsrA83OrIO#Arsenal#FFT100pic.twitter.com/M7oawnl5BW
— FourFourTwo ⚽️ (@FourFourTwo) December 1, 2016
What happened at the London Stadium was much more about West Ham's weaknesses than Arsenal's strengths. In truth, the match offered little evidence either way on the question of the Gunners' title credentials, and even less as to whether the Chilean is world-class. Not that you would have known this in its wake, as pundits and fans alike went all giddy, chirping out a string of sycophantic superlatives.
Shearer scores
Top marks to Shearer for keeping his head when all about him were losing theirs. As fans, we overreact to everything: wins make us feel invincible, defeats make us despair, refereeing decisions make us murderous. That is how it should be, but television pundits must be measured and objective. Someone had to wind it in and the Geordie was right to stick to his guns.
Alexis's strengths are plentiful:
he labours breathlessly
ploughs through defensive lines
scores spectacular goals
his unpredictability terrifies opponents
while his leadership-through-example can ignite the adrenaline of both team-mates and supporters
His weaknesses are rarely discussed but easy to spot through clear eyes. During his first two seasons with the Gunners his self-confidence spilt over into self-centredness, the very opposite of the team player usually favoured by Arsene Wenger. He was far more interested in receiving the ball than passing it, which led to team-mates in more promising positions being ignored.
When he did pass it was often done with such inaccuracy that possession was quickly surrendered. With so many teammates committed to supporting him up field, this led to dangerous counter-attacks. Last November, data showed that he lost possession more than any other Premier League player.
Chilean fury
Yet his committed, fiery style, and his tendency to play to the gallery meant that from the start his weaknesses were widely overlooked and his strengths exaggerated. It could be argued Alexis is very much a footballer for the era of Brexit and Trump: if you're easily 'played' as a fan, he will appear the answer to your every problem, the only one out there who truly cares. He'd be an effective political campaigner.
It's selfie time for @Alexis_Sanchez who takes home the match ball! #WHUARSpic.twitter.com/7xPBjQ2Q5L
— BT Sport Football (@btsportfootball) December 3, 2016
None of which is to deny that he is a magnificent player, nor that he has ironed out some of his weaknesses this term. Up front in that new role approximating a false nine, he has weaved his team's attackers into an exciting unit.
Where he previously disrupted, he now threads; where he once made his team-mates look worse than they are, he now brings the best out in his comrades. He has been directly involved in six of Arsenal's past eight Premier League goals, with five strikes, and one assist.
Class distinction
But does all of this make him world-class? It is perhaps the most cherished description for a footballer, but it is also a vague and subjective one, which is why it can lead to circular discussion.
Sir Alex Ferguson said he managed just four world-class players during his 26 years at Old Trafford: Cristiano Ronaldo, Ryan Giggs, Paul Scholes and Eric Cantona. Just those four in 26 years: Fergie's list excluded such luminaries as Peter Schmeichel, Jaap Stam, and David Beckham.
How to differentiate the world-class from the brilliant? We are surely looking for sustained excellence in the Champions League and on the international stage.
Class act
The Top 100
With Chile, Alexis has won two successive Copa Americas and was awarded the Golden Ball as the tournament's best player for the 2016 tournament. Many pundits say he carried the rest of the Chilean team on his shoulders, which probably says as much about them as it does him. He also drew praise for his contribution during the 2014 World Cup finals.
However, he has yet to pull up trees in the Champions League for the Gunners. Against Europe's most elite teams he has generally been average, and when we judge a player's world-class credentials we surely assess how they showed up in those club matches, rather than a mismatch against a despairing West Ham.
Shearer wasn't trolling on Match of the Day. He said "Arsenal are a much better team this year because of Alexis", and added: "If he wins Arsenal the title then he will be [world-class]." This is fair and measured stuff.
Let's keep the Chilean's West Ham treble in perspective: if he was world-class before that match then the hat-trick tells us nothing new, but if he wasn't world-class before the hat-trick it takes him very little distance closer to that stature.
Thank you for reading 5 articles this month* Join now for unlimited access
Enjoy your first month for just £1 / $1 / €1
*Read 5 free articles per month without a subscription
Join now for unlimited access
Try your first month for just £1 / $1 / €1
Quizzes, features and footballing fun
Get the best features, fun and footballing frolics straight to your inbox every week.
Thank you for signing up to Four Four Two. You will receive a verification email shortly.
There was a problem. Please refresh the page and try again.