The 11 best free agents in FIFA 18
Fraser Gilbert highlights some of the key players you can sign for nothing after a season of Career Mode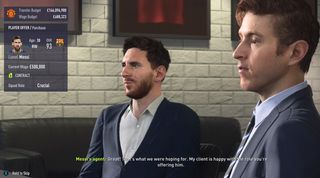 Did you know that some of FIFA 18's best players can be signed for absolutely nothing? It's simple - seek out the players with expiring contracts in Career Mode and add them to your shortlist. Then, six months before they expire, approach to sign them. With any luck, you'll wrestle them away from their current clubs for a grand total of £0.
It's not always that easy, of course. Players will often command vast wages that far exceed your team's financial boundaries. With that in mind, we've picked out a selection of pre-contract frees that should prove both affordable (mostly) and highly-effective in FIFA 18's Career Mode.
1. Bernd Leno (GK)
Potential wage: £80,000
Need to know: The 85-rated German international Bernd Leno will come at a cost, but he's worth the outlay. Demanding around £80k in wages, the Leverkusen shot-stopper offers excellent potential, sporting the ability to reach an 88 overall rating in time. For now, you can benefit from his 85 positioning, 85 diving, 84 handling and 83 reflexes, emerging as one of the top keepers in all of FIFA 18.
2. Ander Capa (RB)
Potential wage: £30,000
Need to know: In real life, SD Eibar's Ander Capa Rodriguez recently signed a four-year deal to join Atletico Bilbao in the summer of 2018. This is has yet to be replicated in EA Sports' new game, so be sure to snap up this talented right-back while you can. Benefiting from 91 stamina, 87 sprint speed and 86 balance, Capa's potential far exceeds his current rating of 78.
3. Faouzi Ghoulam (LB)
Potential wage: £75,000
Need to know: Highly rated Algerian defender Faouzi Ghoulam has made quite the impression at Serie A side Napoli over the past few years. Packing a potential rating of around 82, you can take advantage of his power, pace and defensive skill, as well as a high work rate combined with superb stamina. The defender has been linked with an array of high-profile clubs - make sure you get in there first!
4. Jose Maria Gimenez (CB)
Potential wage: £75,000
Need to know: Despite notching up over 30 caps for Uruguay, Atletico Madrid defender Jose Maria Gimenez remains only 22 years of age. He's blessed with fantastic in-game potential as a result, with the ability to increase his 83 overall rating to around 87 in future seasons. For now, he'll grant you excellent jumping, strength and defensive stats, and will emerge as a true world-beater in years to come.
5. Stefan De Vrij (CB)
Potential wage: £75,000
Need to know: 2014 World Cup bronze medalist De Vrij is equipped with the potential to become one of FIFA 18's very best defenders. You'll find him boasting an 83 overall rating at the start of Career Mode, taking advantage of 87 marking, 86 standing tackle and 82 sliding tackle stats. Prying him away from Lazio will prove tough, but very much worth the effort.
6. Joao Moutinho (CM)
Potential wage: £50,000
Need to know: As you'd expect, Portuguese star Moutinho remains a top acquisition in FIFA 18. The Monaco player finds himself with an overall rating of 82 this year, incorporating 86 composure, 84 stamina and an array of high-quality skill attributes to boot. With over 100 international caps and a European Championship title under his belt, you'd be crazy to overlook him.
7. Konstantinos Fortounis (CAM)
Potential wage: £30,000
Need to know: Greek national star Kostas Fortounis commands a highly affordable wage in Career Mode this year. The Olympiakos midfielder's potential can see his rating leap to 82 and above, while his excellent dribbling and agility skills lend well to a CAM role. You're bound to get value for money with this deal, so it's a no-brainer in our eyes.
8. Leon Goretzka (CM)
Potential wage: £55,000
Need to know: You'll need to wait until February 2018 to sign 22-year-old Goretzka in Career Mode - players under 23 aren't eligible for pre-contract deals. Be sure to wait it out, as the German international boasts incredible potential, rising to an 88 overall rating with the right development. The versatile midfielder can play in defensive, central or attacking-midfield roles in FIFA 18.
9. Carlos Vela (RW)
Potential wage: £50,000
Need to know: Mexican star Carlos Vela remains an excellent signing in FIFA once again this year. His overall rating of 82 doesn't stand to improve any further, but his superb speed, skill and finishing lend perfectly to an array of top-level sides. Despite being categorised as a right-winger by default in FIFA 18, you'll find Vela to be equally as effective in a striker role.
10. Vincent Aboubakar (ST)
Potential wage: £25,000
Need to know: If you're looking for a cheap option in attack, look no further than Cameroon international Vincent Aboubakar. The prolific Porto ace has the ability to expand to a rating of 82, while also benefiting from excellent strength, speed, and five-star skill moves. You shouldn't have to pay much above his current wage of £17,500 to acquire him, although Porto might have something to say about that.
11. Lionel Messi (RW)
Potential wage: £500,000
Need to know: Alright, so Messi doesn't exactly conform to the rules of our list. But how can you neglect arguably the world's greatest player? Having yet to agree terms on a new deal with Barcelona, Messi could be yours in FIFA 18 come the end of the season. The big catch is that you'll likely have to pay at least £500,000 in wages for him to even consider joining your side. Better start saving!
More FIFA 18...
REVEALED! 10 excellent FIFA 18 Ultimate Team bargains for under 2,000 coins
BUDGETS! FIFA 18 career mode transfer budgets for every Premier League team
TEAMS 10 teams we can't wait to use in FIFA 18
FOURFOURTWO FILMS The Cult of FIFA: Inside the world of professional gaming
REVIEW FIFA 18: like Ronaldo, it's fashionable to hate but mostly exceptional
Quizzes, features and footballing fun
Get the best features, fun and footballing frolics straight to your inbox every week.
Thank you for signing up to Four Four Two. You will receive a verification email shortly.
There was a problem. Please refresh the page and try again.