How Paul Pogba hides Jose Mourinho's big flaw
It's no wonder Manchester United struggled without their talismanic Frenchman – their whole system is based around him, writes Thore Haugstad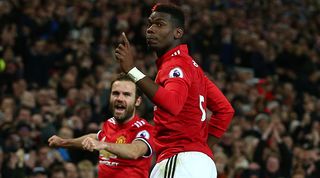 Thank heavens Paul Pogba is back. Jose Mourinho must be sick of getting criticised for defensive football – and now he's finally got the player who will make it all go away.
Pogba is so good he'd be a loss to any coach, but his absence has hurt Mourinho more than it would others. All tacticians have flaws and, in the Manchester United manager's case, these happen to coincide with the French midfielder's strengths.
When Pogba is away, we see more clearly what Mourinho lacks. When he is there, United look close to complete; solid in defence, creative in midfield, fluent in attack.
Why? Because Pogba is the only player capable of compensating for the attacking system that Mourinho is unable to build.
Collective creativity
Most rival managers don't run this risk. Take Pep Guardiola or Antonio Conte, for example – both known for rehearsing attacking play in painstaking detail.
Guardiola champions 'positional play'; a complex system based on the teachings of Johan Cruyff at Barcelona in the late 1980s and early 1990s. Based on overloading certain zones through clever positioning and quick passing, it is so hard to master that Manchester City have needed a whole year to pull it off. Admittedly, it looks worth the wait.
Conte favours a similar but less advanced concept, in which patterns are repeated on the training ground until seared into his players' subconscious. A Conte team at their best can play blindfolded, their moves running on tracks that the Italian has laid out in advance.
What these coaches have in common is a defined method for how to attack. They install systems. If Kevin De Bruyne gets injured, City won't play as well, but nor will their creativity vanish completely. Someone will take his place and, all around him, the mechanisms will be the same as before.
At Manchester United, there is no such equivalent – Mourinho doesn't build teams in the same way.
The scout who won it all
Instead, he specialises in defensive preparation. His strength is to analyse opponents and find ways to stop them, a skill honed while scouting teams for his dad as a teenager in Portugal. When assisting Bobby Robson at Barça, Mourinho took charge of the defence. Few know more about how to make a side hard to beat.
All of his big successes since have come with well-drilled backlines, particularly his Champions League wins with Porto (2004) and Inter Milan (2010). The Chelsea side from his first season in England still hold the record for the fewest goals conceded in a Premier League season (15). Even right now, United have the best defensive record in the league, having shipped only six goals in 12 games.
Yet Mourinho has no such equivalent for when United have the ball, since there is no system in place. Specific tactics can be used, such as running at a tired full-back or exploiting a small centre-back, but there is no greater blueprint that players can follow. This means one thing: if the creativity doesn't come from the system, it has to come from individuals.
The Deco template
This has manifested itself in various ways over Mourinho's career. One is his predilection for physical strikers who can trouble a whole defence on their own: see Benni McCarthy (Porto), Didier Drogba (Chelsea), Diego Milito (Inter), Emmanuel Adebayor (Real Madrid, on loan), Diego Costa (Chelsea), Zlatan Ibrahimovic and Romelu Lukaku (both United).
All these players can (or could) score goals out of nothing: a long ball, a set-piece, a mistake, a piece of magic. Just the mere act of playing it long to a striker would often bypass the need for the kind of elaborative scheme that Guardiola strives to build. Mourinho has usually known that as long as his teams keep a clean sheet – a challenge that suits his skill set well – his striker would most likely get a goal somehow. One-nil; three points.
But few strikers can work entirely without service, and so Mourinho has used a similar trick in midfield. Most of his sides have had one ingenious playmaker running the show. At Porto, the elusive Deco was backed by a horde of ball-winners; Frank Lampard got the role at Chelsea. Both came second for the Ballon d'Or under Mourinho, not only because they starred in successful teams but because they were given so much responsibility.
Similarly, Wesley Sneijder played his best football when Inter won the Treble in 2010; Mesut Ozil has never been better than when he carved open defences under Mourinho at Real Madrid; Cesc Fabregas shone in Mourinho's second Chelsea side, recording 18 assists as they won the title in 2015.
Give it to Pogba
This same role has clearly been reserved for Pogba at United. Mourinho uses a 4-2-3-1 in which the French midfielder can pull the strings and get forward, an arrangement that has helped him get three goals and three assists in five league games this season.
Nobody else in the squad can do what Pogba does. Nemanja Matic is more of an anchorman, Ander Herrera more of a ball-winner, and let's not mention Marouane Fellaini. Just ahead, Henrikh Mkhitaryan and Juan Mata offer invention, but neither have the drive and long-range passing to dictate an entire match on their own.
This puts more responsibility on Pogba's shoulders. On average per game, he's the United player with the most passes (74.6), key passes (2.2), shots (3.8) and dribbles (3.2). Their whole play revolves around him.
No wonder they struggled without him. No wonder they were left goalless at Liverpool, fired blank at Chelsea and got their winner against Tottenham through a hoof towards Lukaku. The entire source of their midfield creativity has been absent.
If United have occasionally played rudimentary football, as if having no clear plan at all, it's probably because there never was one.
That is why Pogba is so crucial, and why United's season hopes are linked to his form and fitness. He is there to provide what Mourinho cannot.
Quizzes, features and footballing fun
Get the best features, fun and footballing frolics straight to your inbox every week.
Thank you for signing up to Four Four Two. You will receive a verification email shortly.
There was a problem. Please refresh the page and try again.