Ranked! The 25 greatest Champions League games... EVER
Last night's Chelsea-Ajax match saw a thrilling comeback, eight goals, two red cards and a disallowed winner – but it doesn't make our list yet. We count down the greatest games since 1992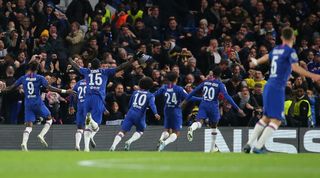 Words:Andrew Murray, Nick Moore, James Maw
25. Dinamo Zagreb 1-7 Lyon
Group stage, 2011/12
Hands up if you can tell us who scored the Champions League's fastest hat-trick. Hands up if you were at a freezing cold Maksimir Stadium that December night to watch Lyon frontman Bafetimbi Gomis put hosts Dinamo Zagreb to the sword 7-1? Er, we suspected not. 
Needing a second-placed Ajax to lose against Real Madrid and a seven-goal swing to reach the knockout stage, Lyon trailed to Mateo Kovacic's rebound before all hell broke loose. Gomis tapped in on half-time, Maxime Gonalons scored in the 47th minute and then the former bagged another two in the 48th and 52nd minutes to secure his hat-trick. Lisandro Lopez, Jimmy Briand and a fourth effort from Gomis completed the massacre. Ajax lost 3-0 and so Lyon progressed.
Dinamo sacked boss Krunoslav Jurcic afterwards, apologising to fans "for the embarrassment". FFT's poor fingers have only just recovered.
24. Leeds 4-1 Stuttgart
First round, second leg, 1992/93
The rebranded competition got off to an inauspicious start when Leeds and Stuttgart had to face a 'replay' of their first-round tie after drawing 4-4 on aggregate.
RECOMMENDED
Confused? Well, so were the Bundesliga champs, who won the first leg at the Neckerstadion 3-0 before being trounced 4-1 back in Yorkshire. That should have put them through on the away goals rule, but in throwing on Yugoslavian defender Jovo Simanic as an 83rd-minute sub, Stuttgart coach Christoph Daum had unwittingly used more than the three foreign players allowed. Leeds were awarded a 3-0 win, levelling the score on aggregate.
UEFA decided the solution was a replay on neutral territory – the Camp Nou – but the German side weren't impressed, claiming that Leeds's Welsh-born Gary Speed was not a 'home-grown' player. UEFA disagreed, and Leeds won a play-off 2-1 thanks to Gordon Strachan and Carl Shutt.
23. Inter Milan 2-5 Schalke
Quarter-final, first leg, 2010/11
Is it a bird? Is it a plane? Nope, it's Manuel Neuer heading clear a through-ball with a Superman dive 27 seconds into a Champions League tie. Unfortunately for the Schalke goalkeeper, Dejan Stankovic was lurking on the edge of the centre circle and fired a first-time volley over the German's head head.
The 89 minutes that followed were no less enthralling, a 33-year-old Raul rolling back the years thanks to awful defending by the holders.
22. Borussia Dortmund 3-1 Juventus
Final, 1996/97
"You go on and score the decisive goal," coach Ottmar Hitzfeld instructed Dortmund midfielder Lars Ricken just before replacing Stephane Chapuisat in the 1997 final. It took the one-club man 16 seconds to follow his manager's orders, his delicious chip – with his first touch – securing a famous 3-1 win.
It had been a game of substitutes: Alessandro Del Piero replaced Sergio Porrini at the break to re-energise the Old Lady after Karl-Heinz Riedle's first-half double. Riedle had his own premonition, waking at 3.30am on the day of the game in a cold sweat. "I just dreamt that I'll score two goals," he panted.
21. Hamburg 4-4 Juventus
Group stage, 2000/01
List all of the essential ingredients for a group-stage classic. An early goal? A keeper scoring? A thrilling comeback? A late and contentious equaliser? Tony Yeboah?
Just five reasons why Hamburg's 4-4 draw against Carlo Ancelotti's Juventus deserves mythical status. Igor Tudor's sixth-minute header – and maniacal celebration in which the Croat ran half the length of the pitch – set the tone for a see-saw encounter, with former Leeds hero Yeboah in the thick of it. When Hamburg keeper Hans-Jorg Butt levelled from the spot for 3-3 with 18 minutes remaining – after a bizarrely stuttering run-up for a man who had scored nine times in the previous campaign – still the game was not done.
Nor when Niko Kovac tapped in from six yards in the 82nd minute. Luckily for Juventus, gravity failed Filippo Inzaghi inside the penalty area with two minutes to go after a shirt pull. The frontman dusted himself down and secured a first 4-4 draw in the Champions League.
Hamburg boss Frank Pagelsdorf said at full-time: "It's not often that you're in a position to overturn a 3-1 scoreline against a club like Juventus. But the players put in a great performance and they won't forget that one in a hurry."
20. Barcelona 0-4 Dynamo Kiev
Group stage, 1997/98
In 1986, a nine-year-old child had to be evacuated from his home in Kiev's suburbs after the Chernobyl nuclear reactor 80 miles north exploded, spewing a radioactive cloud into the atmosphere.
Eleven years later, Andriy Shevchenko was scoring a hat-trick against a Barça side that featured Rivaldo and Luis Figo. "In Kiev, we had beaten Barcelona 3-0 and a friend said, 'Let's see how you do in the return'," Sheva later laughed. "He bet me that I wouldn't score three goals. He ended up buying dinner."
Kiev reached the semi-finals the following season before Shevchenko moved on to Milan.
19. Inter Milan 1-5 Arsenal
Group stage, 2003/04
Arsenal fans could have been forgiven for arriving at San Siro with some trepidation. True, they had won 10 of their opening 13 league matches, but defeats to Inter (3-0) and Dynamo Kiev (2-1) plus a goalless draw with Lokomotiv Moscow left the Gunners bottom of their group with only four points from as many matches.
On the plus side, they did have Thierry Daniel Henry. Twenty-six and at the peak of his powers, the French forward tore apart an Inter defence that contained future World Cup winners Marco Materazzi and Fabio Cannavaro.
Beginning with a first-time sidefoot from the edge of the area, Henry was unstoppable, also setting up Freddie Ljungberg four minutes after the interval to fire the Londoners into a 2-1 lead. Henry's movement and probing proved far too much for a shattered Nerazzurri rearguard, who allowed Henry, Edu and Robert Pires to each find the net in the last five minutes.
"Some players, when they have got the will, are uncontrollable," wrote Italian paper Gazzetta dello Sport the day after Arsenal's emphatic win. "Yesterday, Henry had all the will in the world. He massacred Inter. Nothing controversial, no sorrow, only applause for Mr Attack."
"The only performance I can compare this with was England's 5-1 in Munich," said Ashley Cole at full-time. "But this was even better." So good, in fact, that the Gunners won this game comfortably despite Pascal Cygan's presence at centre-back...
18. Monaco 8-3 Deportivo La Coruna
Group stage, 2003/04
Croatian forward Dado Prso benefited most from a staggeringly open game, netting four times in the competition's highest-scoring match until Dortmund's 8-4 win over Legia Warsaw last season. Deportivo were certainly no mugs, having finished second in La Liga in 2001/02 above Real Madrid and Barcelona, but this was a day they'd wish to forget.
It was only once the score reached 7-3 on 52 minutes that the teams seemingly chose to play a little more cautiously. Monaco went on to make the Gelsenkirchen finale, where their own defensive fallibility cost them against Porto.
17. Manchester City 5-3 Monaco
Last 16, first leg, 2016/17
This see-saw thriller at the Etihad Stadium ushered in the 'arrival' of Leonardo Jardim's dynamic young side, despite defeat. An unexpectedly open match - the first time eight goals had been scored in the opening leg of a Champions League knockout tie – swung to-and-fro, with the Ligue 1 upstarts leading 2-1 and 3-2 before City came on strong with efforts from Sergio Aguero, John Stones and Leroy Sane.
The Sky Blues thought they'd had a lucky escape, until a 3-1 loss in the return leg three weeks later sent Pep Guardiola's men packing.
16. Ajax 5-2 Bayern Munich
Semi-final, second leg, 1994/95
The Amsterdam side were dominant in Europe in the 1970s, but their mid-'90s vintage was almost as iconic. It was an incredible team featuring Edwin van der Sar, Clarence Seedorf, Marc Overmars, Edgar Davids, Patrick Kluivert and the De Boer twins – a collection of starlets easily as exciting as Man United's Class of '92.
They may not have won three straight European Cups like Cruyff & Co. had done 20 years before, but they did manage to secure one. The most devastating performance of that run was their demolition of Bayern at Amsterdam's Olympic Stadium.
After a goalless first leg in Germany, Louis van Gaal's side took an early lead courtesy of a Jari Litmanen header, only to be pegged back by Marcel Witeczek. But with half-time approaching, the Dutch giants took a stranglehold: Finidi George rocketed one in from just outside the box and Ronald de Boer netted for 3-1. A minute into the second half, Nwankwo Kanu threaded through Litmanen, who walloped home number four.
Mehmet Scholl got one back from the spot but the Germans were buried. Overmars scored a fifth in the final two minutes to put the icing on a phenomenal display and ensure Ajax's place in the final, where they would defeat Milan 1-0.
15. Barcelona 1-0 Inter Milan
Semi-final, second leg, 2009/10
"The players left their blood out on the pitch," Jose Mourinho proudly announced after a narrow defeat at the Camp Nou that was enough for his Inter side to scrape into the 2010 final. Their performance was typically Mourinho: dogged, defensive and decisive – a plan borne of necessity due to the early red card for Thiago Motta.
SEE ALSO
A terrific 3-1 first-leg win had put the treble-chasing Italians in control, but with the likes of Lionel Messi, Xavi and Zlatan Ibrahimovic among their ranks, the reigning Spanish and European kings were more than capable of recovering.
Motta's dismissal – for appearing to catch Sergio Busquets in the neck – was farcical thanks to the Barça midfielder's comic overreaction. Busquets hit the deck clutching his face before peeping at the referee through his fingers. Inter were not amused. Even Cameroonian striker Samuel Eto'o mucked in defensively as the Nerazzurri clung on for dear life.
Gerard Pique scored late on, but it wasn't enough. When the full-time whistle finally sounded, Mourinho maniacally sprinted across the pitch, windmilling his arm like an Iberian Mick Channon. His celebrations were only halted when a Camp Nou groundsman turned on the sprinklers.
14. Chelsea 4-4 Liverpool
Quarter-final, second leg, 2008/09
In an era when all-English clashes were 10 a penny, this encounter was surely the pick of the bunch. Chelsea had won 3-1 at Anfield, but appeared in danger after a cheeky Fabio Aurelio free-kick and Xabi Alonso penalty brought the Reds level by the interval.
Second-half strikes by Didier Drogba, Alex (a bullet of a free-kick) and Frank Lampard turned the tide, only for Lucas and Dirk Kuyt to quickly put the visitors back ahead on the night. Lampard's late strike settled Blues nerves and ensured a semi-final showdown with Barcelona (and Tom Henning Ovrebo).
13. Chelsea 4-2 Barcelona
Last 16, second leg, 2004/05
The birth of two rivalries – Chelsea vs Barcelona and Jose Mourinho vs football. After a 2-1 first-leg defeat at the Camp Nou in which Didier Drogba was sent off, Chelsea gaffer Mourinho accused Barça counterpart Frank Rijkaard of entering the referee's room during half-time for a cosy chat with Anders Frisk. The Swede subsequently received death threats and soon quit the game. UEFA referees' committee chairman Volker Roth labelled Mourinho "the enemy of football".
SEE ALSO
Chelsea flew out of the blocks in the return leg with Eidur Gudjohnsen, Frank Lampard and Damien Duff firing Chelsea into a 3-0 advantage after 20 minutes. Ronaldinho halved the aggregate deficit from the spot 10 minutes later, then provided the most incredible moment of the tie.
Andres Iniesta shifted the ball into the Brazilian's path, then burst towards the box expecting a return pass. Ronnie instead poked the ball with the outside of his boot beyond a jungle of players into the bottom corner. Chelsea now trailed on away goals, but a John Terry header sent the Blues through on a night which ended in chaos – a Barç-powered tunnel scrap.
12. Liverpool 3-1 Olympiakos
Group stage, 2004/05
Liverpool's other European miracle of 2004/05. The Reds entered the final group match three points behind the Greeks, needing a win by two clear goals to sneak through on head-to-head having lost 1-0 away.
Rivaldo put Olympiakos 1-0 up, but the unlikely duo of Florent Sinama Pongolle and Neil Mellor made it 2-1. With the minutes ticking down, Jamie Carragher lobbed the ball into the box for Mellor, who nodded it down for Steven Gerrard to wallop home.
11. Barcelona 3-1 Manchester United
Final, 2010/11
It's hard to imagine a team ever playing quite as well as this again. This was surely the pinnacle for Pep Guardiola's Barça, who wiped the floor with United in trademark style.
Pedro's cool finish put the Catalans in front at Wembley, only for Wayne Rooney to sweep home the equaliser. But then Pep's men started to move up several gears. Lionel Messi surged forward to regain the lead, before David Villa bent a glorious third past Edwin van der Sar from distance. A masterclass.
10. Real Madrid 4-1 Atletico Madrid
Final, 2013/14
If ever a contest came to define the destinies of two participants, then it was the 1974 European Cup Final. When Bayern Munich equalised with the last kick of the game - winning a replay two days later 4-0 – they went on to retain the trophy twice and become a European superpower.
Atletico Madrid, on the other hand, became el Pupas; "the jinxed one", doomed forever to be bridesmaids. Diego Simeone's men may have won the La Liga title for the first time since 1996, but the hangover from a 14-year winless streak over los Blancos remained.
Diego Costa lasted only eight minutes – having failed to recover from a hamstring injury picked up in Atletico's title-winning draw against Barcelona the weekend before – but los Colchoneros were the epitome of a Simeone team, Diego Godin opening the scoring (having also netted at the Camp Nou).
Heroic in defence, Atletico kept Real at bay until 92 minutes and 48 seconds when Sergio Ramos repeated history to equalise. Shattered and out of substitutes, Atletico were battered in extra time as Real clinched their 10th European Cup with goals from Gareth Bale, Marcelo and Cristiano Ronaldo. Because if there had been one thing inexplicably missing from this game, it was CR7 with his top off.
9. Werder Bremen 5-3 Anderlecht
Group stage, 1993/94
With his side 3-0 down with 24 minutes to play against the Belgian champions, things weren't looking too rosy for Bremen's manager Otto Rehhagel. But he always believed, mainly because he had Wynton Rufer in his ranks. The New Zealander may not be a household name, but so impressed was Rehhagel with the forward's technique in his first training session that the coach asked him: "Why aren't you playing for Real Madrid?"
Rufer's dinked 66th-minute effort offered hope; a Rune Bratseth header six minutes later, genuine belief. Panic duly infected Anderlecht's rearguard, and the goal avalanche ended with Rufer's second.
The Miracle of the Weser – the river which runs through Bremen – was born.
8. Borussia Dortmund 3-2 Malaga
Quarter-final, second leg, 2012/13
Having breezed through a group that featured Manchester City and Real Madrid, and waltzed past Shakhtar Donetsk in the last 16, Jurgen Klopp's men were faced with Champions League newbies, Malaga. His opposite number Manuel Pellegrini had been well backed by the La Liga club's Qatari owners and could call on experienced campaigners in Jeremy Toulalan, Joaquin and Roque Santa Cruz, but also a wily young schemer called Isco.
The opening leg in Spain had ended goalless, but the second one certainly didn't disappoint. Joaquin fired the Anchovies ahead, then Robert Lewandowski levelled shortly before the break. The second half was end-to-end, and with BVB pushing for the victory, the visitors broke away and Eliseu's 82nd minute tap-in looked to have won it. Thanks to the away goals rule, the hosts needed to score twice in eight minutes.
Well, eight minutes and injury time.
Marco Reus netted in the first of those added minutes before Felipe Santana bundled in a winner, with Malaga furious he was not flagged offside (he was – and so were numerous team-mates too). Klopp, as you'd expect, absolutely lost it.
7. Juventus 2-3 Manchester United
Semi-final, second leg, 1998/99
To describe Roy Keane's display as among his best in a United shirt is like saying that the Sistine Chapel has a pretty ceiling. 
When offside's Filippo Inzaghi put the Old Lady 2-0 up inside 11 minutes (and 3-1 on aggregate), Keano inspired the Red Devils into the Camp Nou final through sheer force of will. The captain scored, got booked and played a key role in Dwight Yorke and Andy Cole's goals to reach a showpiece that he would miss due to suspension.
6. Monaco 3-1 Real Madrid
Quarter-final, second leg, 2003/04
Modern football protocol dictates you don't celebrate goals against former employers, especially if you're on loan and your parent club are paying 65% of your wages.
But not if you are Fernando Morientes. With Monaco 5-2 down on aggregate to a side including Raul, Ronaldo and Zinedine Zidane, and with 45 minutes left, Morientes led an epic comeback. First he set up Ludovic Giuly, before his header – and celebration – gave the hosts genuine hope. When Giuly scored again, Real were finished.
"I'm going to enjoy this," Morientes said at full-time. We're sure he did.
5. Deportivo La Coruna 4-0 Milan
Quarter-final, second leg, 2003/04
No team had ever managed to overturn a three-goal first-leg deficit in the history of the Champions League, as Deportivo tried to overcome a 4-1 mauling by holders Milan at the Riazor.
Manager Javier Irureta, however, had a dream. Literally, becoming convinced of his players' success on the morning of the match. 'El Rifle' Walter Pandiani, Juan Carlos Valeron and Albert Luque gave Depor a 3-0 half-time lead. Fran's winner on 76 minutes left Carlo Ancelotti looking like he'd seen a ghost.
"The game turned out exactly the way I dreamt it," Irureta said at full-time. "It was almost mission impossible, but we gave a sensational first-half display to get the three goals that we needed."
4. Milan 4-0 Barcelona
Final, 1993/94
"You're better than them," Barça coach Johan Cruyff told his team as they took to the field. "You are going to win."
His players, who'd won the trophy two years earlier and four consecutive La Ligas, took him at his word. "We had far too much confidence," right-back Albert Ferrer told FFT. "We thought it would be easy and if we played to 60% or 70%, we would win."
READ THIS
Centre-back Miguel Angel Nadal recalls the squad thinking they were "guaranteed" to win, especially with Europe's deadliest forwards – Hristo Stoichkov and Romario – up front. Fabio Capello had other ideas, though. Able to "relax" because Cruyff didn't select Michael Laudrup (who'd reached UEFA's foreigner limit), the Rossoneri nullified Barcelona's supply line with Marcel Desailly as a midfield destroyer. He also scored the last goal in an emphatic victory. Daniele Massaro netted two but it was playmaker Dejan Savicevic who stole the show.
"Without question, Dejan is the player with whom I had the most rows," admitted Capello back in 2008. "He hardly trained, and whenever he was on the pitch everybody else had to work twice as hard, but he was an exceptional talent."
The Yugoslav's 47th-minute lob was the sort of goal that Barcelona would score. Cruyff's Dream Team were never the same again.
3. Manchester United 2-1 Bayern Munich
Final, 1998/99
Close your eyes and try to remember as much as you can about the first 90 minutes of the showpiece that inspired what'll undoubtedly be Alex Ferguson's epitaph: "Football, bloody hell."
Bayern's early strike might vaguely ring a bell: Ronny Johnsen upended Carsten Jancker for a free-kick, which was swerved into Peter Schmeichel's net by Mario Basler. But beyond that? You've probably forgotten the Red Devils playing quite crisply but creating very little; Bayern hitting the woodwork twice; some weak efforts at goal from both Ryan Giggs and Jesper Blomqvist.
Injury time, however, is now seared into the brain. David Beckham's corner and a mishit Giggs effort turned in by substitute Teddy Sheringham looked to have ensured extra time... but then another corner was headed down by Sheringham and poked home by the impishly ecstatic Ole Gunnar Solskjaer. A memorable knee-slide, a mobbing and a noise recalled by Italian referee Pierluigi Collina as a "lion's roar" would follow.
As Samuel Kuffour sank to the turf and thumped it in despair, United toasted the greatest three minutes of their storied history.
2. Barcelona 6-1 Paris Saint-Germain
Last 16, second leg, 2016/17
"This is a sport for crazy people," said Barça coach Luis Enrique afterwards. "I'd like to cry, but tears do not come out."
Dumbfoundedness seemed like the appropriate response in the wake of the most preposterous game of football in recent memory. Barça were playing only for pride, really, having been flagellated 4-0 in the French capital three weeks earlier, and yet they raced into a 3-0 lead within 50 minutes thanks to Luis Suarez (who was at his devious and divey best), an own goal from Layvin Kurzawa and Lionel Messi's penalty.
The swell of hope around the Camp Nou was brutally punctured, however, when Edinson Cavani's 62nd-minute strike left the Catalans needing three more to go through.
And in the last five minutes, they somehow got 'em. Two Neymar goals and a late Sergi Roberto winner prompted scenes of delirium on an industrial scale. Only Gerard Pique seemed to know how to respond.
"There will be a lot of love made tonight," the central defender laughed at full-time. Shakira, Shakiraaa.
1. Milan 3-3 Liverpool
(2-3 pens) – Final, 2004/05
"You couldn't write the script" is sport's stupidest cliche – it would be relatively simple to write the script – but the Miracle of Istanbul, as it must be legally referred to at all times, remains European football's most implausible and cinematic smash. 
It could not completely be billed as an underdog story: Liverpool were well-drilled and had talent in their XI. But this was a side with Djimi Traore at left-back against a side who had Paolo Maldini at left-back; a gleaming Milanese XI containing Pirlo, Nesta, Gattuso, Seedorf, Cafu and Shevchenko up against Steve Finnan, Harry Kewell and Milan Baros – in a Liverpool squad that had finished 37 points behind Chelsea that year.
QUIZ!
What truly set this showdown apart was the raw shock of the comeback. After Maldini had scored from Milan's opening attack, Hernan Crespo added two more and Kaka ran amok. The humiliation of the Reds and the elation of their detractors during half-time appeared total (just imagine if Twitter had existed). They were toast: the extraordinary rendition of You'll Never Walk Alone at the interval was defiance, not hope.
But then the madness kicked in: Didi Hamann muffled Kaka, Steven Gerrard galloped forward, and in six minutes – thanks to Gerrard, Vladimir Smicer and Xabi Alonso – Liverpool were level. As the shootout neared, the tension ratcheted unbearably, but there were still many snapshots to enjoy: Jerzy Dudek's point-blank save to deny Shevchenko, Gerrard's demonic drive and Jamie Carragher's cramp-ravaged warfare.
Following Dudek's Bruce Grobbelaar-inspired spaghetti-leg nostalgia, and his saving of that final spot-kick at 12.29am local time, the script was complete. The volume of the travelling Kop was insane. Liverpool had their fifth European Cup and a local hero in Gerrard to beatify. The Champions League had its greatest ever game.
This feature originally appeared in the October 2017 issue of FourFourTwo. While you're here, why not take advantage of our brilliant subscribers' offer? Get the game's greatest stories and best journalism direct to your door for only £9.50 every quarter. Cheers!
NOW READ...
COMMENT Can Antoine Griezmann ever thrive in Lionel Messi's Barcelona?
QUIZ How many of the 141 clubs to appear in the Champions League group stage can you name?
GUIDE Premier League live stream best VPN: how to watch every game from anywhere in the world
Quizzes, features and footballing fun
Get the best features, fun and footballing frolics straight to your inbox every week.
Thank you for signing up to TO_UPDATE_FROM_FLEXI_UI. You will receive a verification email shortly.
There was a problem. Please refresh the page and try again.