What the absolute Christ is going on at Nottingham Forest? The sorry sinking of an English institution
By Nick Miller published
Rejected by Cloughie Jr, in takeover turmoil and desperately scrabbling to avoid another drop to the third tier – things are particularly bad at the City Ground right now. Nick Miller tries to chart the decline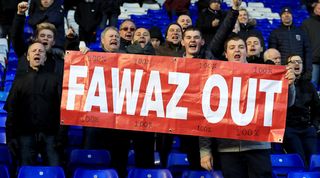 On Monday, Nigel Clough turned down the Nottingham Forest job. In one way it was remarkable that he said no. In another, it was extraordinary he even considered it.
This was Clough's dream job, to the point that he had a clause in his contract at Burton Albion allowing him to move to Forest should the opportunity arise. That the opportunity arose, and he still said no, is a neat summation of what a toxic place the City Ground is at the moment.
If Clough had taken up the 'opportunity', he would have been Forest's seventh permanent manager since current owner Fawaz Al-Hasawi took over in 2012. In that time the club has also endured three transfer embargoes, numerous winding-up orders, spent a fortune on players who are currently fighting relegation from the Championship, sold three products of the youth system for a fraction of their true value, and most damagingly of all, suffered the slow decay that means Clough's decision to stay away was ultimately a no-brainer.
Deforestation
It's difficult to understate what a mess Forest find themselves in. Four-and-a-half years ago, it seemed very different: Al-Hasawi and his family, who made their money in the refrigeration business and had experience in football back home in Kuwait, were initially heroes.
They arrived at at time when there weren't exactly queues along the bank of the Trent to invest in Forest, quickly appointed Sean O'Driscoll – a considered choice that suggested they weren't just headline-seekers – and in the space of a month put together a very competitive squad.
Then on Boxing Day O'Driscoll was sacked, after a 4-2 win against Leeds took Forest to within a point of the play-offs, and it has more or less been downhill since. Alex McLeish succeeded O'Driscoll but barely lasted a month; Billy Davies returned and attempted to settle old scores; Stuart Pearce was a sentimental choice but ushered out before his season was over; Dougie Freedman dourly soldiered on for a year, and Philippe Montanier charmed most he met but couldn't get the team winning.
Yet the problem was, is, and will continue to be the owner. Those who have worked with Al-Hasawi like him personally, but also say that he's erratic, emotional and impulsive, whose state of mind seems to change by the day. Numerous employees have arrived thinking they would be allowed to do the job they were employed for, only to leave when it became clear that wouldn't be the case.
Al-Hasawi's tenure has been a story of micromanagement without the management: bosses have been sacked, chief executives not allowed to properly do their job, and wages and bills been paid late (hence the winding-up orders). There is no plan, no structure, and nothing to suggest anyone knows what they're doing.
And, crucially, the only thing that many fans really care about: Forest have finished in a lower league position in every year of Al-Hasawi's ownership. Promotion has gone from being a realistic aim, to a distant dream, to a laughable prospect.
Bumblings and bombings
In the summer, Al-Hasawi seemed to acknowledge it wasn't working. He decided to look around for others to help, initially Greek businessman Evangelos Marinakis – owner of Olympiakos – who was on the verge of investing heavily in Forest. He was so closely involved that Al-Hasawi recently claimed he appointed Montanier last summer, but thanks to match-fixing allegations in Greece, his involvement was blocked by the Football League. (Perhaps for the best: in 2015 Marinakis was banned from football activity for heading up a criminal organisation that bombed the bakery of a noncompliant referee.)
At one stage Red Bull were said to be interested, but the most concrete suggestion of a takeover came from John Jay Moores, former owner of the San Diego Padres baseball team. It seemed he would do everything that Al-Hasawi hasn't; his plans reportedly included recruiting former Spurs head of recruitment Paul Mitchell as sporting director, hiring Gary Rowett as manager and rebuilding the creaking old Peter Taylor Stand.
The takeover was seemingly all set to go through from the end of November, with just minor details to be ironed out, but in January it was called off. The reasons have not been officially disclosed, but faults on both sides caused the deal to fold, leaving Al-Hasawi back in charge and a fanbase in revolt.
Montanier was sacked, and it seems he was lucky to last that long: Al-Hasawi admitted on Monday that he had been advising the prospective new owners to make a managerial change in October, effectively three months into his tenure. It's not exactly a mystery why managers are not keen to work with him.
Clough isn't the only one to be put off: Rowett reportedly won't consider Forest while Al-Hasawi is in charge, and last week Barnsley manager Paul Heckingbottom responded to links with the club by musing: "What would be the point in going there as it is?"
Gary Brazil, the youth team coach and a well-respected man, has been in temporary charge – but even that's a needless burden on the club, taking Brazil away from the only part of Forest that has been consistently successful in the last few years.
Non-believers
The club finds itself at its lowest point in years, certainly since sinking into League One in 2005.
Clough rejecting the job is merely the emotional symbol of how toxic Forest has become. Since the Moores takeover collapsed, Al-Hasawi has promised that a proper structure – a chief executive, a sporting director, a manager – will be put in place. But why should anyone believe him?
In 2015 the film I Believe In Miracles, about Brian Clough's team that went from the lower reaches of the Second Division to champions of Europe in five years, was released. In some respects it was a joyous moment, a celebration of the most magnificent spell in the club's history. But at the same time it only served to emphasise how far Nottingham Forest have now sunk.
Thank you for reading 5 articles this month* Join now for unlimited access
Enjoy your first month for just £1 / $1 / €1
*Read 5 free articles per month without a subscription
Join now for unlimited access
Try your first month for just £1 / $1 / €1
Quizzes, features and footballing fun
Get the best features, fun and footballing frolics straight to your inbox every week.
Thank you for signing up to Four Four Two. You will receive a verification email shortly.
There was a problem. Please refresh the page and try again.