Cesc Fabregas admits having only two team-mates on his level led to Arsenal exit
Former Arsenal captain Cesc Fabregas has lifted the lid on the circumstances behind his move to 2011 move to Barcelona.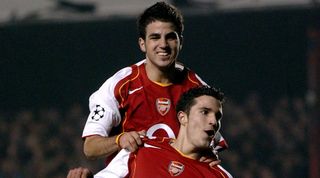 The Spaniard departed the Emirates for the Camp Nou after eight years in north London, before later joining Chelsea.
But the playmaker, who now stars for Monaco, has revealed that a combination of pressure and loneliness, along with a frustration at the poor quality of the Arsenal squad, was the reason behind his decision to seek an exit.
"I was the captain, I always felt so much pressure on myself," he told Arseblog.  
"I had to lead this team to win something. I gave everything. Sometimes, I used to go home after we lost and I used to cry.
"I used to suffer, I used to spend sleepless nights suffering. And then you lose a game, you're in the bus like this, destroyed, and then you hear some players laughing, thinking about where they will be going out later.
"This was going on for a few years. We were playing beautiful football and I enjoyed that side of things but I was putting pressure on myself to lead, to do everything and at one point I felt kind of lonely.
"Especially in the last two or three years, I felt Robin (Van Persie) and Samir (Nasri) were the only players - it's not an arrogant thing to say, it's how I felt at that time - were the players who were at my level mentally and technically.
"Many things came in my head, I have to admit I was a bit empty, I was drained mentally, physically, in my soul knowing I'm giving everything, knowing a few signings the club could have made but didn't happen.
"Seeing some behaviours from certain players or something like this made me feel I wanted to check something else. If it was not because of that, I would not have left Arsenal at that time."
NOW READ....
LOCKDOWN Don't follow their example: 11 times footballers escaped lockdowns
QUIZ! Can you name the Netherlands' 30 most capped players?
CEREMONIES Fireworks and heavy rock: in defence of pre-match pomp
Quizzes, features and footballing fun
Get the best features, fun and footballing frolics straight to your inbox every week.
Thank you for signing up to Four Four Two. You will receive a verification email shortly.
There was a problem. Please refresh the page and try again.