3 reasons why Leicester might benefit from Jamie Vardy's suspension
The Foxes might profit from their top scorer's absence, explains Alex Keble...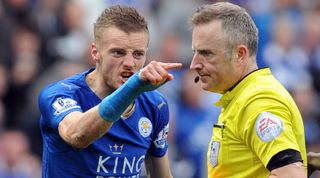 Claudio Ranieri bows his head solemnly, and although a sea of blue at Old Trafford still sing with stoic enthusiasm, the expression on the manager's face says it all. Leicester City's title dream has just collapsed – with Jamie Vardy watching helplessly from the sidelines.
This would be a cruel but fitting end to a season of implausible plot twists, and with Spurs cutting through teams with the razor-sharp efficiency of champions-elect it is difficult not to give in to this line of thinking. Like Steven Gerrard's slip at Stamford Bridge in 2014, like Stan Collymore's winner against Newcastle in 1996, Jamie Vardy's suspension may see it all snatched away just as we began to believe in the impossible.
But such apocalyptic thoughts are premature: there is an alternative theory. Leicester's journey to the summit of English football has been so implausible, so fairytale, as to resemble a tedious and cliché-ridden Hollywood film and - true to the blockbuster template - Vardy's finger-jab is the final hurdle, the final twist of jeopardy before our heroes ultimately triumph.
But it is not just Hollywood reasoning that informs the belief that Leicester will survive the scare and fulfil the well-worn plot of an action movie. Close inspection of their recent form and the tactical strategies of their upcoming opponents suggests that, surprisingly, Ranieri could benefit from fielding a Vardy-less eleven.
Vardy's effectiveness is waning anyway
Vardy's goals against Sunderland and West Ham could not have been more Vardy-like: all three were thumping finishes that resulted from trademark Leicester counter-attacks. But rather than signal a return to his – and Leicester's – best form, these two games were anomalies in a wider trend of the Leicester forward's gradual ineffectiveness.
As opponents wise up to Leicester's use of long balls forward for Vardy to hunt down, Ranieri's side have been forced to hold more possession and work a slower route to goal; Leicester have averaged 50.25% possession in their last eight matches, a 5.06% rise on their average over the first 26 (45.19%).
A succession of grinding 1-0 wins brought this to the media's attention in March, and yet in April Vardy has seen a mini resurgence. This is because teams are increasingly frantic in their search for points towards the end of a season and thus less willing to sit deep.
Assists against Newcastle, Norwich, and Crystal Palace were predictable given that all three sides – fighting against relegation – played a more aggressive game than usual.
Vardy has only scored five goals in 17 games since mid-December, and aside from his strike against struggling Stoke in January all of these have come against teams unwilling to show humility and drop into a deeper defensive line.
Liverpool and Arsenal simply refused to yield, whilst Sunderland and West Ham (both of whom saw little value in a point) were notably more gung-ho than we might have expected. This will not be the case against Swansea.
Option one: Leornardo Ulloa's aerial threat
Francesco Guidolin's side averaged 39.8% possession in recent games against Spurs, Chelsea, and Arsenal; they will be happy to sit back and absorb pressure, limiting Vardy's ability to impact the game. Consequently the first of Ranieri's main two options to replace Vardy with Leonardo Ulloa – who could be the perfect weapon to keep their title hopes alive.
Ulloa wins more aerials duels (14.2 per 90) than any other Premier League player bar Dieumerci Mbokani and Rudy Gestede, and when he plays from the start, Leicester's longer passes take on a different purpose. Against a deeper defence, those sweeping counter-attacks will find a target man who can hold up the ball in front of the back four, rather than search for space in behind.
A series of grinding 1-0 wins would suggest that a slight change of strategy is needed, and indeed Ulloa would give Leicester the added impetus to swing crosses into the box – a valuable asset against teams happy to sit deep and invite pressure onto them.
Marc Albrighton's crosses from open play have rarely produced goals this season because of a lack of height up front, and against Swansea's technically skilled defenders this is perhaps Leicester's best route to goal.
Against Manchester United the loss of Vardy's pace will obviously be felt more severely. However, Ulloa's height could be a valuable weapon against Daley Blind and the fulcrum of their counter-attacks – not to mention as an added threat from set-pieces. Three of the last six United have conceded have been headed goals.
Option two: Mahrez through the middle
The second reason Leicester's creativity has gradually waned is that opponents have learnt to target Riyad Mahrez; by doubling up on him defensively and forcing him into the channels, the Algerian international has become increasingly ineffective.
Ranieri could solve this problem by playing Mahrez down the middle during Vardy's suspension, reinvigorating his playmaker whilst simultaneously exploiting a major vulnerability shared by both Swansea and Manchester United.
When in possession Swansea play in a very wide formation that often leaves huge spaces between the defence and midfield for opponents to counter-attack into; last weekend, Jack Cork and Leroy Fer failed to make a single tackle or interception in the defensive midfield zone as Moussa Sissoko and Andros Townsend dominated for Newcastle.
This was the repeat of a pattern that saw Bojan dribble through the middle and score in Swansea's previous away game. It is easy to envisage Mahrez weaving towards goal in a similar fashion, finding fresh creative energy in a role that allows for greater positional freedom (and thus is more difficult for defenders to track).
Manchester United suffer from a similar weakness in the middle. Louis van Gaal has changed his midfield three with the frequency of a man clearly dissatisfied with his options; Bastian Schweinsteiger has been a huge disappointment and Michael Carrick's age is beginning to catch up with him, leaving Morgan Schneiderlin in charge of protecting the back four.
The Frenchman does not have a good record in games against high quality attacking midfielders. He made just one tackle and one interception in his own half against Spurs earlier this month as Christian Eriksen ran riot, and amassed a single tackle in the 1-0 defeat to a Sadio Mane inspired Southampton in January.
Mahrez needs to step up, and a new role against vulnerable opposition could be exactly what he needs to re-find form.
It is important to remember that there is much more to Leicester City than Jamie Vardy. After all, this is a team that has won five and drawn two of the last seven games in which Vardy failed to score or assist a goal, and who rescued a point against West Ham last weekend through two substitutes – Jeffrey Schlupp earned the penalty and Ulloa scored it.
Ranieri has two viable options and either should provide them with enough firepower to overcome this final hiccup. And when Vardy returns triumphantly to carry them over the line, we will recognise that the scripting of Leicester's season – right down to the final moment of jeopardy that made their eventual triumph all the sweeter – was perfect.
Quizzes, features and footballing fun
Get the best features, fun and footballing frolics straight to your inbox every week.
Thank you for signing up to Four Four Two. You will receive a verification email shortly.
There was a problem. Please refresh the page and try again.