Caixinha believes Rangers board can't fire him if he keeps eyes closed
The Rangers manager insists his job is totally safe as long as his eyes are scrunched shut, Back of the Net reports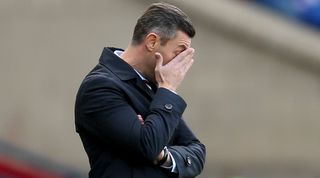 Insiders at Rangers have revealed that Pedro Caixinha is labouring under the dual misconceptions that he cannot be sacked by the Rangers board if they aren't able to see him, and that closing his eyes makes that so.
It is widely believed that Caixinha has been relieved of his duties after his Rangers side conceded a late equaliser to Kilmarnock on Wednesday evening, but Caixinha is said to be completely relaxed about his situation.
However, it has emerged that the Portuguese manager's calm demeanour is down to his unwavering insistence that by keeping his eyes closed he is invisible to others, and therefore immune to the sack.
Trick up his sleeve
"I expected Pedro to be a lot more worried, but when I heard his 'master plan' I have to admit I was underwhelmed," a source close to Caixinha told FourFourTwo.
"He told me repeatedly that he's 'got a trick up his sleeve', but when I asked to see it all I saw was a 46-year-old Portuguese man standing in a hallway with his eyes closed and a wide grin on his face, occasionally snorting with poorly concealed laughter.
"When I started to explain that I could see him, Pedro just hummed loudly and put his fingers in his ears. Maybe this kind of thing would play at Motherwell but surely not for a club of Rangers' size.
"I asked him how he'd propose to conduct his training sessions with his eyes clenched shut, but he pointed out that it really wouldn't make an enormous amount of difference."
Caixinha hasn't enjoyed a fruitful spell at Ibrox and quickly lost many of the fans when Rangers were eliminated from the Europa League by Progres Niederkorn - a team with no record of having played football before or since their victory over Rangers.
"We'll axe that wily bastard as soon as we see him," Rangers chairman Dave King admitted to FourFourTwo.
"But that's proving a little harder than expected. A few minutes ago he was over where that Pedro Caixinha-shaped amorphous blob is now, but I lost sight of him.
"If we can't see him, we can't sack him – everyone knows that. Plus there are rumours that he may be holding my nose to ransom."
Please note: This is a satirical story. Like, obviously.
Quizzes, features and footballing fun
Get the best features, fun and footballing frolics straight to your inbox every week.
Thank you for signing up to Four Four Two. You will receive a verification email shortly.
There was a problem. Please refresh the page and try again.