Infantino a safe pair of hands for wobbly FIFA
FIFA's nightmare may not be over yet, but it may be leaving the darkness behind, James Corbett writes from Zurich...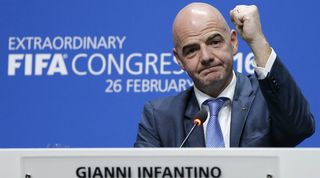 After nine months of arrests, FBI probes and allegations of massive corruption in a scandal of mind-boggling proportions, FIFA has heralded a new era by electing a successor to Sepp Blatter.
Yet football's world governing body has not had to go far to find a successor.
Indeed, if you follow the path of the Rhône from Blatter's home village of Visp, in the Swiss canton of Valais, the next village along is Brig the home town of Gianni Infantino, the new leader of world football. The journey is 9km, a walk of less than two hours, and yet Infantino's unlikely win sees this tiny part of the Valais' hold on the FIFA presidency extend into its third decade.
Infantino defeated Jordan's Prince Ali Bin Hussein, Frenchman Jerome Champagne and Bahrain's Sheikh Salman after two rounds of voting. A fifth candidate, South Africa's Tokyo Sexwale, withdrew his name from the ballot before the election took place.
"It was a sporting competition and a great sign of democracy," said Infantino, a 45-year-old lawyer. "The time has come to return to football. FIFA has been through crisis but these times are over."
Avoiding further outrage
FIFA claimed to enter a new era of openness and transparency by passing wide-ranging governance reforms when its congress met in Zurich. In rejecting the favourite, Sheikh Salman, it avoided further outrage.
RELATED READING
Salman is implicated in human rights violations in his native Bahrain and during the election race was tainted by further allegations of improprieties relating to previous football elections. The Bahraini forcefully denies all such accusations, denouncing them as "nasty lies." Victory by him threatened FIFA with another PR disaster, but it appears the organisation dodged that bullet.
Infantino forged his reputation as a charismatic and multi-lingual general secretary of UEFA, keen to the commercial and political possibilities of expanding his organisation's showcase competition. Blatter had performed a similar role at FIFA in the 1980s and 1990s when the World Cup expanded from 16 to 24 and then 32 teams, while FIFA became rich from the global TV revolution.
RECOMMENDEDHow '94 World Cup changed U.S. soccer
While the Swiss-Italian is a proven administrator, affable, and ran a convincing and energetic campaign, the reality is that he probably would never have gotten a shot at the biggest job in global football were it not for the fact that his mentor and ally, Michel Platini, is banned for six years over an irregular payment.
FIFA's victim complex
Infantino's victory rounded off a momentous day in FIFA's history. Speaking before the election, acting president Issa Hayatou had called on Congress to "establish a more transparent, robust and responsible FIFA that people everywhere can respect again" ahead of a vote on governance reforms considered essential to FIFA's survival.
FIFA is currently afforded 'victim status' under Swiss law and is considered to have been overtaken by criminals and pillaged by decades of bribery and kickback schemes. But had it shown itself incapable of reform, this status risked being changed to 'criminal conspirator' status which would have left the organisation facing dissolution by the Swiss authorities.
The election of Salman would have offered FIFA an almighty headache. Recent headlines by The Sun ("The Sepptic Sheikh") and German newspaper Bild ("The Sheikh of Torture") offered a window into how the western world considers him. Part of FIFA's problem under Blatter was that its identity was so bound up with that of its president, whom many outside the organisation considered football's ultimate villain. What FIFA didn't need at a time when it seeks to renew is more demagoguery. Infantino, a more consensual figure, at least offers something different.
But what does this all mean for FIFA and world football? How will it affect ordinary fans?
In the latter respect, probably very little. For most fans, football's governing body has always shown itself in an untransparent and aloof way. That's unlikely to change but it's not necessarily down to Infantino: The governance reforms that will restructure FIFA mean it should avoid some of the scandal and accusations of cronyism that have tainted it in the past have already been passed. But while wide-ranging, they completely miss out mention of that core group of stakeholders upon whom football's success ultimately depends: the fans.
In terms of the vision Infantino offers for football, he is on the one hand a safe pair of hands, which is probably what FIFA needs with controversial World Cups looming in Russia and Qatar and the specter of more scandal from ongoing Swiss and U.S. investigations.
Even with a $550 million budget deficit announced at congress, Infantino has offered to quadruple the money FIFA gives to football associations. He has repeatedly claimed to be a 'numbers man' and has criticized with some justification FIFA's culture of waste. Why, for example, does it only give away 18 percent of its revenue to federations – who are in effect its shareholders – when it should be distributing closer to 50 percent? Where does the rest of the money go?
He has also promised to expand the World Cup to 40 teams and advocated sharing it out between several nations. This is likely to apply from the 2026 competition onward. It is unlikely that either of the controversial tournaments in Qatar and Russia will be cast into doubt by the new president.
But Infantino has more immediate concerns on the table. Sources say that the joint U.S.-Swiss investigation is likely to get worse before it gets better. Only time will tell just how much corruption he will unravel when he start at FIFA House next week. But there won't be the sort of renewed focus on its activities threatened by the event of an election win by the derided Salman. FIFA's nightmare may not be over yet, but it may be leaving the darkness behind.
Quizzes, features and footballing fun
Get the best features, fun and footballing frolics straight to your inbox every week.
Thank you for signing up to Four Four Two. You will receive a verification email shortly.
There was a problem. Please refresh the page and try again.