The best European Championship video games ever made
Ben Wilson recalls five summer spin-offs that helped us survive any end-of-season woes…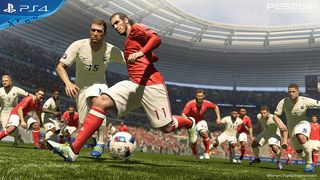 "Official tournament tie-in' is a dirty phrase among most gamers, with the Euros and World Cups serving up their fair share of pathetically stuffed turkeys over the last 30 years. But a small, special handful of games do emerge from the 'burn after first play' pile – and it's these we celebrate below.
From all that time, just three official licensed titles make our list of the best Euros games ever; but the two unauthorised ones more than make up for it. Or at least did in their day. These are the fab five that succeeded at being the virtual equivalent of France 2000, rather than Faroe Islands Forever.
5. UEFA Euro '96 England (PC/Sega Saturn, 1996)
There was a time when the 'big two' football games were actually a big three: FIFA, ISS (Pro Evo), and Actua Soccer, the latter developed by Sheffielders Gremlin Interactive.
Actua 1, in fact, was the first 3D football game on home console, and this spin-off ushered in a new era for official tie-ins, with menus and teams all approximating the real thing, believable(ish) Barry Davies commentary, and slick end-to-end action.
4. European Championship 1992 (Amiga/Atari/PC, 1992)
Tecmo arcade machine World Cup '90 acted like a hoover for 20p pieces on family holidays across the land, and this follow-up enabled you to play it without leaving the house (or burning any more pocket money).
It was unlicensed but squeezed in 25 teams, including plucky Luxembourg, and felt ground-breaking at the time for its side-scrolling gameplay. They were more innocent times, okay?
3. UEFA Euro 2012 (PS3/Xbox 360, 2012)
A fully-licensed spin-off to the excellent FIFA 12. For 16 quid you got not only all the stadiums from Poland and Ukraine and teams who qualified for the tournament, but every other UEFA-registered side, too: 53 in total.
The downside was that some non-qualifier squads had fictional player names, so a certain Welsh wing wizard became G. Belth. But the football itself was pacy and goal-packed, and represented a high point for EA on PS3 and 360.
2. UEFA Euro 2016 (PS4/Xbox One, 2016)
In theory the best game on this list, given that is was released as a free downloadable expansion pack for anyone who already owned the superb PES 2016. But missing kits and stadia aren't something we can look past.
Bizarrely, while Konami snapped up the Euros license, it only included strips for 15 of the 24 teams, and a single stadium from the tournament (Stade de France). C'est dommage.
SUGGESTED Pro Evo predicts: Wales to triumph at Euro 2016, as evidenced in our game review
RECOMMENDED
1. Sensible Soccer: European Championship Edition (Amiga/PC, 1995)
Not an officially licensed game, but every team who would compete at Euro '96 featured, and you could play out your own version of the tournament in super-speedy, top-down, just-one-more-match-oh-man-it's-3am form.
What's more, it plays just as well today as it did two decades ago, unlike most other games on this list. Even better than the Venables team which went oh-so-close that summer.
More features every day on FFT.com • More gaming
Goals: they're beautiful aren't they? This article is part of FourFourTwo's partnership with BetVictor and their Million Pound Goal campaign. Find out how to enter and more here.
Quizzes, features and footballing fun
Get the best features, fun and footballing frolics straight to your inbox every week.
Thank you for signing up to Four Four Two. You will receive a verification email shortly.
There was a problem. Please refresh the page and try again.