Crystal Palace complain about old man smell in Manchester City dressing room
Crystal Palace officials have moaned that their stadium still smells of boiled cabbage and cough sweets following the visit of Manchester City, reports Back of the Net...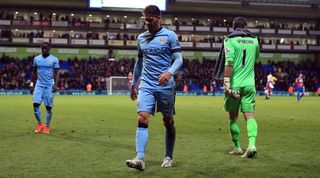 City's geriatric millionaires wheezed their way to a 2-1 defeat against Alan Pardew's side on Monday, while complaining that the stadium was too cold and that all the young people were making too much noise.
City boss Manuel Pellegrini said: "That's what they're like these days, the young people, always making such a racket.
"We just wanted to have a quiet evening stroll and maybe a little nap in the second half while watching Bergerac, but they didn't show us any respect whatsoever."
Crystal Palace chairman Steve Parrish believes it may take days to air out the away changing room. He said: "There's this stale, medicinal odour all over the place. Usually an open window and a puff of Febreze will do the trick, but not this time.
"You can tell where Bacary Sagna has been because it smells like pickled eggs. Martin Demichelis may have had a little accident, and I don't mean when he lost Glenn Murray for the opener.
"They looked so confused and frightened, you almost felt sorry for them. Until you got a whiff of where Frank Lampard had been sitting and realised there's only so much disinfectant in the world."
Parrish added that they had only just got rid of the smell from when Southampton visited, when everything stank of hormones and Lynx for weeks afterwards.
Quizzes, features and footballing fun
Get the best features, fun and footballing frolics straight to your inbox every week.
Thank you for signing up to Four Four Two. You will receive a verification email shortly.
There was a problem. Please refresh the page and try again.