Meet the new Thierry Henry starring for Manchester City's youth teams
Andrew Gibney profiles the Manchester City youngster dubbed the 'new Thierry Henry'...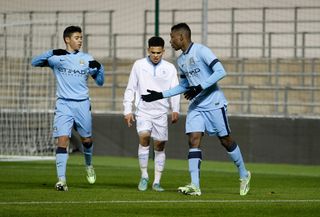 It's Sunday January 18 and Thierry Henry, one of the Premier League's greatest forwards, is at the Etihad Stadium for his broadcast debut with Sky Sports. 
FACT FILE
Date of birth: March 28, 1997
Place of birth: Sens, France
Height: 5ft 8in
Position: Forward
Current club: Manchester City
Former club: Auxerre (youth)
International: France U18
Fewer than 300 yards away – across the bridge erected as part of the state-of-the-art Etihad Campus – Manchester City's Elite Development Squad had opened their new 5,000 seater Academy Stadium with a stunning 5-1 win over German club Schalke.
Only 3,500 City fans were in attendance, but they were able to watch the emergence of their very own French international who grabbed himself a goal and an assist.
At just 17-years-old, Thierry Ambrose faces a long road to emulate his namesake, but the young forward has already caught the public's imagination. If he continues at his current rate it won't be long until he's playing on the other side of that bridge.
The days when English clubs looked to bring through young local talent have largely gone. Now it's about scouting the best and brightest players from all over the world, hoping to unearth the next superstar. Lionel Messi was just 13 when he moved to Barcelona, so it's no surprise to see City bringing through French, Spanish, Norwegian and Irish players alongside their British team-mates.
The new Thierry
Ambrose joined City from Auxerre in summer 2013, and at just 15-years-old was playing for the Burgundy club's under-19 side when he grabbed the attention of the English club.
It didn't take Ambrose long to settle in his new surroundings: in his first season with City's U18s he netted 23 goals. He was the club's top youth goalscorer and voted the best player in the academy.
Having been promoted to the U21 side for this season, Ambrose has moved out wide, playing on the right with either Jose Ángel Pozo or Jordy Hiwula in the centre of coach Patrick Vieira's 4-3-3.
At the start of 2015, City played their last game at Ewen Fields against Chelsea in the U21 Premier League. The young Frenchman was a constant threat, scoring the second in City's 3-2 victory.
Two earlier attempts had been thwarted, but when he latched onto a lovely over-the-top pass by Pozo, Ambrose raced away before making his third chance count, unleashing an unstoppable shot past Mitchell Beeney.
Ten days later, in the inaugural game at the Academy Stadium, Schalke didn't get the same reprieve. After just 10 minutes, countryman Olivier Ntcham swung a delightful left-footed cross to the back post and Ambrose did the rest, showing his aerial ability to rise majestically and power his header past the German club's goalkeeper.
Speaking with Foot Mercato at the start of the season, Ambrose discussed his development as a versatile forward. "I have been playing as a striker for two years and for France I play either as a right or left-sided midfielder," said the 17-year-old. "I would say that my strengths are my positioning, my finishing, my reading of the game and my heading."
Against Schalke, Ambrose was central to everything that City did well in attack. The second came after he dribbled past his man, got his head up and picked out Pozo with a perfect slide-rule pass.
The Spaniard squared for Ntcham to apply the easy finish. The third was all about Ambrose's pace; getting in behind the left-back, his right-footed cross made it all the way to Brandon Barker and the Manchester born winger made it 3-0 after just 22 minutes.
It's not just his pace that scares full-backs, however, but his upper-body strength too. It makes him hard to stop once he is in front you, and difficult to contain him when he has his back to goal.
This season, Ambrose hasn't let the step up from the U18s phase him. In nine league appearances he's scored four goals and crafted one assist, while in the UEFA Youth Cup he has three goals and three assists in just six games.
So much of his success has come from his eagerness to improve his language skills – indeed, he insisted on doing one video interview with Manchester City's official channel in English despite a French translator being on hand. "My former coach Jason Wilcox, his staff, and most of my team-mates spoke English," he admitted. "It pushed me to learn the language to adapt and interact with them."
City's U21 coach Vieira spoke to FourFourTwo after the Schalke game and was clear that being able to converse in Ambrose's native tongue had little to do with the 17-year-old's progression this season.
"No, not at all; French, German, English [it doesn't matter]," said the former Arsenal man. "What is important is for us to help these boys develop themselves and improve, that is what it's all about. How can we help them play for our first team?"
The move from Ewen Fields to the Academy Stadium is part of City's strategy to help develop their young talent further. As was the case with the Schalke game, the majority of the U21 fixtures will be played before first-team fixtures at the Etihad Stadium, in the hope that a few thousand fans will turn up early.
"It's going to be fantastic for the boys," said Vieira. "Moving to the new stadium and playing on the same day as the first team will mean having more fans coming to watch them play. More fans watching them play will give them a better experience.
"The Schalke game was really good because there was pressure, and this is the kind of situation we want to put them in. They can learn a lot about themselves, but they can learn as well how the first team are. It's a big difference but this is a massive step for us."
Nurturing the new boys
Unsurprisingly, Ambrose was voted man of the match against Schalke, but World Cup-winner Vieira was quick to put the focus back on the collective. "Thierry had a fantastic game, like the rest of the team," said the Frenchman. "When we work well as a team there is always going to be individual talent that shines, so I was really pleased by the way they played today."
If Ambrose does develop into a centre-forward like namesake Henry, the time he spends on the wing can only make him become a more dangerous player. Understanding how to be an effective winger will help him learn to adapt his positioning and movement when he is able to play centrally.
The huge investment Manchester City have made to build the Etihad Academy has one clear ambition: getting academy prospects into the first team. However, that leap is tough when you've built a culture of spending large sums of money on big-name players.
When you enter the media zone at the Etihad Stadium there are a number of huge displays tracking the progress and achievements of England international Micah Richards.
He was the last academy product to enjoy regular first-team football at Eastlands, but is now on loan at Italian side Fiorentina. Across the city, Manchester United's academy players know they will get the opportunities if they are good enough.
The new Etihad Campus is the first step in what will be a very long journey for City. But as Vieira suggests, it gives his young team something to aspire to: "When they are at this age, inspiration is massively important and you are not going to find a better place for it.
"We just need to look at our stadium, young players training next to the first team; when we are having our lunch sitting next to Vincent Kompany and David Silva. That is inspiration."
Ambrose was one of four players who joined the first team in Abu Dhabi for Manchester City's warm-weather training last week. There, Ambrose came on for the second half against Hamburg before a knock to the elbow shortened his appearance to a cameo.
Pozo started against Leicester in December after three substitute appearances this season, while Ambrose made it onto the bench against Crystal Palace. However, the signing of Wilfried Bony from Swansea looks likely to limit any future first-team chances.
For City's academy players to really feel inspired, they need someone to look up to; someone to pave the way and show them that they can progress if they continue to impress.
Right now Ambrose's similarities with Henry come solely from his position and name, but there is little doubt that he has the potential to follow in the France legend's footsteps.
Perhaps the next time Manchester City play Arsenal at the Etihad, Ambrose will be the Thierry taking all the attention on the other side of the bridge.
Quizzes, features and footballing fun
Get the best features, fun and footballing frolics straight to your inbox every week.
Thank you for signing up to Four Four Two. You will receive a verification email shortly.
There was a problem. Please refresh the page and try again.