New Chelsea shirt will cost you your firstborn child
Blues reveal controversial new pricing structure. Back of the Net have the details…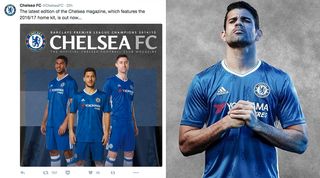 Chelsea will now only sell you replica shirts in exchange for your firstborn son or daughter, it has emerged.
From next season, Blues fans who enjoy publicly fantasising that they are professional footballers will only be able to do so after surrendering their eldest child to club officials for unspecified purposes.
Chelsea fan Dan Lloyd said: "I enjoy dressing up as my favourite celebrity, John Terry, so I'll be going to a club shop, picking out something in XXXL, and telling my 10-year old, Alfie, that he belongs to Mr Abramovich now.
"I expect they'll make him a ball boy, or possibly train him to kill without mercy in some sort of private army. So long as it helps the share price, that's the important thing."
Lloyd acknowledged that it was not an easy decision to hand Alfie over to the hooded figures that have appeared outside official merchandising outlets, but admitted that having regularly affirmed that he was "Chelsea till [he] die[d]," he was left with very little choice.
"I'll miss Alfie, almost as much as I'm going to miss John Terry," Lloyd told FourFourTwo. "Still, at least this way I don't have to buy a shirt for him too."
READ THESE
Eight-year-old Leicester fan unaware his life has peaked
Clattenburg's Chelsea-Spurs notebook mostly sketches of birds
Needs must
A Chelsea spokesman, clad in robes of midnight blue, said: "If we ever want to challenge for the title again, we need fresh blood, for the spirits are angry and must be appeased.
"By the way, if you want your name on the back, we'll take your second-born too."
Please note: This fictional news story is not real. But you already knew that, right?
Quizzes, features and footballing fun
Get the best features, fun and footballing frolics straight to your inbox every week.
Thank you for signing up to Four Four Two. You will receive a verification email shortly.
There was a problem. Please refresh the page and try again.