This summer really will be different for Southampton
By Felix Keith published
The summer is usually a time of upheaval at St Mary's, but Felix Keith explains why Saints supporters are looking forward with optimism rather than dread this time around...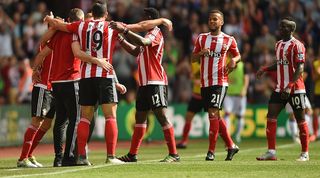 Since their return to the Premier League in 2012, a well-established pattern has emerged at Southampton. The summer – a period of opportunity, renewal and optimism for the traditional elite – has become a vehicle of upheaval on the south coast.
Saints have paid the price for continued success. As soon as the club and its supporters have celebrated another successful season, the wealthy have swooped in to offer riches to their top-performing players. In the last two years Luke Shaw, Adam Lallana, Dejan Lovren, Calum Chambers, Rickie Lambert, Morgan Schneiderlin and Nathaniel Clyne have all moved on to pastures new.
Despite the inherent monetary imbalance of the Premier League and the challenges it presents for a club of their stature, Southampton have continued to make enviable progress. Under three different managers, their top-flight finishes since promotion read: 14th, eighth, seventh and, most recently, sixth.
The odds have been stacked against them, but Saints have kept on winning. While all eyes in the casino have been glued on Leicester claiming the biggest prize in the most remarkable fashion, Southampton have been quietly accumulating chips at the corner of the poker table.
Now, after four seasons of stockpiling, they can attempt to beat the system that shaped them.
Retaining Ronald
The next step is the most difficult, and for Southampton to swerve the pitfalls and break the glass ceiling, one man is particularly important. Manager Ronald Koeman's vast experience, personable style and tactical flexibility has proved the perfect match for the club's own grounded, sensible outlook; he's the jovial figurehead of a ship heading in the right direction.
Koeman currently has one year remaining on his contract and, having overseen two excellent seasons to date, he's understandably a man in demand. The Dutchman has been linked with the vacancy at Everton, as well as more speculatively with the Netherlands job, and his vague answers to questions about his future have only added fuel to the rumours. But with the season now over, he's made it clear he's ready to negotiate a new contract with Southampton.
The word constantly reasserted in these discussions is 'ambition'. But with a solid base, built on a productive academy and scouting system, plus a Europa League group stage spot secured, Saints can hardly be accused of lacking it.
"Ronald and I have been talking for a long time about building towards the summer transfer window," executive director of football Les Reed said recently. Although five-year plans are regularly invoked in football – and rarely followed – the prospect of success is far higher with Koeman on board.
Hanging on
While Koeman has dominated the agenda in recent weeks, there have also been positive steps taken in other avenues. As Reed put it, Saints have been "consolidating the core of the team" by tying players to longer contracts.
Central defender Virgil van Dijk, who was irrefutably the side's best performer and won both the fans' and players' player of the season awards, led the way by signing a new six-year contract. The Dutchman only joined from Celtic in September but played every available minute in the league, impressing with his aerial ability and omnipresence in defence.
His predecessors, Lovren and Toby Alderweireld, lasted just one season before moving up the top-flight ladder. Van Dijk's commitment is undoubtedly a sign of progression: not only will captain Jose Fonte be able to play alongside the same centre-back in successive seasons for the first time in his six years at the club, but Southampton have proven they are strong enough to keep hold of one of the best defenders in the division.
Van Dijk scores against Sunderland
The club, indeed, appear to be challenging a precedent set in previous years. Goalkeeper Fraser Forster and England U21 captain James Ward-Prowse have followed in Van Dijk's footsteps; and by tying such players down, Saints are trying to show they're no longer a mere stepping stone to bigger things. Although contract extensions are hardly sacrosanct – no player is going to turn down more money, after all – they do indicate ambition and belief.
Not every player will stay, of course: Sadio Mane and Victor Wanyama have been angling for a move away from St Mary's for some time, while Graziano Pelle looks likely to head back to Italy. They were all key members of the team that achieved their highest ever points tally in 2015/16, Mane scoring 11 goals and registered six assists, Wanyama providing steel in midfield and Pelle reaching double figures for league goals for a second successive season.
But years of experience and adaptation has taught the club that no player is irreplaceable. Lovren and Alderweireld were of great defensive importance; Shaw and Clyne combined security with attacking threat at full-back; Lambert was the club's top scorer four seasons in a row; Lallana was captain and creative maestro; Schneiderlin was the holding midfield lynchpin. All were replaced, with the team moving on and even improving without them.
Outgrown their own
If Mane and Wanyama do leave, there won't be any panic: confidence in the club's hierarchy, manager and backroom analysts is now absolute. Over the last two seasons, 14 players have arrived on permanent deals, a large number that has potential to malfunction.
Except the vast majority haven't: the now tried-and-tested formula based on promoting from within and focused but far-reaching, astute recruitment has been proved to work time and time again.
However, Southampton may have now outgrown their own strategy. They no longer need to think like prey, or of survival. Europa League qualification is a true incentive, not an unwanted distraction, and one that will help to attract players.
Saints can – and will – still buy, but from a position of strength rather than through necessity. If they're going to head off in pursuit of an ambitious five-year plan, their mentality must change. They must believe this summer will be different; they must believe they can do more than merely keep the poachers at bay.
The pervasive self-confidence that has been established can now be put to good use. With lessons learned, a newly contracted manager on board and a supportive hierarchy with content players in tow, this summer can be the basis for a different way of achieving yet another year of improvement for Southampton.
Thank you for reading 5 articles this month* Join now for unlimited access
Enjoy your first month for just £1 / $1 / €1
*Read 5 free articles per month without a subscription
Join now for unlimited access
Try first month for just £1 / $1 / €1
Quizzes, features and footballing fun
Get the best features, fun and footballing frolics straight to your inbox every week.
Thank you for signing up to Four Four Two. You will receive a verification email shortly.
There was a problem. Please refresh the page and try again.