6 things Jurgen Klopp will put right this summer to make Liverpool title challengers
Squad depth, defensive stability and a crucial change in mentality: how Klopp's improving of Liverpool can go a step better next season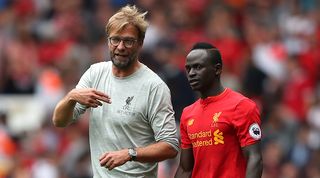 With five games of the 2016/17 season remaining, Liverpool have already amassed more points than their tally in six of the last seven seasons.
With Champions League qualification via a top-four finish a very real possibility, progress has certainly been made in Jurgen Klopp's first full season in charge at Anfield. And with 69 goals scored so far – more than any other side in the Premier League and six more than the Reds managed last season – Klopp has returned to the attacking, entertaining football that Liverpool fans crave.
With no European football on offer at Anfield this season, Klopp sought a smaller squad that he could then work closely with, using the extra time between games on the training pitch to good effect. Indeed, at the turn of the year a title challenge even looked quite possible - until a terrible run of form in January saw that hope exchanged for a top-four fight.
So what must Klopp do this summer, regardless of where the Reds finish this season, in order to make Liverpool real title challengers in 2017/18?
1. Find a back-up for Mane
One of the major issues for Liverpool during their January slump was the failure to have a player replicate the effectiveness of Sadio Mane in the final third. While the Africa Cup of Nations won't be an issue in 2017/18, Liverpool still need a player with similar attributes to the Senegal forward, especially with European commitments one way or another.
Adding options in the attacking third and thus reducing the reliance on star trio Mane, Roberto Firmino and Philippe Coutinho will be key for Klopp - especially as Daniel Sturridge's future is very much up in the air.
A pacy attacker who can contribute goals and make runs in behind, capable of playing either centrally or on the right, would be ideal.
2. Establish a reliable centre-back pair
All successful sides are built upon a solid and reliable centre-back duo. Few, if any, teams have ever won trophies without a centre-back pairing who play 90% of their games.
One of Liverpool's issues this season has been that Joel Matip and Dejan Lovren have started together in just 14 of 33 matches so far. Such constant chopping and changing at the back has given Liverpool a defensive inconsistency that has continued to undermine their attacking quality.
A new left-sided centre-back is required to partner Matip. Virgil van Dijk is reportedly Klopp's priority target there and you wouldn't see many Kopites complain if he became the latest player to swap Southampton for Anfield. Qualifying for the Champions League will be essential if the Reds are to acquire the Dutchman.
3. Sign a left-back
One of the more controversial moves Klopp made last summer was not to sign a left-back and instead convert vice-captain and one of the club's highest-earners, James Milner, to play the role.
While the versatile Yorkshireman has done well on the whole, he's far from the long-term solution aged 31.
Having a naturally left-footed player who can overlap and cross from the left side would give Liverpool far more balance, as opposed to Milner's understandable but predictable cutting inside onto his right foot (which can slow down attacks and congest the central area).
4. Remove the mentally weak
The exact reasons for Liverpool's failure to see off bottom-half teams – but then rise to the occasion against top-six rivals – isn't black and white. But it does point to a mentality problem within the squad.
Players should not be happy to accept a draw, and must be ready to fight for every point: more grinding out wins in the manner of the recent victories at Stoke and West Brom, and less failing to show up against Burnley and Swansea.
Former players Jamie Carragher and Luis Garcia have both said that the Reds' squad has lacked 'characters' or 'leaders' at times this season, while fans still crave a player like Javier Mascherano. Adding one or two with the attitude of Mascherano, Luis Suarez or Dirk Kuyt wouldn't go amiss – while players such as Emre Can, Matip and Coutinho need to become on-pitch leaders.
5. Solve the injury issues
Liverpool have suffered more injuries this season than in any of the last eight years, despite playing fewer games. Whatever the reasons for this, it's something that needs addressing.
Is it a training issue? Does Klopp need to tweak his approach to fitness and pre-season? Or are certain players just too injury-prone to be relied upon?
Captain Jordan Henderson has featured in 27 games, one more than his total last year, again missing a large chunk of the season due to a foot injury. Liverpool's captain needs to be able to play more than 30 times in a season.
Sturridge has, again, been injury plagued, while Lovren has had eight different niggles and again been unable to play 30 times.
Reliable, robust players need to be the first-choice players in the spine of the team.
6. Add depth via first XI additions
While Klopp was right to seek a smaller squad this season – one which may well have fared better still had it encountered as few injuries as Chelsea have suffered – reinforcements are required ahead of a return to European football.
Youngsters like Trent Alexander-Arnold, Ben Woodburn and Ovie Ejaria have enjoyed first-team opportunities due to the smaller squad size, and have benefited hugely from being involved more than if Klopp had a bigger squad. They will be another year into their development next season and will be good for depth.
The way Klopp needs to strengthen is not by sheer numbers, but by adding quality to the starting XI with four or five additions in key positions; namely at centre-back, left-back, centre-midfield and a wide forward.
Thankfully, it appears the German is fully aware of where the weakness in his squad exist – and if the right players aren't available, he won't usher in others just to pad out his squad. The manager has repeatedly reiterated that he won't make signings for the sake of adding players (which often leads to inferior players arriving and then proving difficult to move on later).
Klopp will have learned a lot in his first full season in charge in England: about his squad, about individuals, about the league and what's required. However this season ends, Liverpool fans should be looking forward to his second full season, as progress will again be made.
Quizzes, features and footballing fun
Get the best features, fun and footballing frolics straight to your inbox every week.
Thank you for signing up to Four Four Two. You will receive a verification email shortly.
There was a problem. Please refresh the page and try again.