Anthony Martial undeterred by grand pianos and bear attacks during training
The Manchester United outcast has dodged a number of strange training ground accidents, Back of the Net reports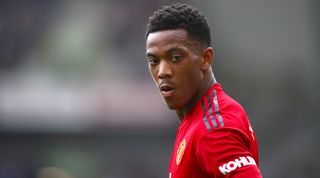 Anthony Martial is refusing to allow a series of freak training ground incidents to stop him fighting for a place at Manchester United.
Since falling out with Jose Mourinho, the France international has narrowly avoided disaster from a falling piano which fell centimetres away, side-stepped a Rottweiler which appeared to somehow have his scent, and gamely fought off three bear attacks.
Despite these mishaps, Martial seems unfazed and is refusing to accept that there may be a pattern to these brushes with death.
"The gaffer was as surprised as anyone when a masked figure hopped out of the bushes and hurled a Japanese throwing star at my jugular," Martial told FourFourTwo.
"He looked ashen-faced when I ducked and it hit Marcus [Rashford] in the thigh.
"Jose kept muttering about how that wasn't supposed to happen and how his plan had been foiled. I presume he meant session plan because Marcus's profuse bleeding and agonised wails did take the edge off the next few drills we did.
"It was the same when the Alaskan grizzly bear wandered into our session – the gaffer came straight over to me and gave me a reassuring pat on the back. Sadly it seems he accidentally dropped the big slab of raw meat he happened to be carrying into my pocket which attracted the bear over to me, then he accidentally imitated a female mating call which worked the bear into a frenzy. But it was a kind gesture."
Tinkling the ivories
Martial has also stressed that when he asked Mourinho how he could get back into the manager's plans for the season, he received a reassuring response.
"Jose told me that I was definitely in his plans; oh I was in his plans all right; oh he had some plans for me. Then he laughed a lot – it was sort of more of a cackle.
"After that his mood seemed to change and he begun complaining under his breath about getting a mini-grand piano to do a grand piano's job. I'm guessing that's one of those metaphors he likes to use.
"So I'm confident I'll be the first name on the teamsheet come November," Martial said, nonchalantly dodging a javelin.
At the time of publication, Mourinho had approached Martial with a peace offering in the form of a nice cup of tea that he stressed several times had not been tainted by any known poisons.
SEE ALSO What happened to Anthony Martial? by Richard Jolly
Please note: This satirical news story is not real.Hopefullyyou worked that out before getting this far.
More Back of the Net • New features you'd love on FourFourTwo
Quizzes, features and footballing fun
Get the best features, fun and footballing frolics straight to your inbox every week.
Thank you for signing up to Four Four Two. You will receive a verification email shortly.
There was a problem. Please refresh the page and try again.