There's absolutely no point trying for title, say every single Premier League club
Manchester City retaining the title is now completely inevitable, Back of the Net reports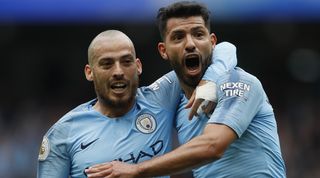 The season is only two matchdays old but Premier League representatives are discussing presenting the trophy to Manchester City immediately, in order to save everyone a lot of unnecessary bother, FourFourTwo understands.
Caught up in the excitement of top-flight club football returning, organisers, rivals and fans momentarily forgot that the question of which is the best team in England has already been emphatically answered and there is no obvious need to revisit it. 
Late on Sunday night, Premier League officials met to see if they could thrash out a settlement that prevents a further nine months of wasted effort.
"We'd be all in favour of doing the whole thing again if there were any indications it would end differently this time around," an insider told FourFourTwo.
"But Manchester City won the title by 19 points last season from Manchester United whose summer scoop was Fred; a poor man's Eric Djemba-Djemba.
"You only had to watch Chelsea vs Arsenal to see that, with the greatest respect, neither side's defence would look out of place in League One.
"And that leaves Spurs and Liverpool."
Time killing
Reports suggest that while other managers have pushed back against the proposed surrender of the title, Jose Mourinho has already booked a five-star break in Aruba at a bespoke resort that provides daily press conferences he can moodily storm out of at will.
Even BT Sport's usually bombastic advertising has been surprisingly muted over the last fortnight with the slogans: 'Let's kill some time before the inevitable' and 'Well, people still watch rom-coms don't they?' on billboards across the country.
If the season does continue, there are calls to look into the rules for defaulting games after Huddersfield boss David Wagner bitterly rued not accepting a 3-0 forfeit and spending the day playing online poker at the team hotel.
Please note: This satirical news story is not real. Like, obviously.
More Back of the Net • New features you'd love on FourFourTwo
Quizzes, features and footballing fun
Get the best features, fun and footballing frolics straight to your inbox every week.
Thank you for signing up to Four Four Two. You will receive a verification email shortly.
There was a problem. Please refresh the page and try again.