Early international retirement would leave a permanent blemish on Messi's legacy
By Paul Tenorio published
The argument against his greatness comes down national team honours. As Paul Tenorio notes, retirement woud take away Messi's best chance to answer his naysayers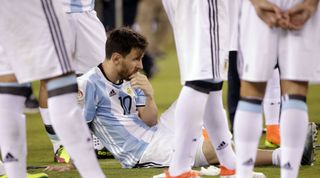 The story of Chile's (opens in new tab) win on Sunday night was never going to be about Chile.
It was about Lionel Messi (opens in new tab) and his legacy, and his inability to win the big game. Four finals, four losses. Three consecutive major tournaments, three straight silver medals. A penalty miss in Sunday's Copa America Centenario final heaped on more hurt, and more blame.
Still, no one could have imagined the loss in Sunday's Copa America Centenario final would leave Messi's international career in tatters.
They think it's all over
A few hours after Messi walked across the stage to accept a second-place medal at yet another major tournament, he walked in front of reporters and said he was done with the national team. The quotes cropped up from multiple outlets, but the sentiment behind them didn't change much. They were all soaked in the obvious pain of a player who was beaten down by another stinging loss.
"It's incredible, the fact that we can't win it," Messi told reporters. "It happened to us again, and by penalty kicks. It's the third consecutive final. We tried. We tried and it wasn't for us.
"It's difficult in this moment to do any sort of analysis. In the locker room, I thought that the national team is not for me. It's what I feel right now. It's a great sadness that it happened to me again. The fact that I missed a penalty that was very important.
"It's for the good of everybody. It's not enough to just get to the final and not win."
The football universe is left now to think about a World Cup in 2018 without the world's best player; to come to terms with the idea of Messi still winning trophies with Barcelona (opens in new tab) and watching the tournament in Russia from home like the rest of us; left to try to understand how a player who has been so unbelievably successful at club level can fail to lift a trophy for the world's best national team, and whether his legacy should be defined most by that failure.
Lay off Lionel
To place Argentina's loss on Messi's shoulders would be unfair, though, as it has been each time before this.
Argentina played through their star forward time and time again as they looked to unlock Chile, but to watch la Roja's reaction when the ball was near Argentina's No.10 was almost comical. It was as though Messi was a magnet that pulled defenders into him; three and four at a time. Even then, he created some of Argentina's best chances: a perfect pass to Sergio Aguero in the 84th minute that set up a clear chance; a curling ball that created a near-game-winner if only Aguero's header in extra time hadn't been pushed over the bar by Claudio Bravo's superhuman save.
Despite those efforts, Messi's tournament will be remembered most for the penalty he skied over the crossbar.
Messi tried to carry this team to a win, just as he had changed games for most of the tournament. He came into the final with five goals, one shy of the tournament's best haul, and a Copa-best four assists. Ahead of the final, Chile coach Juan Antonio Pizzi called him the most transcendent player of all time. On Sunday night Pizzi reiterated that Messi was, in his mind, "the best player in history".
"Besides having an admiration for Messi, I really guide myself by the numbers because I know what it is to value certain numbers," said Pizzi, an Argentine. "And Messi's numbers cannot be equalled, are not equalled, and I think will continue not to be equalled for life, because it's impossible for a football player to achieve the things that Messi achieves.
"Beyond that, the people are sometimes very particular when it comes to valuing certain things over others. I do it from a personal point of view and each person should do it from a personal point of view. I believe Messi is the best player in history.
"In my generation, they're not able to compare him to Maradona because of what Maradona did for Argentine football, but I do think that he's the best player in history… and I think the numbers are irrefutable."
Blue Sunday
At almost the exact same time the opposing coach was heaping praise on him, Messi was saying he was done donning la Albiceleste. The reaction to the news was met at first with surprise, and then sadness.
The images of Messi in the moments after the final – sitting alone on the bench, his captain's armband in his hand; crying with Aguero on his shoulder; pulling the runners-up medal over his head as he walked off the stage – showed how distraught he was to have fallen short again. That feeling carried over into the dressing room. Aguero said it was the worst he had seen Messi after a game.
"I don't know what the rest of the players think," Aguero said. "But what I saw today in the dressing room, I have never seen before."
There may be more to this retirement announcement. Strife within the Argentine Football Association forced FIFA's Normalisation Committee to take over the federation and oust president Luis Segura. Reporters in the post-match press conference asked multiple questions about how the off-field and political drama may have impacted the team. One suggested it might cause players to opt out of call-ups.
Some reports indicated other players may be joining Messi in international retirement – as did Aguero.
For now, the conversation centres around the possibility of losing the best player in the game from the international stage at just 29 years old – and about expectations finally becoming too heavy for a player who has seemed so intent on carrying his team.
RECOMMENDED
Why the Messi vs Maradona debate is flawed (and always will be)
Messi will always be considered by some to be the best the game has ever seen. By others, he will never measure up to Pele or Maradona, because unlike them, he never lifted a trophy for his country.
That measurement, fair or not, is as tied to Messi's legacy as the record five FIFA World Player of the Year titles he has won, or the trophies he has racked up with Barcelona. It may now be a permanent stain.
A night many thought would be a celebration – maybe even a coronation – instead took a stark turn. The glistening gold of confetti on the MetLife Stadium field was the only reminder that it was, in fact, that type of night for Chile.
Thank you for reading 5 articles this month* Join now for unlimited access
Enjoy your first month for just £1 / $1 / €1
*Read 5 free articles per month without a subscription
Join now for unlimited access
Try first month for just £1 / $1 / €1
Quizzes, features and footballing fun
Get the best features, fun and footballing frolics straight to your inbox every week.
Thank you for signing up to Four Four Two. You will receive a verification email shortly.
There was a problem. Please refresh the page and try again.