Van Basten reveals radical plan to save football, includes monkeys
By Back of the Net published
Dutchman unveils his scheme to revolutionise football with a series of bold rule changes. Back of the Net explores what this will mean for the game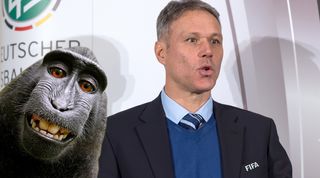 Abolishing extra-time
Drawn games should move straight to penalties, because everybody enjoys the drama of a shoot-out and 30 more minutes of people kicking a ball about just prolongs the tedium.
Abolishing normal time
All games should be settled by penalties, because shoot-outs are the only reason anyone watches football, and 11-vs-11 matches have had their day and should probably be abolished.
Abolishing penalty shoot-outs
Shoot-outs are against the spirit of football, so all games should be replaced by something the whole family can enjoy, like as fierljeppen, klootschieten or korfball.
Sin-bins
An orange card will be shown to any players the referee deems to be committing a sin in the eyes of god. They will be forced to sit out 10 minutes for a venial sin, but a mortal sin will result in a 20-minute penalty and an eternity in hell.
Only the captain may speak
A designated captain will be the only person on each team allowed to communicate with words. All his instructions should be preceded by the words 'Captain says'. Any player who fulfils an instruction that is not preceded by the words 'captain says' must sit in the sin-bin for 10 minutes.
Monkeys
Every team will have to field one monkey, either a vervet or a barbary macaque. The monkey may play in any position, but normal rules about offside, handball, faeces-flinging and face-biting do not apply. Monkeys may not be made captains unless they have been trained to use sign language.
Human sacrifice
Half-time entertainment should always include a burnt human offering to placate the immortal half-demon Kharrizoth the Unholy, who threatens to feast on the souls of the living unless his evil thirst is slaked by the blood of innocent men. There should also be a raffle.
No video replays
Because crowds succumbing to hysterics of rage when referees give a decision against their team is what makes football the beautiful game.
Please note: This fictional story is not real. Like, obviously.
More funny stuff • New features every day on FourFourTwo.com
Thank you for reading 5 articles this month* Join now for unlimited access
Enjoy your first month for just £1 / $1 / €1
*Read 5 free articles per month without a subscription
Join now for unlimited access
Try your first month for just £1 / $1 / €1
Quizzes, features and footballing fun
Get the best features, fun and footballing frolics straight to your inbox every week.
Thank you for signing up to Four Four Two. You will receive a verification email shortly.
There was a problem. Please refresh the page and try again.