Van Gaal announces plan to spend sabbatical antagonising Mourinho
By Back of the Net published
Dutchman will dedicate himself to prank calls and knock-a-door-runs, Back of the Net reveal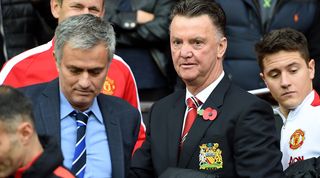 Louis van Gaal is leaving football management to concentrate on annoying Jose Mourinho.
The former Manchester United boss has clarified reports that he was planning to retire for good, explaining that he is merely entering a new phase in his career, focused on irritating and undermining his successor at Old Trafford.
"Getting on Jose's wick is a full-time job, and as with all jobs, I am the best man to do it," the former Ajax and Bayern Munich manager told FourFourTwo.
"In the morning, I will criticise his tactics. In the afternoon, I will ridicule his transfers. In the evening, I will compare his hair unfavourably to Jurgen Klopp's hair, and then I will phone him up at 2am to remind him that Pep Guardiola is handsomer than he is.
"And I will phone again at 5am to remind him that I, Louis van Gaal, am handsomer than Pep Guardiola."
All that glitters
BACK OF THE NET
Manchester United confirm extension of Fellaini
The Belgian midfielder has made a massive commitment to United's cause
Guardiola treats Man City players to morale-boosting Nando's
Van Gaal added that while winning six league titles and a Champions League was good, winding up his nemesis Mourinho was even better.
He said: "Jose asked me to stop sending him boxes of exploding glitter, but I am Van Gaal and I do what I want with my life. And I want to spend it knocking on his door and running away."
Meanwhile, Mourinho has refused to comment on reports that he is poised to retire to spend more time bullying Rafa Benitez.
Please note: This story isn't real. Honestly.
More funny stuff • New features every day on FourFourTwo.com
Thank you for reading 5 articles this month* Join now for unlimited access
Enjoy your first month for just £1 / $1 / €1
*Read 5 free articles per month without a subscription
Join now for unlimited access
Try your first month for just £1 / $1 / €1
Quizzes, features and footballing fun
Get the best features, fun and footballing frolics straight to your inbox every week.
Thank you for signing up to Four Four Two. You will receive a verification email shortly.
There was a problem. Please refresh the page and try again.