Why Chelsea should be commended, not lamented, for Lukaku sale
Jose Mourinho has been criticised for letting another young star slip through the net at Chelsea, but Pete Hall says the Blues have got it spot on...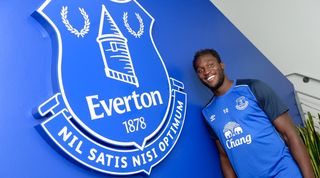 After netting the third-highest number of Premier League goals in the last two seasons (behind Robin van Persie and Luis Suarez), many have questioned quite what Romelu Lukaku had to do to get his chance at Chelsea. 
Scoring more than 10 goals in a season is something new Blues hitman Diego Costa has mustered just once, while Lukuku has netted double figures four times, despite being very much in the infancy of a promising career. 
Yet, having played just 199 Premier League minutes for Chelsea since his arrival from Anderlecht three years ago, it would seem silly for the west Londoners to keep a player surplus to requirements when £28 million can be recouped without the squad being weakened significantly.
Money matters
Balancing the books is becoming essential in an era where Financial Fair Play rules are tightening. To Chelsea, if that means losing one of the brightest prospects on our shores, then so be it. Jose Mourinho knows what he is doing after all, and in a squad hardly suffering a paucity of young talent, cashing in on a player that is not needed should not be frowned upon.
"He's a young boy who likes to speak. But the only thing he didn't say is why he went to Everton on loan," Mourinho assessed bluntly back in December, when discussing the future of his Belgian prodigy.
It has been clear for some time now that the Portuguese supremo hasn't been keen on Lukaku's burgeoning talents, choosing instead to persist with perennial struggler Fernando Torres, despite the Spaniard converting a measly 13.51% of his chances in the last two seasons.
In those two years, the 21-year-old Lukaku has outscored Chelsea's top goalscorer (Eden Hazard last year, Frank Lampard before that), but the Blues have hardly suffered in front of goal.
Their 71 goals last season were still some 31 fewer than champions Manchester City's final total, but Costa has been brought on board to ease that problem, having netted 27 goals in Atletico's title success last season. Considering that Chelsea conceded 10 fewer than Manuel Pellegrini's men, the gulf is certainly narrower this time around.
Selling it right
While the debate will rage on as to whether Mourinho will regret letting the imposing hitman leave, the Blues' hierarchy must certainly take a great deal of credit for the sale of the young striker to the Toffees – even if purely on financial grounds.
A net spend of around £50m over the last two seasons is mightily impressive when considering the strength of the personnel that Mourinho has assembled at Stamford Bridge, not least thanks to the positive summer arrivals of Costa, Filipe Luis and Cesc Fabregas.
Compared to rivals Manchester United, who have amassed £112m worth of spending in that time, it paints a rather more positive picture than we are used to when discussing Chelsea's forays into the transfer market.
More pertinently, Arsenal, lamented by their own fans for being over-cautious in various transfer windows, have spent £92m.
Meanwhile, the sanctions imposed on Sheikh Mansour's chequebook could hinder Manchester City in the Champions League and beyond next season – and those regulations are likely to be merely a warning for the future conduct of football's elite.
Mourinho will have to juggle his pack to ensure the foreign player quota is met – currently, the Blues have one more foreign player than is allowed after the signing of Didier Drogba. "I have to send one away," the Chelsea boss declared earlier this week. "If you think all of them have to stay, you are wrong. One of them has to go."
In the short-term, Lukaku's departure doesn't really matter. With a myriad of attacking midfield ability, Chelsea still have enough in their arsenal to mount a serious title challenge, even if Costa fails to deliver as some experts are predicting.
Reality
Ultimately, Chelsea don't have the fanbase and commercial income to generate huge revenues that the likes of Manchester United achieve. Selling the likes of Lukaku, who Mourinho has no plans to utilise, therefore makes more sense than many give them credit for.
In a world where even the richest oligarch's millions can't keep the footballing authorities from clamping down on excessive spending, letting talented players go is simply a necessity to keep financial continuity. It might seem like a lack of foresight letting a player go who at the age of 21 has scored more goals than Lionel Messi did, but the long-term future of Chelsea is actually being secured in this way.
Fundamentally, Mourinho has proven throughout both tenures at Stamford Bridge that he knows what he is doing.
Quizzes, features and footballing fun
Get the best features, fun and footballing frolics straight to your inbox every week.
Thank you for signing up to Four Four Two. You will receive a verification email shortly.
There was a problem. Please refresh the page and try again.