Why Gareth Bale has his best chance of a Ballon d'Or yet – with a little help from Florentino Perez
Zinedine Zidane and Cristiano Ronaldo are gone, and with no obvious replacement for the latter in sight, there's a gaping void to fill at Real Madrid. The crown is there to take, writes Thore Haugstad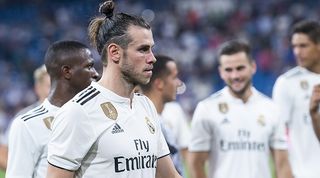 One of the stories that best sums up Gareth Bale's time at Real Madrid came in March 2015, when his agent managed to provoke Carlo Ancelotti. The Italian coach had long reserved the right-wing role for Bale, who seemed happy enough with it, yet one day Ancelotti heard that Jonathan Barnett had visited the office of club president Florentino Perez.
As Bale's agent, Barnett should never have been involved in club politics or team selection, and yet he had suggested to Perez that Bale be given his favourite central role just behind the striker. That had been the position from which the 'Cardiff Express' had shone for Tottenham in 2012/13, the season that convinced Perez to buy him in the first place.
Such a switch would make sense for Bale, who wanted to win (and still does) the Ballon d'Or. The same didn't apply for Ancelotti, who was incensed not only that Barnett had tried to influence the president, but that Bale hadn't talked directly to him. Ancelotti told Perez that he couldn't switch his system mid-season, and assured Bale that they would talk again in summer.
But by that stage, Ancelotti had been sacked. More than three years after Bennett visited Perez, Bale is still waiting for the lead role. His time might now have come.
Booed and benched
After all, his two main obstacles have departed: Zinedine Zidane has stepped down and Cristiano Ronaldo joined Juventus for £100m. While Perez has hired Julen Lopetegui, signed Thibaut Courtois and bought right-back Alvaro Odriozola, he has done little to freshen up the attack. Targets such as Neymar, Eden Hazard and Kylian Mbappe seem to be staying put, which leaves the spotlight vacant.
Nobody else seems ready to step into it – at least not as goalscorers. Playmaker Isco is a Lopetegui favourite but will look to create rather than finish chances, and the same applies to industrious winger Lucas Vazquez and selfless striker Karim Benzema. The only real superstar in the making is Marco Asensio, but the 22-year-old has plenty of time to make his mark. At 29, Bale doesn't – and Perez knows it.
What makes Bale important to Perez is that their reputations are to some extent entwined. Perez inherited rather than bought Ronaldo, whose move was masterminded by the previous president, Ramon Calderon – but Perez very much did buy Bale, forking out £85m.
The fee still makes the Welshman his biggest signing, which means it's all the more crucial that he succeeds. Were Bale to be shipped off as a flop, it would be a failure for the president too.
Over the last five years, Bale has been plagued by injuries, overshadowed by Ronaldo, attacked by the press for not speaking Spanish and booed by the Santiago Bernabeu for not passing to Ronaldo. He's often appeared close to leaving. That he never has is partly because he sees Madrid as the best place to win the Ballon d'Or, and because Perez has refused to throw in the towel.
The Perez Project
In fact, when Bale was booed in early 2015, Perez came out to defend him. The two coaches Perez hired before Lopetegui both started out with intentions of playing Bale at all times. When Rafa Benitez took charge in summer 2015, the first thing he did was to meet Bale in Wales – a gesture the local press interpreted as a slap in the face for Ronaldo. When Benitez then handed Bale the role behind the striker, the hierarchy seemed to have changed.
Unfortunately for Bale, he was about the only player who liked Benitez, and the Spaniard only lasted until January. Upon his arrival, Zidane said Ronaldo, Bale and Benzema would always play. That has traditionally been the way Perez wants it – play all the stars at once – yet as titles gave Zidane more bargaining power, he began to drop Bale, who struggled with injuries and inconsistency.
Matters came to a head during Madrid's run to the Champions League final last season, in which Zidane hardly used Bale at all. After the 3-1 final win over Liverpool, in which Bale leapt off the bench to net a bicycle kick and a screamer, the player hinted that he'd leave. Now that Zidane has beat him to it, Bale seems to have another crack at the lead role. Can he take it?
Next in line
The numbers suggest so. Bale has generally performed well when fit and trusted. In 2015/16 he averaged a goal per 90 minutes in La Liga, and while his average fell the following season, the most recent campaign hoisted his average back up to 0.8. He rounded off the season with seven goals in six matches, including that bicycle kick, a 20-yard first-time equaliser in the Clásico and a thunderbolt against Celta Vigo.
In a utopian world for Perez, Bale would play all 38 league matches. Combine that with his goal average of 0.8 and you have 30 goals. Then you have the Ronaldo factor: the Portuguese took up a lot of space and fired seven shots per 90 minutes last season, whereas Bale recorded 3.8. Hand some of those chances to Bale, make him the penalty taker and throw in the odd free-kick, and his numbers could explode. "We're convinced he will have a great season," says Lopetegui.
Perhaps these were some of the figures Madrid saw when they analysed the squad, looked at the market and decided that none of the players available were better than Bale after all. Going for an internal solution is certainly cheap and convenient, but when the player hasn't started more than 21 league games in any of the last three seasons, it's also a risk.
The stakes could hardly be higher for Bale. Limp through another season and patience could run out. Stay fit, and Ronaldo's throne is there for the taking.
Quizzes, features and footballing fun
Get the best features, fun and footballing frolics straight to your inbox every week.
Thank you for signing up to Four Four Two. You will receive a verification email shortly.
There was a problem. Please refresh the page and try again.