Elneny impresses, Arsenal's finishing doesn't: 4 big things from Barcelona 3-1 Arsenal
By Lee Roden published
Arsene Wenger's side crashed out to the Catalans 5-1 on aggregate on Wednesday night, and Lee Roden was there to see it...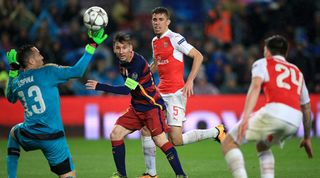 Barcelona secured their qualification for the Champions League quarter-finals with a 3-1 win at the Camp Nou on Wednesday night, but it wasn't a straightforward affair for the Catalans.
An open, high-tempo game ensured plenty of chances at both ends, and while the names of the Barça goalscorers were no surprise, one standout display from the away team will certainly turn heads…
1. Arsenal will go nowhere in Europe if they can't finish
If failing to take chances was part of Arsenal's problem in the first leg, then the issue was even more apparent at the Camp Nou, their wayward shooting undoing plenty of well-constructed build-up play.
Before Neymar's opening goal the English side had registered two shots on target to Barça's zero. Chances were falling their way, the open nature of the event allowing them to get close to the Catalan area. The accuracy wasn't there, though, and like any top European side, Barcelona punished them for it.
Whether it was Alexis heading straight at Marc-Andre ter Stegen, Olivier Giroud failing to follow up from close range past the German keeper, or Danny Welbeck skewing several shots wide, the misses were numerous. In many instances they were also unforgivable at this level.
Arsenal finished the game with 20 attempts to Barcelona's 17, but almost three times as many of the Blaugrana's shots hit the target. So long as they fail to seize opportunities when they are presented, Arsene Wenger's men will never compete with Europe's top dogs. Sides like Barça already have a tactical and technical advantage; passing up on good chances only ensures the gap remains insurmountable.
2. Ivan Rakitic is Barcelona's lungs
When Barcelona signed Ivan Rakitic in 2014, supporters expected to see the same defence-splitting passing and moments of creative genius that he pulled off with Sevilla.
Instead, what they got was a much more cautious midfielder who was trusted with the important tactical job of covering his more adventurous team-mates, and the only one in the squad with the engine to sustain that over the course of a hard season.
In the second half in particular, the Croatian's defensive work was staggering. A look at the positions he received the ball in shows just how much ground he managed to cover, and whether it was nut-megging Nacho Monreal to play out of pressure down at right-back, or making a lung-busting run from the other end of the pitch in order to hold up a crosser, he never seemed to tire.
Rakitic is Barcelona's lungs: without him, they wouldn't be able to sustain the relentless pace that Luis Enrique's team actively seeks.
Suggesting the 28-year-old is only about graft would be doing him a disservice, however. When Rakitic gets close to the opponent's box, shades of the old player emerge. A neat one-two with Lionel Messi in one such position, and a few smart faked shots in another, were obvious reminders of his creative talent and quick thinking.
Though he tends to use those abilities more sparingly nowadays, Barça's No.4 is just as a capable of picking a lock when he wants to as his other, more highly praised team-mates. Barcelona couldn't live without him.
3. Elneny's intelligence and composure impress
Making your Arsenal Champions League debut at the home of the European champions is no small task – and less still when it's in the heart of the midfield – but Mohamed Elneny's performance at the Camp Nou not only suggested he was comfortable with the stage, but also that he could excel on it.
The Egyptian was never afraid to accept possession in difficult areas, producing some lovely turns to wriggle away from multiple assailants and help his team out when they needed it most.
It wasn't just his comfort on the ball that stood out, but what he did with it next: his passing frequently broke lines and allowed Arsenal to get on the front foot, while in shorter, quicker exchanges, his movement invited a return ball and created space for others.
Bagging a goal in the 50th minute was nothing less than the new signing deserved, and his first-time finish on the inside of his foot showed that his good technique extends to his shooting.
This was a hugely promising showing from the Arsenal man that would have impressed any Barcelona coach watching, and will provide hope that he can help the Premier League side to step up a level in the middle of the pitch in the near future.
4. Space proves a false friend for Arsenal
In years gone by, Barcelona would have approached a 2-0 lead from the first leg with control, looking to take the sting out of the game, move the ball around cautiously and concede few chances.
Not Luis Enrique's rock n' roll version of the Blaugrana. The champions were happy to trade blows with the Gunners, and while that meant the away team would have their fair share of the ball in dangerous areas, it also invited them to pour forward, ensuring that the best front three in the world would have room to work their magic in.
Luis Suarez, Messi and Neymar are not only top-class finishers – they can cut a team open as well as any midfield playmaker. Suarez demonstrated that clearly when he exchanged possession with Sergio Busquets before weighting a beautiful ball through to his Brazilian strike partner for Barça's opening goal. The No.9 had other opportunities to tee up team-mates, and while they didn't quite come off, the difference between success and failure was marginal.
Neymar showed off his own creative abilities in the build-up to Suarez's spectacular strike. The assist may have come from Dani Alves, but also important was the smooth pass out wide from Barcelona's No.11, giving his compatriot enough time to get into the right area and cross first time.
The key architects of the decisive third home goal? The front three, in space once more. Messi's chipped finish was a thing of beauty, but so too was Neymar's skilful riding of a challenge seconds earlier, creating a 3 vs 3 instead of a 3 vs 4.
As Catalan daily L'Esportiu noted on Thursday morning, this trident doesn't make concessions. With room to work in, they can't be stopped.
Analyse Barcelona 3-1 Arsenal yourself with Stats Zone
More features every day on FFT.com • More Arsenal • More Barcelona
STATS ZONE Free on iOS (opens in new tab) • Free on Android (opens in new tab)
Thank you for reading 5 articles this month* Join now for unlimited access
Enjoy your first month for just £1 / $1 / €1
*Read 5 free articles per month without a subscription
Join now for unlimited access
Try first month for just £1 / $1 / €1
Quizzes, features and footballing fun
Get the best features, fun and footballing frolics straight to your inbox every week.
Thank you for signing up to Four Four Two. You will receive a verification email shortly.
There was a problem. Please refresh the page and try again.