Kelechi Iheanacho, Man City's new ace carrying the hopes of a nation
By Aanu Adeoye published
The young Nigerian turned heads with his late goal against Crystal Palace, and both club and country have high hopes for him, writes Aanu Adeoye...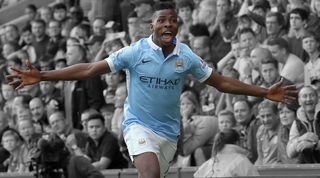 FACT FILE
Date of birth: October 3, 1996
Place of birth: Imo State, Nigeria
Height: 6ft 1in
Position: Striker
Club: Manchester City
The clock was ticking and Manchester City's impeccable start was threatening to come to a grinding halt at a vibrant Selhurst Park. The Premier League's early pace-setters lost on their last visit to this ground back in April as they meekly surrendered their title to Chelsea, and given Manuel Pellegrini's history with Alan Pardew, a draw wouldn't have been the worst result in the world.
Crystal Palace were formidable opponents last term and their sensible transfer window activity has only seen them improve. The two sides were first and second in the Premier League standings just before kick-off, and a draw between them wouldn't have raised eyebrows. The game seemed destined to end in a stalemate. But 18-year-old substitute Kelechi Iheanacho had other ideas. The Nigerian, who replaced Wilfried Bony, had been on the pitch for a grand total of 54 seconds when he stabbed home the winner in the 90th minute, reacting quickest – Ruud van Nistelrooy-style – to a loose ball in the Palace area after Alex McCarthy spilled Samir Nasri's shot.
The young striker's celebration was wild, joy etched onto every inch of his face. For City, a star was born.
Golden potential
"I had to look at his shirt to check who he was," said a perplexed Pardew, confirmation of Iheanacho's obscurity. The teenager, before his last-minute heroics, was an unknown quantity to many, but to those who have been watching his progress closely over the last couple of years, it was vindication of what they all knew – given the time to play, Iheanacho will be a star. Pellegrini knew too and his words before sending on the youngster had the desired effect. "I told him to go on and score a goal," revealed the Chilean.
The journey to Manchester began at Taye Academy in Iheanacho's native Owerri in Imo State, south-eastern Nigeria. The youngster was an integral member of the Nigeria U17 side that finished runners-up to the Ivory Coast at the 2013 African U17 Championship held in Morocco, scoring four goals in five games.
Given the underexposure of the cadet tournament, his exploits went unnoticed. With the world watching later that year, however, Iheanacho turned up in great style as Nigeria swept all before them to emerge as winners of the U17 World Cup in the United Arab Emirates.
Iheanacho was imperious, operating in a variety of positions during the tournament to underline his talent as well as versatility. Playing behind the main striker in the hole or coming in from the wide areas, Iheanacho had the composure of a seasoned pro, showing measured calmness and precision that belied his years. He was the team's top scorer and creator-in-chief. He finished the tournament as its best player – winning the Golden Ball – and was also the second-highest goalscorer after netting six times. Iheanacho also provided seven assists for his team-mates, which meant he was involved in 13 of the 26 goals scored by the Golden Eaglets.
Nigerian hopes
Back home expectations were now sky high, with many imploring then-Nigeria head coach Stephen Keshi to include him in the senior squad. The call-up eluded him, but by now the world had noticed this prodigiously talented youngster and, as is always the case, Europe's biggest clubs were circling the new star. Arsenal, Sporting Lisbon and Porto all monitored his progress but, in December 2013, Iheanacho travelled to England to discuss a move to Manchester City. A pre-contract agreement was signed, with a formal one to follow on his 18th birthday in October 2014.
With work permit issues delaying his start for the City youth team, he returned to Nigeria amid talk of a loan move to keep him in shape. To complete a brilliant 2013, he was named the Confederation of African Football's most promising talent of the year. Those same work permit problems meant he only trained with Patrick Vieira's elite development squad and City's first team, but could not play in competitive matches.
When he eventually secured it, Iheanacho suffered injury just five minutes into his first game with the youth side and was out for two months. On his return in April, Iheanacho scored in City's 2-1 second-leg loss to Chelsea in the FA Youth Cup final. He also scored a brace as Vieira's side defeated rivals Man United 3-1.
With red tape and injury issues now behind him, Iheanacho was included in City's pre-season tour squad for the second consecutive summer. The youngster scored twice and provided two assists, with Pellegrini full of praise. "I think that the big positive was to see Kelechi in very good form," noted the City chief.
The highlight came when the Nigerian threaded a fantastic through-ball for Raheem Sterling to score his first goal in the win over Roma. It was a pass of subtle brilliance that wouldn't look out of place in a David Silva highlights reel. Pellegrini has previously stated his desire to keep the youngster rather than farm him out on loan, and has kept true to his word this season by bringing him on for brief cameo appearances.
Opportunity knocks
City have often been criticised for the manner of their relentless spending, with many regarding the club as a place where young talents go to die. The latter accusation may be more of an indictment of the youth players' abilities than the club's willingness to blood them, though, and their £200m investment in a state-of-the-art facility that includes a section for the youth team shows the club is keen to produce its own band of young players ready for the senior team.
There are a number of bright youngsters coming through – Manuel Garcia, Jason Denayer and Thierry Ambrose – but Iheanacho is the most prized asset of the lot. Despite his willowy frame, he possesses the physicality to thrive in the world's most bruising league. The youngster can also pick a pass and score goals; Iheanacho has the guile to match the strength. As was evident throughout his stellar performance at the Youth Championship, he can play in a variety of positions in the final third, making him a handy weapon in Pellegrini's ranks.
Sergio Aguero is the Premier League's best striker on his day but too often is unavailable – indeed a scything Scott Dann tackle reminded us of the Argentine's susceptibility – and Bony, for all his endeavour, is still finding his feet at City. While Pellegrini's decision to get rid of Edin Dzeko and Stevan Jovetic leaves him with just two senior strikers, the Chilean seems happy to put his faith in his new youngster.
"He's just 18 and started working with our squad last season, but he was unlucky and had a big injury in the last three months of the season," said Pellegrini. "This year he started pre-season with the squad and will be a very important player for the future. He's one of the reasons I didn't bring another striker in when we sold Edin Dzeko. He deserves that chance."
It's a big ask of the rookie to fill the void created by the Bosnian's exit, but if any youngster is capable of dealing with pressure, it's the nimble-footed Owerri native. For all his undoubted ability, he remains a work in progress; a player for the future, the obvious message now being one of patience.
Back home, it's expected that Iheanacho will one day lead the Super Eagles back to the long lost glory days when the national side played exciting, attacking football, and City too have high hopes for their new kid on the block. For the aptly named 'Promise' – his middle name – his prospects for the future are tantalising. Remember the name.
More features like this every day at FFT.com (opens in new tab)
Thank you for reading 5 articles this month* Join now for unlimited access
Enjoy your first month for just £1 / $1 / €1
*Read 5 free articles per month without a subscription
Join now for unlimited access
Try first month for just £1 / $1 / €1