Lorenzo Insigne: Napoli's dazzling wideman Arsenal were warned off in summer
By Adam Digby published
The brilliant 24-year-old is starting to fulfil his vast potential, writes Adam Digby...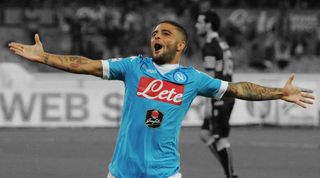 Last weekend Napoli recorded a huge win over Lazio, notching their second consecutive 5-0 rout just four days after seeing off Europa League opponents Club Brugge by the same scoreline. At the heart of Sunday's stellar performance was Lorenzo Insigne, whose efforts were loudly celebrated by the boisterous Stadio San Paolo crowd when he was substituted.
They were joined by many of his fellow players, a number of whom stopped and applauded as the 24-year-old trotted to the sidelines. The recognition was deserved for the incredible performance he'd just delivered – and stands in stark contrast to last season, when Insigne's agent was compelled to publicly speak out about the cold manner in which Napoli were treating his client.
"He feels he is receiving a different level of attention compared to others who have arrived at the club," Antonio Ottaiano said in an interview with Corriere dello Sport. "Maybe he doesn't fit in anymore, and any player needs to know these things," he continued, adding that he had found it "impossible" to find anyone at the club willing to discuss the matter. With over four years left to run on his contract, he had become marginalised following Walter Mazzarri's exit, making just 13 league starts last term. Of course, he is not the first player to feel somewhat neglected by Rafael Benitez, with former Liverpool captain Steven Gerrard revealing his own "frosty" relationship with the Spanish coach just last week.
Rough diamond
Like the ex-England skipper, Insigne was living the dream and playing for his hometown club, having grown up in the less-than-idyllic neighbourhood of Frattamaggiore.
RECOMMENDED
The second of four brothers, he was raised in difficult conditions and his small stature – he stands just 5ft 4in tall – saw him shunned by a number of clubs. Inter and Torino passed on him, and he was 15 before he entered Napoli's youth system, meaning he retains many of the 'street football' attributes of his childhood.
After demonstrating a keen eye for goal with the club's under-19 side, he was sent briefly to Cavese before a switch to Foggia came in the summer of 2010. If Insigne had benefited from not being over-coached as he matured, he would receive his next footballing lessons from none other than Zdenek Zeman and net 19 goals for the third-tier side. The Czech coach has a well-earned reputation for developing attacking players, and it was no surprise that Napoli allowed Insigne to follow him to Pescara the following year.
Stepping up to Serie B and playing alongside Marco Verratti and Ciro Immobile, Insigne continued to thrive as Zeman's teachings took hold. Playing with incredible freedom, he scored 20 goals in all competitions while weighing in with 14 assists to help the Delfini earn promotion as champions.
Insigne returned to Napoli ahead of the 2012/13 season, and quickly established his credentials as the ideal replacement for Ezequiel Lavezzi following the Argentine's £22.8m move to PSG that summer. He relished the chance to shine for his local club, making 43 appearances and playing a steadily increasing role as the Partenopei secured a place in the Champions League for only the second time in their history.
His lack of size and wonderful attacking gifts have often seen his name whispered alongside Diego Maradona's, but his debut in Europe's elite competition evoked memories of another of Serie A's most lauded No.10s. The manner in which he curled home a free-kick to deliver victory over Borussia Dortmund (showing below) was eerily reminiscent of Alessandro Del Piero's exploits of the mid-1990s, and prompted Insigne to profess his admiration for the Juventus skipper.
"I look up to him and as a kid I watched all his goals," Insigne admitted. But, like his idol, he was struck by serious injury just as his career was beginning to take flight. After netting two goals in Napoli's 2014 Coppa Italia triumph over Fiorentina, his progress the following campaign was halted by a torn cruciate ligament that ruled him out for almost the entire season.
So long, Lazio
He burst into tears after scoring on his return to the starting line-up back in April, but since then has enjoyed a much happier time. Maurizio Sarri has replaced Benitez, and the new man's approach appears to be drawing the best from the immensely talented Insigne, as Sunday's demolition of Lazio clearly showed.
It's still early, but the player already appears more determined and concentrated, eradicating the inconsistency which had previously blighted his game. Deployed nominally on the left of Napoli's 4-3-3 formation, the Biancocelesti had no answer to his pace and invention, the crafty playmaker playing a glorious through ball to Brazilian midfielder Allan for his side's second goal of the game.
Insigne got on the scoresheet himself – tapping home a simple rebound after a miss from Gonzalo Higuain – and he was a constant source of torment for the Lazio defence. Completing five take-ons, misplacing just eight passes and recovering the ball six times, he repeatedly opened up a backline which was among Serie A's best last term and managed to always have time and space in which to operate.
STATS ZONE Free on iOS (opens in new tab) • Free on Android (opens in new tab)
"It's not as if I had trouble with Rafa Benitez," he remarked to Sky Italia after the game, "but Sarri really knows about football, he's a great coach." Insigne appears rejuvenated under his new boss, and there is little doubt over the regard in which he is held by the club's hierarchy after owner Aurelio De Laurentiis beamed: "He could become the Neapolitan [Francesco] Totti!"
His agent admitted they had refused a move to Roberto Mancini's Inter this summer, while De Laurentiis laughed off reported interest from England for his gifted star. "Arsenal offers £20 million for Insigne? It makes me laugh," he told La Repubblica in June. "I want to make Insigne's value rise to £60 or 70 million."
Once again feeling loved and at home, even then it might not be enough to tempt him away from his Stadio San Paolo base. "I have always dreamed of playing for Napoli and want to achieve so much in this shirt," Insigne declared. Right now he's going the right way about achieving that.
Thank you for reading 5 articles this month* Join now for unlimited access
Enjoy your first month for just £1 / $1 / €1
*Read 5 free articles per month without a subscription
Join now for unlimited access
Try first month for just £1 / $1 / €1