Who is Florentin Pogba? Meet Paul's "crazy" big brother who's desperate to play for Arsenal one day
Brothers go toe-to-toe in the Europa League on Thursday when Manchester United host Saint-Etienne in the last 32 first leg at Old Trafford. But who is the Other Pogba at Old Trafford? Michael Yokhin's on hand to fill you in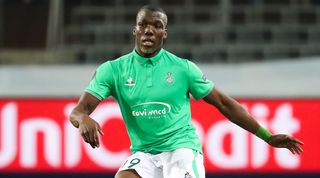 Paul Pogba is lucky he is about to meet his brother Florentin for a game of football when Manchester United play Saint-Etienne in the Europa League on Thursday – because he'd stand no chance against him at ping pong.
Florentin, two-and-a-half years older than the world's most expensive player, could probably have achieved a magnificent career in an alternative sport. Alongside his twin brother Mathias, he joined a table tennis club in the Parisian suburbs when they were eight, and went on to become the local champion. Mathias was even more prolific – he won the French title in his age group.
Defensive rock
However, their love for football eventually proved stronger, and it should be said that Florentin has become an astute player in his own right. The spotlight is on him because of the so-called Pogbattle this week, but it's not unthinkable that the elder brother will prevail – he is an integral part of the Saint-Etienne defence which has been recognised as one of Ligue 1's best for a long time now.
With Pogba in the starting lineup, les Verts conceded just five goals in nine Europa League fixtures as qualification for the last 32 was assured. Pogba started 12 matches in Ligue 1 as well, in which Saint-Etienne conceded only eight goals. It's a record any defender would be proud of.
Pogba has also proved his versatility since the start of 2017. Though usually a centre-back, he switched to left-back following Cheikh M'Bengue's absence at the Africa Cup of Nations and subsequent injury. The 26-year-old performed superbly over four matches in his new position, as Saint-Etienne only conceded once in 360 minutes. Pogba stopped former Manchester United winger Memphis Depay among others in the 2-0 derby win against Lyon, and impressed by rushing forward and making clever passes too.
It's hardly surprising that there are calls for him to be retained as a full-back, and he is very likely to play on the flank at Old Trafford. Florentin himself is ready. "I have to sort out some minor details, but overall it's a natural position for me," he said. "That is where I started my professional career."
Big break
Let's go back to the beginning, then. In 2007, when the 14-year-old Paul Pogba had just joined Le Havre, Florentin and Mathias were ahead of him on their way to Celta Vigo. The Galicians had a French sporting director, and the twins were handed an opportunity they couldn't miss. Florentin spent two years in Spain and vastly improved his technical skills, but the contract offered by Celta wasn't to his liking. He went back to his homeland, signing for Sedan – though not without some rather unorthodox help from Paul.
Landry Chauvin, who coached Sedan back then, acquired a centre-back called Arthur Sorin, whose brother Eliott played with Paul in the under-17 national team. That's how the club became aware of Florentin and invited him for a trial, where he impressed with his physical qualities and positive character. The rest is history.
When Laurent Guyot – currently academy director at Toronto FC – took over as Sedan coach in 2011, Pogba became the second division club's undisputed star at left-back. He was then moved to the centre of defence following Wesley Lautoa's departure to Lorient, and shone as one of the most respected stoppers in Ligue 2.
In 2012, just as Paul controversially left Manchester United for Juventus, Florentin made a very big move of his own. His efforts at Sedan hadn't gone unnoticed by the first division scouts, and Saint-Etienne coach Christophe Galtier personally convinced him to sign. Florentin is a die-hard Arsenal fan, and his biggest dream has always been to play for the Gunners – or another Premier League club at very least – but joining the record 10-time French champions was a huge step forward for the defender.
Waiting game
It wasn't easy, and he spent the first year (2012/13) back on loan at Sedan. Even when he returned, Pogba was forced to bide his time on the bench as a bit-part player for the next two seasons at the Stade Geoffroy-Guichard, but his attitude was never questioned – and eventually he got his rewards.
"Florentin was always highly motivated in training and always in a good mood," former team-mate Jonathan Brison told So Foot. "It's extremely important to have players like him in the dressing room. He has a huge desire to play, but doesn't complain if he's not in the lineup."
Florentin's influence on those around him is evident. As Mathias – the twin brother who now plays for Sparta Rotterdam after spells at Wrexham, Crewe, Crawley Town and Partick Thistle – remarked: "He is the craziest of us all."
In fact, Florentin is even nicknamed 'El Loco'. He likes singing and dancing, and his self-confidence has helped him overcome all obstacles to finally become one of Saint-Etienne's on-pitch leaders. One thing is for sure: he makes himself heard.
Next stop, the Emirates?
RECOMMENDED
6 of the dirtiest games in European Cup history
Ranieri beware: 9 managers who were sacked the season after winning trophies
FourFourTwo's 100 best foreign Premier League players EVER
In short, Florentin is a born leader – maybe even more so than Paul. After all, he has already captained Guinea, the country of his birth, having accepted the invitation in 2010 and later taking the armband under former France great Luis Fernandez. Florentin supported France and his brother at Euro 2016, of course, but he would love nothing more than to play against him at the World Cup. With Naby Keita emerging at a potential world-class Guinean midfielder at RB Leipzig, that could be a realistic dream come 2022.
Moving to England is a much more realistic target, though, and the current media attention will help him here. All eyes will be on Florentin this Thursday, and if he continues his fine form then a move across the channel could be quite logical. "Within two years, he will be playing in the Champions League," Mathias predicted to France Football in 2015.
It's time to prove him right. Are you watching, Arsene?
Quizzes, features and footballing fun
Get the best features, fun and footballing frolics straight to your inbox every week.
Thank you for signing up to Four Four Two. You will receive a verification email shortly.
There was a problem. Please refresh the page and try again.