The 5 big questions that will define Manchester City's 2016/17
The Pep Guardiola era at the Etihad Stadium begins with the visit of Sunderland on Saturday, with the Premier League title in City's sights. Stephen Tudor introduces some key talking points ahead of the new campaign...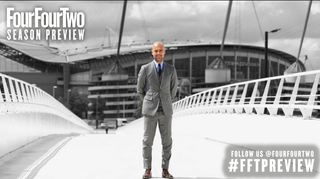 1. Can old dogs be taught new tricks?
For all the excitement generated by academy kids breaking through in pre-season - not to mention the recent signings of  Oleksandr Zinchenko, Marlos Moreno, Gabriel Jesus and Leroy Sane, all 20 or under – the real litmus test of Manchester City's short-term ambition is how Pep Guardiola utilises the old guard.
The danger is that, should it go awry, the likes of Yaya Toure, Pablo Zabaleta and Aleksander Kolarov will resemble proud beasts of the jungle expected to perform circus acts. Massaging sizeable egos frustrated by a lack of playing time could be another challenge, too.
The former Barcelona and Bayern Munich boss spoke recently of his preference for instilling his ideas into young heads, but Guardiola still needs the squad's experienced mainstays to embrace his ideas. It's unlikely that those mentioned will be integral figures in the revolution to come, but does City's new manager have the persuausive powers to get them on board for the time being?
2. Will there be a mentality shift?
City may have lifted the Premier League title twice in the last five seasons, but they've also been guilty of complacency far too often. Last season was a case in point: City boasted what was probably the strongest squad in the division yet were still regularly out-fought, out-thought and beaten by the mere application of want. They talked the talk but their walk had a slight gradient and always seemed like it was too much bother for City to undertake.
It's inconceivable that Guardiola will stand for such half-measures, with the 45-year-old already having preached the importance of aggression without the ball and let his players know that a 'humble' work rate is 'not negotiable'.
Whether the opposition are Burnley or Barcelona, a consistent level of intensity is demanded and an insatiable desire to win in the correct manner will be drilled into those hungriest to learn. Nevertheless, a question mark remains: what level of complacency remains embedded in the present side's DNA?
3. Can Sterling be put back together?
Never before has a player been so widely castigated for successfully agitating for a transfer – a common enough occurrence in the modern game - and the booing at away grounds and the unrelenting negative press inevitably began to have an effect on Sterling last term.
That the player in question was only 20 years old made his treatment particularly unedifying, and even Guardiola's restorative powers may be tested in the case of the former Liverpool man.
Even if Sterling's mojo does return, it's been suggested he may struggle to adapt to an attacking mandate that demands intuitive moment and an outstanding touch. There's plenty of comeptition for places, too, and Sterling could find the path to the starting XI tricky to navigate if he gets off to a slow start. Should he excel under Guardiola, it will be a triumph against the odds.
4. The centre-back conundrum
Of the four recognised centre-backs from last season, only Nicolas Otamendi has participated in pre-season - and his contributions amounted to a meagre 45 minutes against Borussia Dortmund. The quest for John Stones' signature rumbles on; if Everton have witnessed any of City's recent friendlies, they'd be wise to hold out for an extra £10 million.
City's desperation to recruit a ball-playing defender in whom Guardiola can place his long-term faith has seen Eliaquim Mangala and Otamendi pushed to the margins, with 18-year-old Tosin Adarabioyo and full-back Aleksandr Kolarov preferred in the heart of the backline of late. The scowling Serbian was a clear favourite for inclusion in Guardiola's out-tray, yet there he is: in the centre of proceedings, nonchalantly trotting round.
Even for a coach who loves to surprisingly reinvent players, the repositioning of Kolarov will surely prove an experiment too far. To what extent this makeshift and make-do ethos at the back persists will go a long way to determining how City fare in 2016/17.
Stones' technical prowess has made him a City target
5. In Pep we trust. In Joe he doesn't
With the defence presently in chaos, the importance of a familiar presence between the sticks is greater than ever. Repeated links to Marc-Andre ter Stegen, though, suggest there could be further disruption in that position too.
For an internationally-renowned goalkeeper, Joe Hart continues to be hampered by some bafflingly basic flaws: he's too often beaten at the near post for a stopper of his standing, while a weak spot low to his left has not been eradicated even after incalculable hours of training. It's his poor distribution which is rumoured to trouble Guardiola most, despite Hart having noticeably improved his kicking in recent times. 
Whoever is to be City's No.1 will need to be assured of their position and bedded in as early as possible. Guardiola must either put his faith in Hart or bring in a replacement sooner rather than later.
Predicted starting XI (vs Sunderland)
Zabaleta was given the captaincy in City's final friendly against Arsenal, suggesting he will pip Bacary Sagna to the right-back slot, while to his left the promising but unpronounceable Adarabioyo is expected to be given a deserved debut against Sunderland after a strong pre-season. Delph, meanwhile, has impressed Guardiola and should edge out Fernando in the engine room. Not many predicted the Yorkshireman would be a starter under the new manager, but it may not be the last surprise of the new era.
Quizzes, features and footballing fun
Get the best features, fun and footballing frolics straight to your inbox every week.
Thank you for signing up to Four Four Two. You will receive a verification email shortly.
There was a problem. Please refresh the page and try again.