Spoiled Sterling seen drinking bottled water, may have Spotify Premium
By Back of the Net published
Everyday football fans have been left aghast at the latest lavish excesses from Manchester City's Raheem Sterling, exclusively revealed by Back of the Net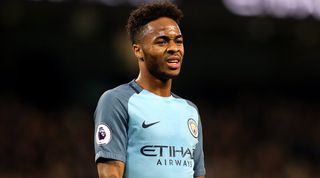 Manchester City fans have expressed their frustration at Raheem Sterling's extravagant lifestyle after photographs surfaced of the £180,000-per-week star brashly downing mineral water.
Sterling appeared oblivious to the fact that he may have been flaunting his wealth in the faces of passers-by as he glugged down his 65p beverage.
To make matters worse, the England wideman seemed to be relaxing by listening to music on his headphones, prompting speculation that he may have a Spotify Premium subscription.
"It's disgusting the way he's using his wealth to purchase goods and services," one Manchester City fan told FourFourTwo.
"Seeing him swigging that Evian as if it's nothing makes me sick and it's an insult to all of us who follow the club through thick and thin and pay his wages.
"I bet he's got a whole fridge full of San Pellegrino or Badoit and he's never run out of skips during a dodgy album track in his entire life.
"What's wrong with tap water, or God forbid, how about he drinks out of a puddle like the rest of us regular Joes while we're listening to Treefingers by Radiohead?"
Can't win 'em
While criticism of Sterling continues to mount for his decadent lifestyle, others have been left frustrated by his unnecessarily frugal lifestyle.
"Honestly, to see someone who earns that amount still shopping in Poundworld is an insult to those of us who actually have to shop there," a Manchester City fan told FourFourTwo.
"I bet the stingy bastard doesn't even have Spotify Premium and spends his whole time listening to Treefingers. Pathetic."
Raheem Sterling was unavailable for comment because he's either too big and important to talk to us or hasn't paid his phone bill.
Please note: This satirical news story is not real. Like, obviously.
More funny stuff • New features every day on FourFourTwo.com
Thank you for reading 5 articles this month* Join now for unlimited access
Enjoy your first month for just £1 / $1 / €1
*Read 5 free articles per month without a subscription
Join now for unlimited access
Try your first month for just £1 / $1 / €1
Quizzes, features and footballing fun
Get the best features, fun and footballing frolics straight to your inbox every week.
Thank you for signing up to Four Four Two. You will receive a verification email shortly.
There was a problem. Please refresh the page and try again.