Rooney a legend this week despite everything you've read over last three years
United star deserves nothing but praise even though you've abused him for ages, say Back of the Net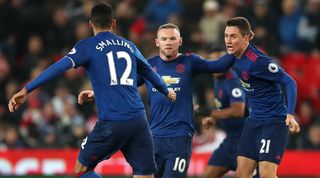 Wayne Rooney is one of the greatest footballers of all time and not in any way a waste of space until next weekend at least, sources have confirmed.
Rooney has scored his 250th goal for Manchester United, proving once and for all that he is the equal of players like Bobby Charlton, regardless of whether he needed 1,500 chances to finally break Charlton's record.
He can now be considered a pillar of strength and consistency who has lit up the Premier League for 15 years, rather than a carthorse with the reaction speed of slime mould, as may have been reported recently by people who have watched him at any point since 2012.
"Wayne Rooney is a player of heroic proportions, by which we mean he is a modern legend, not that he is too chunky to fit inside most football shirts," said a spokesman from Manchester United Supporters' Trust. "His stature is legendary, stature in this case referring to the esteem in which he is held by all around him, not his waistline.
"This larger-than-life character deserves nothing but praise, until the next time he ruins an attack by trapping the ball out of the stadium. Which will probably be Thursday against Hull."
After the game, Rooney said that he had been proud to put his body on the line for club and country, and thanked his fans for their full-blooded commitment to calling him a w***er and demanding his sale whenever he momentarily displeased them.
Please note: This fictional news story is not real. Like, obviously.
More funny stuff • New features every day on FourFourTwo.com
Quizzes, features and footballing fun
Get the best features, fun and footballing frolics straight to your inbox every week.
Thank you for signing up to Four Four Two. You will receive a verification email shortly.
There was a problem. Please refresh the page and try again.