Pig's head, car door, sex toy: 9 weird things thrown on football pitches
After Aston Villa Steve Bruce was targeted by a cabbage, we look at the strangest things lobbed on fields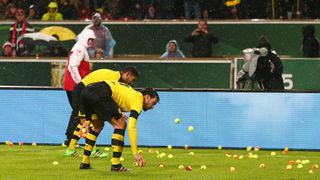 You should never throw anything onto the pitch, of course, but that doesn't mean there haven't been instances of objects diverted onto the field of play that were amusing for their creativity and/or downright bizarre nature.
There have been many explanations for smuggling in foreign objects to launch from the stands, ranging from insults towards former players, through to fan protests and some reasons we barely want to even imagine...
The pig's head
Arguably the most famous instance of such an occurrence came in 2002 when Barcelona supporters lobbed a pig's head towards Luis Figo. The Portuguese superstar was public enemy number one after he left for Clasico rivals Real Madrid, and was targeted in unusual fashion upon his return to Camp Nou.
Plastic pigs
This one really takes the bacon. While Figo was subjected to a bona fide pig's head, fans of Charlton Athletic and Coventry City combined to protest against their respective boards during a League One match in October 2016 by throwing hundreds of plastic pigs on the pitch, causing the match to be halted.
Tennis balls
What's all this racket?! In 2016, Borussia Dortmund supporters, irked by rising ticket prices in the Bundesliga, served up a barrage of tennis balls during a DFB-Pokal quarter-final against Stuttgart.
A moped
Er, yes. In 2001, Inter fans stole a moped from an Atalanta supporter, smuggled it inside San Siro, tried to set it alight and then launched it from the top tier of the stadium. Technically this one never made the pitch, but allow us a bit of creative licence.
A car door
More motor madness now, and a contest between Chile and New Zealand for a 2002 World Cup warm-up hit the brakes when a fan, for reasons known only to themselves, brought a car door on the pitch.
Sex toy
Liverpool endured a memorable 2001 season that brought domestic glory in the EFL and FA Cup, and a UEFA Cup success on the continent. But Gary McAllister remembers the final of the latter competition for something hurled towards the pitch. Upon closer inspection, and following a conversation with Robbie Fowler, it was found, indeed, to be a "huge sex toy"…
Games console controllers
We're all prone to FIFA rage, but a few fans took their gaming ire to new levels following a contest between Young Boys and Basel in the Swiss Super League last month, aiming pads towards the pitch to show their disapproval towards the rise of eSports. We've all been there. 
Wheelbarrow
Passions often rise high in South America, and so it proved during a Copa Libertadores quarter-final between America and Sao Caetano in 2004 after the former had Cuauhtemoc Blanco dismissed. The striker later reappeared and, among the coins and bottles thrown towards the pitch was, of all things, a wheelbarrow. How? And why? Hmm.
Cabbage
Poor Steve Bruce. His Aston Villa team have flattered to deceive in the Championship this season, discord among supporters is growing and, before a ball had even been kicked in a 3-3 thriller against Preston, a disgruntled fan chucked a cabbage towards the Villa boss. Fair to say tensions boiled over there.
Quizzes, features and footballing fun
Get the best features, fun and footballing frolics straight to your inbox every week.
Thank you for signing up to Four Four Two. You will receive a verification email shortly.
There was a problem. Please refresh the page and try again.