6 of football's costliest red cards: Lehmann, Di Canio, Becks...
Leicester could be without Jamie Vardy for longer than his initial one-game ban – but at what price? Robert O'Connor uncovers a handful of dismissals that had big implications...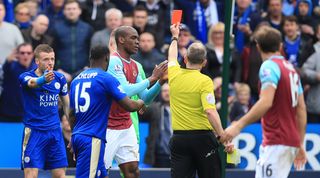 1. Jens Lehmann, Arsenal vs Barcelona 2006
Which is worse, losing a goal or losing a man? Arsene Wenger had about three seconds to mull it over in May 2006 before Ludovic Giuly's 18th-minute strike for Barcelona in the Champions League final in Paris was ruled out and Jens Lehmann dismissed for bringing down Samuel Eto'o in the build-up. 
It's tempting to think that referee Terje Hauge's decision to cancel out the goal and dismiss the Arsenal goalkeeper cost football one of its great European finals.
Robert Pires will certainly feel that way, sacrificed on Arsenal's right flank as Wenger reshuffled his team to try to contain Frank Rijkaard's side a man light. The class with which the Gunners had steered their way to the final in Paris was enough to suggest they would have been a match for Barça, still warming up to the greatness of the Guardiola years.
Pires's expression as he left the Stade de France field was enough to make one wonder if he would ever muster the forgiveness to play for Wenger again. What is certain is that Hauge's eagerness to reach for his pocket was the defining moment of a potentially great match, which sadly never recovered.
Lehmann sees red
2. Christian Worns, Germany vs Croatia 1998
A result that marked the end of an era for an ageing Germany, Berti Vogts's side were holding their own against a young, lithe Croatia outfit in Lyon before Christian Worns scythed down Davor Suker shortly before half time.
It was a challenge that turned the game – and maybe even the course of German football. Croatia's 3-0 victory helped send Die Mannschaft into a crisis that would take eight years to resolve, Worns' clumsy hack as Suker hurried past serving as a sorry metaphor as international football raced away from Germany at the turn of the millennium. It was to get worse before it got better for the 2014 world champions.
Worns hacks down Suker
3. Fernando Torres and Branislav Ivanovic, Chelsea vs Man United 2012
Cost is a difficult to thing to gauge in football. Cause and effect can rarely be linked up with a tidy line, which tends to leave a litany of what-ifs strewn about the game's history like confetti.
Managers' jobs, for example, so often hinge on contingencies; some look destined for greatness from the moment they're appointed, while others quickly seem like dead men walking. Roberto Di Matteo's brief tenure as Chelsea boss falls into the latter category.
Having delivered the FA Cup and Champions League as caretaker manager, following the mid-season sacking of Andres Villas-Boas, Di Matteo's appointment in the summer of 2012 was one that practically made itself, but the noises were that Roman Abramovich was never settled with the Italian in charge.
Even so, the European champions made a scintillating start to the new season, winning seven and drawing one of their opening eight games and making a promising early defence of their Champions League crown. When Manchester United visited Stamford Bridge at the end of October, Chelsea had the chance to go seven points clear at the top of the Premier League table.
At the very moment that destiny called on Di Matteo to make the job his own, Fernando Torres and Branislav Ivanovic saw red – literally. Both were sent off as nine-man Chelsea fought back heroically from 2-0 down before going on to lose 3-2 to a late Javier Hernandez goal, and the early initiative in the title race was lost. It seems remarkable that having taken his side four points clear at the league summit in mid-October, Di Matteo failed to win another game before being dismissed. But for two red cards at Stamford Bridge, this chapter could have been so different.
4. David Beckham, England vs Argentina 1998
Looking from 18 years hence, there's a case to be made that David Beckham's red card early in the second half of England's World Cup 98 last-16 game against Argentina ultimately did the Manchester United man more good than harm.
He went into the tournament in France as a flashy 23-year-old, stylish with his delivery but not battle-hardy enough to command a place in England's midfield.
The vitriol that rained down on Beckham in the months that followed his dismissal for a kick on Diego Simeone was always going to have a lasting effect on the United midfielder. But rather than shrinking from away from the international scene he summoned a resolve which led, three years later, to a career-defining performance for England in hauling them to a 2-2 draw against Greece at his spiritual home, and over the World Cup qualification finish line. 
In Saint Etienne in June 1998, however, his petulance under pressure played a huge part in England's exit on penalties.
5. Pablo Zabaleta, Man City vs Wigan 2013
There were six minutes to go at Wembley in 2013 when Zabaleta hauled down Callum McManaman to earn a second yellow card and become only the third player to be sent off in an FA Cup final.
Already traumatised by a wretched season in which they feebly defended the Premier League title, Manchester City responded like a team without a plan. Certainly there wasn't one for marking Wigan's Ben Watson as he darted to the near post to flash Shaun Maloney's corner past Joe Hart, although with 11 men on the pitch, even City at their most ramshackle would surely not have left a man free in the final seconds of a knife-edge cup final.
Zabaleta fouls McManaman
6. Paolo Di Canio, Sheffield Wednesday vs Arsenal 1998
One unstable element among many, Di Canio's red card from referee Paul Alcock against Arsenal at Hillsborough in 1998 was only one more point on the graph of Sheffield Wednesday's slow demise from Premier League mainstays to First Division relegation fodder – but it was one that caught the popular imagination. 
RECOMMENDED
Arsenal and Arsene Wenger are stuck with each other – for a year, anyway
Fiiiiiiiight! 10 of football's funniest on-pitch scraps: WWE, windmills and weaponry
Howay the entertainers: Reliving Newcastle's 1995/96 title challenge, by the players
In a moment that has long since passed into folklore, Di Canio responded to being dismissed by pushing Alcock to the ground, for which he received an 11-game ban and never played for Wednesday again.
At the end of the last millennium, the Owls were already in financial meltdown, years of over-investment in under-performing stars made worse by a run-in with Sheffield City Council over a failed bid to sell off their training ground for housing development.
Hardly headline stuff, unlike Di Canio's scuffle with the referee. Had the Italian stayed in south Yorkshire, relegation the following season might have been staved off.     
Quizzes, features and footballing fun
Get the best features, fun and footballing frolics straight to your inbox every week.
Thank you for signing up to Four Four Two. You will receive a verification email shortly.
There was a problem. Please refresh the page and try again.