Denmark '86: The best team never to reach a World Cup semi-final
They cruised through the '˜group of death'™ with their breaktaking brand of total football, but, asks Rob Smyth, were Sepp Piontek'™s laid-back legends the best team ever not to reach the final four?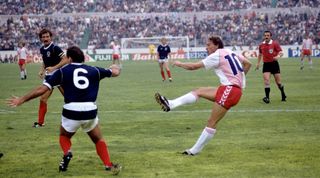 As the World Cup has grown, so there has been less to discover. Once it was a thrilling voyage of discovery on which fans could marvel at previously unseen players, but a combination of saturation, globalisation and the internet means it is now full of familiar faces.
In 1986, by contrast, only five of the 24 sides had players in the Football League: England, Scotland, Northern Ireland, Algeria (Notts County's Rachid Harkouk) and Denmark, who had John Sivebaek and Jesper Olsen at Manchester United, and Jan Molby at Liverpool.
None of these were regulars for their country, such was the quality of the squad, and that meant the Danes remained thrillingly unknown. Even though they only reached the last 16, Sepp Piontek's "Danish Dynamite" side were a revelation. FIFA's technical report said they "played the most spectacular football during the tournament".
They romped through their 'Group of Death' before losing 5-1 to their Spanish nemeses in football's saddest, maddest thrashing.
With their ultra-attacking style and air of effortless, insouciant cool, they fired the imagination in a way that few sides have before or since. Svend Gehrs, Denmark's answer to John Motson in the 1980s, captured the mood when he called them an "unconquerable team of optimists".
Raw talent coursed through the side. Up front they had Michael Laudrup, the world's best young player by a distance, and Preben Elkjaer, determination incarnate but also exceptionally gifted with both feet.
The midfield comprised Soren Lerby, an unyielding warrior who was so hard that he played without shinpads, the wonderfully incisive Frank Arnesen and the two unsung, blue-collar heroes, Jens-Jorn Bertelsen and Klaus Bergreen. Jesper Olsen and Molby, stars in English football, struggled to get a regular game.
The defence was marshalled by Morten Olsen, who almost accidentally discovered the libero role in his thirties and took to it so well that arguably only Franz Beckenbauer has performed better in that position. Olsen, who played international football into his forties, read a game as if he had written it.
All excelled in the 'contra' system devised by their German coach Piontek. The fluidity of their play, allied to sublime individual ability, prompted a multitude of comparisons to Holland's Total Football side and made them everyone's second team during Mexico 86. While Denmark's passing carousel bore comparison with any of the time, their biggest strength was probably their array of dribblers, particularly Arnesen, Elkjaer, Laudrup and both Olsens. All were quick but, more importantly, all had a destructive change of pace.
"The spirit we had is like Spain today, or Holland in Seventies – we wanted to play the ball around and let the opposition do the running – but the system was our own: it was 3-5-2, and in Holland they play 4-3-3," says Elkjaer, who finished third, second and fourth in the voting for the Ballon d'Or for three consecutive years from 1984 to 1986.
"It was a very positive style, because we were not able to just defend – of course we would go back when we didn't have the ball but we didn't go back with 10 players."
The Danish way
The skill of Piontek lay not only in his unique system but also in his ability to know how far he could impose his own values on the Danes.
"He came with a lot of German discipline but also knew he had Danish players – they also need some of their own responsibility and he found a good balance between discipline and freedom," says Morten Olsen, coach of the national team since 2000. "We couldn't play as a German team, we had to play as Danes. He knew that and that was very, very clever."
Piontek never fully managed to change the DNA of the side, and it feels apt that they are the only team since the 1950s to score and concede at least five in one match at the same World Cup.
While the team were full of proper professionals – their Mexico 86 squad included players from the champions of Italy, West Germany, Holland, England and Belgium – there was an endearingly amateurish spirit. The sense of fun was palpable, most obviously in the video for their unashamedly camp World Cup song, Re-Sepp-Ten; they enjoyed a beer when they could; Elkjaer and the defender Ivan Nielsen would often sneak out for a sly cigarette at half-time.
They came across as ordinary blokes who were as boyishly fascinated by their own success as the Danish public. Even their kit, a groundbreaking Hummel affair that was premiered on live TV in Denmark, was the one everyone wanted.
"One of the reasons we were so popular is that we were very accessible to the media," says Elkjaer. "We liked to have visitors from the press, and I think that approach was very helpful, because all the foreign journalists said, 'Oh, they are very nice'. And they wrote nice things about the team, the players, and the feeling that was surrounding the team. There was a lot of laughter and a lot of humour. The Danish mentality is different from many other countries: the fans and the players were there to enjoy themselves."
The colourful Roligans – Rolig is the Danish word for calm and mild-mannered – became known for their peaceful support of the team. "I think we had 20,000 Danes in Mexico, and there were no problems with them," says Elkjaer, "They drunk a bit of beer but there was no fighting. They were there to enjoy themselves and make friends with the other teams and with the Mexicans. All in all there were so many positive things about the team, the fans and the way we played that it was very difficult to say anything bad about us."
Football fiesta
Denmark had reached the semi-finals of Euro 84, having coolly eliminated England in qualification, but this was their first-ever appearance at a World Cup; they were drawn alongside West Germany, Scotland and the South American champions Uruguay, whose manager Omar Borras coined the phrase 'The Group of Death'.
They stormed through, beating Scotland 1-0, Uruguay 6-1 – when Elkjaer scored three and made two, yet was still overshadowed by an individual goal of shimmering brilliance from Laudrup – and West Germany 2-0. After the win over Uruguay, a Mexican TV commentator said: "Senors, Senores, you have just witnessed a public fiesta of football."
In the aftermath of the same game, the great Swedish writer P.O. Enquist said: "They should dedicate a green field in heaven to Laudrup and Elkjaer. We, the spectators, will come to this heaven and cheer them after this divine evening."
After the first week of the tournament, The Guardian's David Lacey opined that they were "at the head of a distinguished list of European candidates" to win the tournament. Yet it was in the final group game, against West Germany, that things started to unravel.
In the dying seconds Arnesen, unusually on edge all game because his wife had suspected meningitis, was sent off for kicking out instinctively at Lothar Matthaus and suspended for the second-round match. Not only would he be sorely missed, but his replacement Jesper Olsen would start in his position on the right of midfield and play one of the most infamous backpasses in football history.
The other problem was that, because they had topped the group, Denmark would face Spain rather than Morocco in the last 16. It has subsequently been suggested that they should have thrown the game, but they had never beaten West Germany – except for a friendly in 1971 when Germany fielded an amateur side – and the chance to bloody another aristocratic nose was too great to resist.
"I didn't hear anybody talk about losing the game at the time," says Elkjaer. "It's just impossible for a player to go out and say, 'We don't have to win today'. It's certainly not the Danish way. Piontek didn't say anything about that; if he had we would have said, 'Are you crazy?' So we won 2-0. What can you do? Anyway, we were fairly sure that we would beat Spain, because we were a better team than them."
Molby concurred. "The truth is," he says, "that we felt we could take them all."
One too many
They looked like they would take Spain for almost all of the first half. Jesper Olsen's gloriously cocky penalty gave them a deserved lead but then, in a vicious twist of fate, he played an appalling, casual backpass on the stroke of half-time that gifted Emilio Butragueno an equaliser.
Even now, a serious faux pas in Denmark is described as a "rigtig Jesper Olsen" (a real Jesper Olsen), whether by the general public or even in parliament. The seductive appeal of such an apparently symbolic moment has led to the widespread perception that the nature and timing of such a traumatic error flattened Denmark, yet they were irrefutably the better side at the start of the second half, with Elkjaer almost scoring twice.
Only when Butragueno headed Spain into the lead in the 56th minute did things start to go so dramatically wrong: Denmark overcommitted, with their 3-5-2 formation often more like a 3-1-6, and were shredded on the break. Butragueno scored four times and Denmark were trounced by a team who were becoming used to doing a number on them: Spain beat them at Euro 84, Euro 88 and in an unforgettable qualifier for USA 94.
"At 2-1 and 3-1 it became an all-or-nothing game and then we were open and too easy to counter-attack," says Elkjaer. "Before that it was an even game and we could have won as well. Nobody in the team blames Jesper Olsen; it's part of the game. Afterwards we were in shock, because it was impossible with our team that we could lose 5-1. That is the worst thing about it. You can lose a match against Spain – anyone can lose against Spain – but 5-1 is ridiculous. That, for my taste, was too much."
Mind games
The post-mortems suggested that success would also have been too much; that Denmark's folksy psyche had no room for the ruthlessness needed to win a World Cup.
"This Danish attitude started creeping in after the group stages, where players thought, 'Oh well, we've made it this far, we've done brilliantly and nobody can blame us'," said Piontek in Tynd Luft. "At the end, there was something missing in their frame of mind. This transition to: 'We can and we must!' Perhaps it hadn't succeeded as well as I thought.
"The problem for us was that it was our first World Cup, in the hardest group, and we won it," says Elkjaer. "So then you get content, and the team thinks, 'Oh, even if we go the next game we can still go back and say it was a success'. That was what happened. If you play for Germany, England or Italy, only if you win the World Cup can you go back and say it was a great success."
History does not always remember the runners-up, never mind the also-rans, but the legend of Danish Dynamite has deservedly endured.
Quizzes, features and footballing fun
Get the best features, fun and footballing frolics straight to your inbox every week.
Thank you for signing up to Four Four Two. You will receive a verification email shortly.
There was a problem. Please refresh the page and try again.