15 reasons why everyone hates... Manchester United
For a long time, the all-conquering Reds were a club many of us loved to loathe. We asked Manchester City nut Stephen Tudor to tell us why he still harbours the hate...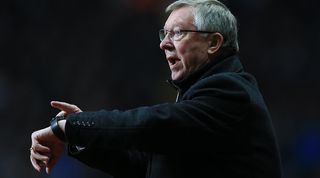 Please note: Manchester City will get the return treatment too, so no, we aren't just picking on you. Oh, and the below doesn't necessarily represent the views of FourFourTwo. Now, to the fury... 
1. The establishment club
It's not only 'bitter' Blues who question the fairness of David Gill sitting on the boards of Manchester United and the FA while also being part of UEFA's Executive Committee. 
Gill's far-reaching influence shouldn't really come as a surprise, though, as United – like double-barrelled peers and Russian spies – have long been firmly entrenched in the 'establishment'.
Sir Matt Busby, Sir Bobby Charlton and Sir Alex Ferguson. Bill Shankly, Kenny Dalglish and Bob Paisley. Spot the difference. We can probably expect knighthoods for Gary Neville and Wayne Rooney in the post soon enough.
2. A brand, not a club
At the last count, United brag about having over 30 official commercial partners, ranging from tyre companies to noodle suppliers. While other clubs equate success with silverware, the PLC from Salford has a managing director who proudly announces their social media reach exceeds that of Justin Bieber's.
It's an odd sensation to feel embarrassment on behalf of an enemy. There should be a word for that. Is there a word for that?
3. Killing the FA Cup
The erosion of the FA Cup's prestige can be sourced directly back to 2000, when the trophy holders decided to pull out of the tournament in favour of the ill-conceived World Club Championship in Brazil.
Strange, then, that the doom-mongers who mourn the present state of our national treasure concentrate their wrath on clubs who field under-strength sides, leaving United free to enjoy 56 consecutive televised games – all accompanied by the commentator's flowery praise for their 'proud association' with it.
If the demise of the FA Cup's standing has been death by a thousand cuts, United began the process with a stab to its heart.
4. Favoured by officialdom
Conspiracies cease to become conspiracies when clear and consistent patterns emerge, and seven offside goals already this term brings to mind Richard Scudamore's claim in 2014 that "Manchester United's decline is bad for the Premier League".
Widening the frame reveals a welter of highly dubious decisions from the Ferguson era, with referees swayed by fear, reputation and the prospect of having their ability or fitness questioned on the back of every national newspaper by a knight of the realm.
Those who believe football is a level playing field presumably also get soap stars confused with their characters and think the government have their best interests at heart.
5. Buying success
Due to the remarkable one-off crop of 1992, the myth persists that United blood their own players. In actual fact, splurging eye-watering sums on new signings – and thus vastly inflating the market for the rest of football – has been their raison d'etre for years.
Rio Ferdinand, Wayne Rooney and Paul Pogba are just three monstrous purchases that stand out from countless examples of financial doping. It almost guarantees success, at least when you disregard the fact that the most expensive squad in Premier League history seem permanently moored in sixth place.
Each smashing of the transfer record is naturally accompanied by widespread celebratory press coverage, a reverence which sharply contrasts to the castigation dished out to others who spend to improve.
6. Making light of Fergie Time
Considering the cringe-worthy boast above remains a popular number in the Stretford End songbook, perhaps it shouldn't come as a surprise that United have been so complicit with the media in making a joke of an unethical situation that constitutes cheating through intimidation.
The sight of any other manager regularly brow-beating officials into granting his team additional time would be met with universal disgust. For Ferguson, that old rapscallion, it was greeted with little more than an admiring chuckle from arch-sycophant Clive Tyldesley and others.   
Still, Manchester City won the league in 'Fergie-time' so I guess we should probably thank him.
7. Former player mafia
The first sign of a mini-crisis and out they're wheeled, the usual suspects of retired ledges to act as media mouthpieces for the machine. Don't worry everyone, remember we're the famous Man United and the manager will soon turn things around. Everything is fine. Please continue to purchase the merchandise and resume with your vicarious sense of superiority.
There is little chance of this stuttering giant ever receiving legitimate criticism when full-page splashes are regularly allocated to Bryan Robson et al to spout their happy-clappy evangelism.
8. Every song is a nursery rhyme
"Knick knack paddy whack, give a dog a bone, why don't City f*** off home?"
Firstly, the request is a candid admission that City are from elsewhere, in this instance Manchester. Secondly, the chant loses all menace when it falls just shy of "There's a worm at the bottom of the garden and his name is Wiggly Woo".
9. 'Citeh'
A further admission that City's support is traditionally more local. Can you imagine Liverpool supporters mocking Evertonians by exaggerating a Scouse accent? The very notion is nonsensical as each club takes a justifiable pride in boasting a strong, local fanbase. They really haven't thought this one through.
10. 659 million supporters
The so-called alt-right's recent insistence that Donald Trump's inauguration was packed to the rafters was rightfully met with incredulity, but that's nothing compared to the disbelief that greeted a survey in 2013 claiming that one in 10 of the world's population was a Red Devil.
The astronomical figure was even more surprising given that an identical survey five years earlier concluded that 333 million indoctrinated souls were unable to locate Old Trafford on a map.
That's quite some spike and we can only surmise that United's 0-0 draw with Spurs in the 2009 League Cup Final was astonishingly inspirational. Alternative facts are by no means a new phenomenon.
11. Delusions of continued grandeur
Of course Gareth Bale will leave Real Madrid for a club who have won one piece of silverware in the past four years and finished seventh, fourth and fifth following Sir Alex Ferguson's retirement. It's between you and West Brom.
12. Theatre of Dreams
Self-mythology is fine. Liverpool do this better than anyone, heralding their club folklore and European nights. What really grates with United – to the point of wanting to dig out your spleen with a rusty spoon – is how their grandiose terminology spreads beyond Salford to become the accepted norm. If the 'United way' wasn't bad enough, there's this corny nugget of pure nonsense in reference to their stadium.
Maybe other clubs are missing a trick here? The 'Colosseum of Timber' for Everton? The 'Library of Knowledge' for Arsenal? Silly, you say? Well, quite.
14. Sky love-in
Sky's monopolising rise to prominence coincided with United's emergence as the dominant force in English football, so – to an extent – it's natural that a symbiotic relationship grew throughout the nineties and noughties. But when Martin Tyler celebrates an Anthony Martial goal against Liverpool with all the giddy fervour of a MUTV propagandist then you know it's spiralled far beyond mutual appreciation.
Meanwhile, if you ever wish to revisit the 'glory days' again, simply scroll through the channels on any day that has a vowel in it.
15. Pantomime villains
Even as a bitter blue you have to stand back and admire United's consistent ability to produce pantomime villainy, a roll-call of Red Devils that equates to 10 Roy Keanes for every Denis Irwin.
The charge sheet is longer than the credits to Gandhi, but honorary mentions must go to Saint Ryan of Giggs and, in particular, 'Wazza' Rooney for his nauseating habit of trying to referee games while also hurling language at the officials that would make a docker blush. 
Quizzes, features and footballing fun
Get the best features, fun and footballing frolics straight to your inbox every week.
Thank you for signing up to Four Four Two. You will receive a verification email shortly.
There was a problem. Please refresh the page and try again.