9 players who couldn't hack the culture shock in a new league
As the summer's international signings grow used to new environments, Tim Ellis on the stories behind the stars who struggled to settle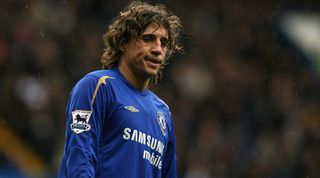 1. Nolito (Manchester City)
The start of the Pep Guardiola era at Manchester City brought the signing of Celta Vigo forward Nolito in July 2016. Unfortunately, the Spaniard started just nine league matches and appeared more concerned with the lack of light in his new home.
"I have learnt very, very little English – it's very hard. Just 'tomorrow', 'good morning', 'good afternoon' and a little more," he admitted to Spanish radio station El Transistor. "My daughter's face has changed colour – it looks like she's been living in a cave."
When spotted in an ice cream parlour with Sevilla's sporting director this summer, Nolito denied there was a move on the cards, claiming he was only there to look for clothes for his wife. A few weeks later, he signed a three-year contract with the La Liga club. The ice cream must have been good.
2. Darius Vassell (Ankaragucu)
Ambitiously dubbed the "English Kaka" by Ankaragucu chairman Cengiz Topel Yildirim, Vassell was mobbed by 3,000 Turks at Ankara airport in 2009 as a procession of 50 buses and 250 cars welcomed the club's latest signing.
But the former England international's time in Turkey turned hellish when the cash-strapped Super Lig team failed to pay his bill at a hotel and he was evicted. It was then that the striker began to pour his heart out to the world with blogs that went viral: "People want money, people want goals, they want me to stay but I'm missing my home," he electronically emoted.
The blog detailing the daily happenings of the former Aston Villa man's life in Turkey, which included incidents such as the club sacrificing a goat at the training ground. He also made it clear that he was missing a good old Midlands cuppa. "My favourite sentence is "Bier cay lutfen?" [one tea please] but there is only so much Turkish tea that I can drink before the novelty wears off," Vassell wrote.
Eventually, he parted company with the club after scoring four goals in 22 appearances, insisting: "My love for Turkey has not been affected." Phew.
3. Lars Leese (Barnsley)
In 1997, Barnsley boss Danny Wilson purchased Leese, Bayer Leverkusen's third-choice goalkeeper, without having seen him play. The German was catapulted into the Premiership, becoming the hero of the famous 1-0 victory at Anfield as the famous chant of "Lars Leese, as tall as trees" bellowed out of the away end.
Despite some impressive showings between the sticks, Leese was left bemused by Yorkshire dressing room culture. "How do they do that?" he mused on the size of English bladders at a beer-swilling bonding session; he then glanced under the table to see the home players relieving themselves horizontally. At Barnsley's Christmas party, one team-mate dressed up as Adolf Hitler and greeted Leese with a shrill "Heil Hitler", which the keeper explained was an arrestable offence in his home country.
"England is a special place with its own culture," Leese said. "In Germany, the image I had was of a London gentleman wearing a bowler hat, but when I got to Barnsley and saw it at night I thought, 'Jesus, this is like Mallorca.'" He's probably the first person to have thought that.
4. Mauro Boselli (Wigan)
Former Estudiantes striker Boselli boldly declared he wanted to become a part of Wigan's history when he signed for £6m in 2010, while insisting there was nothing he missed about Argentina.
"Everything else can be managed," Boselli boldly declared on his arrival. Everything except a chilly evening at Upton Park, that is. The forward missed a penalty against the Hammers just minutes after coming on, before complaining: "That day, I'd just come onto the pitch and couldn't feel my feet it was so cold."
Boselli eventually left the Latics for the subtropical temperature of Club Leon in Mexico. In March 2012, Wigan fans ranked him as the club's worst ever foreign player.
5. Jimmy Greaves (Milan)
Greaves left an ailing Chelsea for a cash-rich Milan in 1961, but his heart wasn't really in it. Rossoneri manager Nereo Rocco was particularly austere, ensuring the former Stamford Bridge hero didn't smoke more than two cigarettes a day or escape the city limits. "He once locked me into my room, so I escaped out of a window, across a ledge, in a hallway window and out to freedom via the main reception," the England striker later recalled.
The player's saviour was Tottenham boss Bill Nicholson at Tottenham, who paid £99,999 for the striker in December. Greaves' nine Serie A goals helped Milan to the title, but he didn't play enough games to claim a winner's medal.
6. Seth Burkett (Sorriso)
Thanks to a fortuitous meeting with a Brazilian agent, Burkett, who was rejected by Northampton and Peterborough as a youngster, became the first British player to play professionally in the home of Pele, Zico and Ronaldo. He joined Esporte Clube Sorriso, ranked 264th out of Brazil's 770-plus professional teams, and trained in 50-degree heat on a diet of rice and peas.
"It was a massive culture shock," he conceded. "I enjoyed more creature comforts playing non-League for ­Stamford. In terms of hygiene and cleanliness, it was horrific - a real eye-opener." Burkett only received 15 minutes' playing time for the first team before his visa expired, but he later wrote a book about his South American adventure.
7. Hernan Crespo (Chelsea)
Crespo joined Chelsea in August 2003, becoming the club's 11th signing of the summer as Claudio Ranieri splashed the cash provided by new owner Roman Abramovich. But the Argentine striker had more problems with the household bills than his £17m price tag. 
"It was a problem for me to sign a contract for a house," Crespo explained. "It was even a problem trying to use my phone because I couldn't explain what I wanted. If the electricity bill came, it was a problem as well. There was no one to tell me whether to live near Chelsea or the training ground."
The former Inter man was sent out on loan after a disappointing first season at Stamford Bridge, but returned under Jose Mourinho to help the Blues win a second successive Premier League title in 2005/06.
8. Andrea Ranocchia (Hull)
Ranocchia joined Hull on loan in January and went on to form a promising partnership with Harry McGuire in the centre of defence as the Tigers made a late surge for safety. The Italian struggled with the customs of his new country, though, and dearly missed his home comforts.
"On the first day alone I went into the wrong way down two crossings," he said. "I've already scraped the rims on my car wheels on the pavements. I really miss pasta, too." Not a fan of the humble Yorkshire pudding, then.
9. Brian Laudrup (Milan/Fiorentina/Chelsea)
In 1994, Walter Smith drove Laudrup to a hotel in Loch Lomond to try and convince the Denmark international that Rangers was the place to be. He didn't have to bother.
RECOMMENDED
Why the Premier League is right to look to close the transfer window earlier
9 out-of-favour Premier League stars who could still move this summer
"I spoke to Walter and said, 'before you read anything in the papers I've just had an offer from Barcelona and I've turned it down'," Laudrup recalled. "He didn't say anything for a minute and then he said, 'So you'd prefer to play Falkirk on a Tuesday night?' I said, 'Yeah, I love it' and he laughed and shook my hand." During the next four years the Dane became a legend, helping the club to nine league titles in a row.
Later at Milan, Laudrup won the European Cup and Serie A, yet he "never felt part of that team". At Fiorentina, he noted that foreign payers were blamed when things went wrong. London was also an adventure he regretted. After signing for Chelsea in 1998, the midfielder tried to get out of the contract.
Rangers was truly his spiritual home: "I was happy in Scotland on the park and my family and I were very happy off it."
Quizzes, features and footballing fun
Get the best features, fun and footballing frolics straight to your inbox every week.
Thank you for signing up to Four Four Two. You will receive a verification email shortly.
There was a problem. Please refresh the page and try again.