John Stones: "I want to set a mark and be a mixture of Rio Ferdinand and John Terry"
By Jonathan Fadugba published
He went from U20 debutant to senior cap within a year, but he's very happy to help the U21s chase glory at the Euros. John Stones tells FFT about call-ups, caps and a crazy year...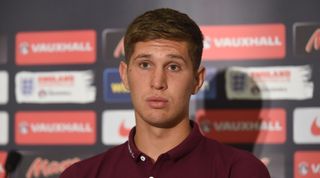 Are you looking forward to going away with England U21s?
It'll be great. We've got such good young talent in our age group that we should be confident going into each game: there's good character.
Every time you go away it's different. It's good to get away from your club and see a different side of training – the standard there is unbelievable.
To see what other players are doing and try and learn from other players, even at my age, is great. So I think it'll be a great tournament to be a part of.
Is it strange to go into an atmosphere which is obviously competitive, but you're all the same age group – do you all know each other from beforehand?
Definitely. I think we've all known each other even from the younger age groups. I get along with everyone there – everyone does, I think that's why we're so good together because we're all good friends. We have a good laugh while we're there and I think that shows on the pitch as well, the togetherness. The more lads that are familiar with each other and know how each other play, the better results you're going to get.
You played at the U20 World Cup in 2013. What do you learn at a tournament like that?
Oh, it was brilliant. I mean I was gutted to go out so early, and we were disappointed with ourselves – we should have done a lot better. The experience was great playing in tournament football, but I think the ultimate thing was we weren't clinical enough.
We showed too much respect to the other teams and probably not enough respect to ourselves, because we had such a great team. We had good players [also in the squad were future senior players Harry Kane, Ross Barkley and Jon Flanagan], and to go out so early was bad. We should have been getting to the quarters, semis or even the final with the team we had. It was disappointing.
How did you find the experience of going away? Was it tough to adapt?
No, I think you go away from home that much anyway, and you're with your friends that much, you just get used to it. I was ready to stay a bit longer! It was a great experience. All the staff and all the lads make it so welcoming. The setup at England is great.
That trip especially was good; we went out a week beforehand, trained out there and got used to the heat, got used to the surfaces. The coach at the time was Peter Taylor. He did a great job in preparing us for that tournament and I don't think we repaid him for what he did. But I'm a big fan of tournament football and trying to win medals and things like that, so I really enjoyed the experience.
At the younger age levels, do you watch analysis videos of the opponents?
Yep. Straight through from even younger than the Under-20s. I think every first team in every league is trying to bring video analysis in. So we did that, yeah. We had little notes, and even if you want more notes about a certain player you can go and get that. The analysis team is great.
At that U20 World Cup, England played Iraq, and perhaps players were wondering...
"Who are they?" Yeah, but they do their research on every team and give us the best chance of winning. And you never know, football's a funny game. You can score a goal from nothing and you can't do anything about it – you can do all the research you want but you can't stop a wonder-goal. But as I say, we played some of the not-so-favourite teams and they beat us.
The crazy year of RISING STONES
Do you think England can win the U21 Euros? What's the aim there?
I think we've got to aim high with the squad we've got but without being too arrogant. We need to know in ourselves and have good belief. I always say that we should go into each game one step at a time and take each game as it comes.
In tournament football you've got to set a goal but not look too far ahead otherwise you get ahead of yourself. But with the players we've got I think we've got a great chance.
You've already made your competitive debut for England's senior team. What was that like?
Yeah, it was crazy. I mean when I got the call off Roy Hodgson... I was 19 and I think I made my debut two days after my birthday. So it was... crazy. A crazy year. To go away to Portugal and Miami with the senior squad with all the players you've watched for years – it was so strange to be passing a ball to them. It was a great experience.
I was gutted to not even go and watch them at the World Cup after seeing how hard they worked, but I think it set me up great for when I got called up next time. I knew the lads, I felt more welcome and the gaffer trusted me and put me in. And it just went from there. I really felt at home. Sadly I got injured before the next call-up, which I was meant to be in with the squad again. So I'm just trying to keep playing well for Everton and hopefully he'll call me up again.
What was it like hearing the anthem?
It was more for my family. My first start was at Wembley. So that was great. Seeing my family after that; they were in bits, I think. It was more strange for them. But the competitive game in Switzerland was a must-win game for us. To be a part of that after the World Cup and getting the win over there was a great feeling. For the manager to trust me to play in a big game like that was, you know, I can't thank him enough.
Do you want to be as important for England as players like Rio Ferdinand and John Terry? Do you see yourself as an England centre-back for the long-term?
Oh definitely. I'd love to, yeah. I think, without being arrogant or anything about it, I'd love to set the mark and try and be as good as them and hopefully do well for England. I've got to do that at Everton first to get picked. If I achieve anything like they have it'd be beyond anything I could ever imagine. I don't want to get ahead of myself, but yeah that'd be great.
In terms of style do you think you're more like Terry or Ferdinand?
I'm trying to get that mixture. I think from last season to this season there's been a big difference and definitely that mixture between smooth passing and tough defending is going to be a good recipe for my game. I'm still learning little things but I've definitely brought the more 'dirty' side into my game now which every defender needs.
Thank you for reading 5 articles this month* Join now for unlimited access
Enjoy your first month for just £1 / $1 / €1
*Read 5 free articles per month without a subscription
Join now for unlimited access
Try first month for just £1 / $1 / €1
Quizzes, features and footballing fun
Get the best features, fun and footballing frolics straight to your inbox every week.
Thank you for signing up to Four Four Two. You will receive a verification email shortly.
There was a problem. Please refresh the page and try again.