Attempt to write article not about Jose Mourinho abandoned after six words
Helpless journalist succumbs to allure of Mourinho within half a sentence, Back of the Net report...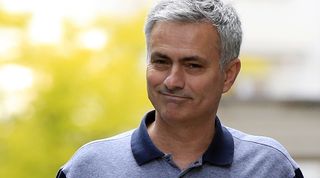 An article exploring the relationship between football, masculinity and civic pride in northern England's former mining towns has been abandoned mid-sentence for something about incoming Manchester United manager Jose Mourinho.
Sportswriter Gavin Cohen had every intention of crafting an elegiac but critical paean to a vanishing world of class solidarity and fixed gender roles, as viewed through the changing fortunes of Darlington FC, but quickly junked it in favour of 10 players who Mourinho ought to buy this summer.
"I'm interested in football as a vessel for other identities, especially ones that are perceived as being under threat in the modern world," said Cohen. "But I'm even more interested in whether Zlatan Ibrahimovic might be joining United on a free, and if Nemanja Matic will be able to replace Michael Carrick.
"Will Jose move for John Stones? What will he make of Marcus Rashford? Add in something about Paul Pogba and William Carvalho and Bob's your uncle."
Feudal system
Having fired off his piece in a little under 12 minutes, Cohen then returned to the theme of how economic troubles can both nurture and destroy a sense of belonging, like the one that existed around Darlington FC prior to their 2012 dissolution, before realising he could much more easily knock off a listicle of Mourinho's biggest feuds instead.
"There is danger of both romanticising the past and of fetishising aspects of working-class culture, and much of the writing around mining and football has been guilty of just that," Cohen continued. "But there's also a danger that Jose's abrasive style will lead to clashes with other Premier League bosses, especially with Pep Guardiola joining Manchester City.
"Wenger, Ranieri, Klopp, Conte probably, and that's just off the top of my head. This will be a doddle."
After also quickly writing pieces on Mourinho's mistrust of young players, Mourinho's best signings, Mourinho's worst signings, Mourinho's fashion sense and Mourinho's relationship with the media, Cohen decided to set the Darlington story aside for now.
"In the time it takes me to do 2,000 words on the way football can still bind generations together even as communities change beyond all recognition, Jose Mourinho will probably have said or done something, or several things, or nothing at all, and I'll have to write about it," he said. "Nobody would have read the Darlington piece anyway.
"Case in point: you're reading about Jose Mourinho right this very second, and you haven't thought about Darlington since that time their mad owner was in a listicle about chairmen."
Quizzes, features and footballing fun
Get the best features, fun and footballing frolics straight to your inbox every week.
Thank you for signing up to Four Four Two. You will receive a verification email shortly.
There was a problem. Please refresh the page and try again.