German FA forget to delete Podolski from squad template
The ex-Arsenal man's inclusion in Germany's Euro 2016 squad has shocked everyone, Back of the Net explains...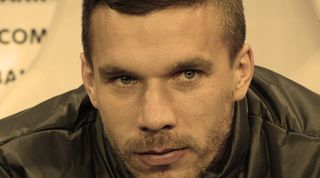 An administrative error has seen Lukas Podolski drafted into Germany's provisional Euro 2016 squad, causing bafflement and embarrassment for the German Football Federation (DFB) and the player himself.
When writing up the current squad, the DFB used the template from the 2014 World Cup squad but forgot to delete the former Arsenal man before announcing the squad to the press.
At an awkward press conference the DFB was forced to admit the error but stated that it couldn't now backtrack and include left-back Marcel Schmelzer, or another footballer known to be currently active.
"Of course we didn't mean Podolski," a flustered press officer told FFT. "You don't get Podolski these days, do you? I wouldn't even know where to look to find him. He's the footballing equivalent of Myspace.
"We're all just hoping that he won't take it seriously and actually show up to train with the rest of the players – that'd be awkward."
Inconvenience
However, sources suggest that a puzzled Podolski is already rooting through his attic to locate a pair of boots and his suitcase.
"To be honest, Lukas didn't seem too happy," a source close to Podolski told FFT.
"He'd booked his holiday for the summer and it's looking like he won't be able to get a refund. He kept muttering about how inconvenient the whole thing was and naming a string of more suitable players that could have taken his place, but he said that if his country needs him he'll be there.
"We asked Lukas why he hadn't retired from international football if it's such a hassle, and he said he thought it went without saying – he'd let his performances speak for themselves. It was hard to argue with that."
According to extensive research from FFT, Podolski has been tracked down to Galatasaray, where an insider revealed that his name 'rings a bell' and he may 'do some social media stuff for us'.
Please note: This fictional news story is not real. But you already knew that, right?
Quizzes, features and footballing fun
Get the best features, fun and footballing frolics straight to your inbox every week.
Thank you for signing up to Four Four Two. You will receive a verification email shortly.
There was a problem. Please refresh the page and try again.