The big interview: Rafael van der Vaart – "Yes, Zlatan threatened to break my legs – but he did that to everyone..."
What was it like growing up on a trailer park? Why did he fall out with Zlatan Ibrahimovic? And how did he end up kissing an old lady at Spurs? Your questions answered in April 2018…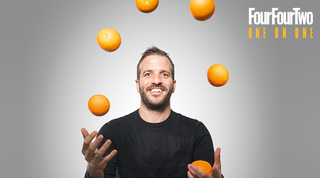 Photography:Kasper Sveistrup Povlsen
Van der Vaart announced his retirement on November 5, 2018 after an injury-hit spell with Danish side Esbjerg. "I just have to stop now. I'm not here to rehabilitate, but to play football," he said. "I would have wanted to become a football grandpa, but that is not the case. I can only be grateful for all the years I was allowed to play football."
Below, he reflects on a fascinating career full of twists and turns...
He is now a veteran of big-money moves, Champions League campaigns and World Cup finals, but Rafael van der Vaart could still give today's young bucks some sage advice on coping with the strain of being a highly-rated youth. In 2003 he was the first ever Golden Boy, an award given by European sports journalists, and the field was especially competitive. "If I remember correctly, Wayne Rooney and Cristiano Ronaldo came second and third that year," Van der Vaart tells us, with a cheeky smirk.
Even as a senior pro, the Dutchman hasn't lost his sense of fun – he gleefully juggles oranges using both hands and feet during our photo shoot, much to the delight of his watching son Damien – or his passion for football. "Whenever I drive past an amateur game," he says, "I'm always tempted to pull over and have a quick look."
With all the citrus fruit fun out of the way, Rafa settles down to answer your questions on comparisons with Cruyff, moving to Real Madrid and playing for 'father figure' Harry Redknapp at Spurs...
You grew up on a trailer park, didn't you? What was that life like?
Jon Sharpe, via Twitter
I was raised there so to me it was just the normal life, but every time I've moved to a different country it's been something I've been asked about, as it's considered quite unusual. I had a wonderful time growing up. Many people think it's linked to poverty but that's not the case at all. It was very sociable, with other relatives living very close. My parents aren't there any more, because after I signed my first contract at Ajax I bought them a house. But other family members are still on the park, so I still go back.
Is it true that you pretended to be Romario when you played as a kid? Why him? Were you a big PSV fan?
Tom Poke, via Twitter
Yes, Romario was my favourite player. Because of him I liked to watch PSV Eindhoven a lot, but naturally I was an Ajax fan, especially when I got drafted into their academy. What I really liked about him was that sometimes you'd barely see him for the whole match, but then at the very last minute he'd suddenly pop up with a moment of genius that would win PSV the game.
You were hailed as 'the new Johan Cruyff' very early in your career, so just how good were you? And how did you feel about the comparisons?
Seb Newton, Bristol
Other people making those comparisons was all right, but personally I've never really liked to make them myself. I didn't want to be the next version of any player – I wanted to establish my own name. When I was younger, I always knew I was a pretty good player, but it was impossible to foresee how far I'd go. I had a left foot and vision like no one else, but I wasn't the quickest and my right foot wasn't so great, so there were things I needed to work on. I've always said the one change that would've been nice is if I'd been a bit faster – like fast enough to be able to run past people instead of just being overtaken all the time! I think speed can make a huge difference, to the extent that if I'd been quicker, I believe I could have won the Ballon d'Or at some point during my career.
What was your best moment at Ajax?
Tyler Stokes, via Facebook
There were several highlights. When I was young, the best moment came when I was 10 and I got invited to the academy. I remember getting all this Ajax training gear and suddenly I was able to call myself an Ajax player. From then on, my goal every season was to remain at the club and then make my debut in the first team. I managed to do it when I was 17. I can clearly recall the phone call I made to my dad to tell him that I'd been picked for the senior squad. Once I established myself in the first team, my best ever moment came when I scored with a backheel against Feyenoord. When you've scored a goal like that, you realise you'are unlikely to experience a more unique momen.
What's the truth regarding you and Zlatan Ibrahimovic? Did he really threaten to break your legs? How did your relationship turn so sour?
Morgan Allen, via Facebook
Yes, he did say that, but Zlatan said it to everyone. It's also true that around that time things just weren't working between the two of us, but I would rather be in a team with people who are honest, like him, even if it means there are a few arguments. But there wasn't a specific moment we fell out – we generally didn't get along well.
At Ajax you were stripped of the club captaincy by Ronald Koeman, after it was reported that you refused to play on the wing in a Champions League game. Is that what happened? What were your feelings towards Koeman?
Archie Raynor, via Facebook
Yeah, that one is true. One day, before a game against Bayern Munich, Ronald came to me and said: "At this moment, you aren't good enough to play for us as a midfielder but we want you to play as a left-winger." I wasn't happy with that, because if I wasn't good enough to play in my natural role, how could I be considered good enough to play out of position? In the end, I asked to be on the bench, which eventually led to me being stripped of the captaincy. Later on, after we'd both left Ajax, we recognised the mistakes we'd made. I'm the first to admit when my actions aren't the smartest, and that incident showed a lack of respect to Koeman.
How did you feel when Johan Cruyff used his column in De Telegraaf to criticise your transfer to Hamburg? Why did you move there when so many other clubs were interested?
Farah van Milligen, via Facebook
I'm never that bothered by someone giving his opinion in a column. But with regards to my Hamburg move, I can remember I wasn't really keen when they first approached me. I agreed to visit the club and the reception I got was incredible. I spoke with manager Thomas Doll and the directors Bernd Hoffmann and Dietmar Beiersdorfer, and their vision was really impressive. I got to see the stadium, which was phenomenal, and soon I realised that this was the club I wanted to sign for.
Describe what it was like playing for Real Madrid? How intense was the experience? Could you go anywhere in Madrid without fans everywhere asking for autographs and pictures?
Hugo Barreto, via Twitter
Overall I had a really good time there, but yes, it was very difficult to go out somewhere in Madrid without getting noticed all the time. In London it was less of an issue, and here in Denmark it's even quieter. But generally it's nice when people come up to you or have a little chat, although I'm not overly keen on crowds. I'm not complaining about it, though, because if you don't really want that lifestyle, you should just remain as an amateur footballer.There were rumours of a falling out between you and Real Madrid boss Juande Ramos when you were often deployed as a substitute. Did you get frustrated about that, and what was your relationship with the manager?
Lewis Posada Mercado, via Facebook
There was no falling out, but he wasn't my favourite coach in the world. There was no mutual 'click', and the type of football he played wasn't the style that I associated with Real Madrid – and it didn't really suit my own style, either.
You were linked with Arsenal during your time in Madrid. Was there ever a possibility of that move happening?
Alan Woodford, Essex
Yeah, it did get mentioned. I had several conversations with Robin van Persie, my team-mate with the Dutch side, and he'd spoken to Arsenal about me a few times, but I never heard anything. I didn't regret it – joining Spurs was the best thing that happened to me. I actually had the chance to move to the Premier League a lot earlier. When I was about 19, Gerard Houllier wanted to take me to Liverpool. I was flattered, of course, but at the time I wasn't that interested in moving abroad. However, my agent said it would be a good idea to give Houllier a call. He explained that he'd talked about me with Michael Owen, who'd said he would be very happy to play with me at Liverpool. It was amazing to hear that, but I was still sure I wanted to remain at Ajax.
Were you upset that you initially weren't given a squad number in your second season with Madrid?
Fernando Garcia, via Facebook
It wasn't easy, but I was able to pull through. The coach [Manuel Pellegrini] told me at the start of the season that I was his fifth choice in my preferred position, behind Guti, Kaka, [Esteban] Granero and Raul. I remember I had to train separately from the rest of the squad, like running alone around the training ground. But once the transfer window closed, I was reintegrated into the group. In the end, I was a regular starter in my position and put in some very good performances. People might argue that my time with Real Madrid was unsuccessful, but look at the stats and you'll see that I played a lot of games and scored quite a lot of goals. When I look back on my Real Madrid career, I do so with a lot of fondness.
In 109 games for the Netherlands, what was the most special moment?
Jory Ruijter, via Facebook
The Euro 2008 group matches against Italy and France. It was pure pleasure to be on the pitch in those two games – I could've played for about six hours and not got tired. Both Euro 2008 and the 2010 World Cup were brilliant to be a part of. In 2008 we were all thinking, 'Wow, we are really good', but it wasn't like we were expecting to go and win the tournament. In 2010, it was more or less the opposite. We had a feeling like, 'We don't play that impressively, but no one is going to beat us'. That's probably the best feeling you can have as a team during a major tournament.
The Netherlands looked brilliant in the group stage at Euro 2008 – were you the favourites to win it ahead of Spain at that point? What happened against Russia in the quarter-finals?
Ralf Seiler, via Facebook
At that point I think we were probably the favourites along with Spain. I think we were unlucky in the match against Russia. I took several free-kicks which went just wide and we had some other chances as well. We equalised near the end of normal time, but in extra time the Russians were still unbelievably fit. It was 40 degrees and they kept going.
What are your thoughts on referee Howard Webb over his handling of the 2010 World Cup Final? Having come on as a sub during extra time, what went through your mind as Andres Iniesta scored the winner?
Leann Kooreman, via Twitter
The referee had a difficult game. You know, with about a minute or two to play in extra time, we got a free-kick and Wesley Sneijder's shot definitely took a deflection, but somehow Spain were awarded a goal-kick – we couldn't believe that decision. Soon after, Spain got the ball into our box. We didn't get rid of it properly, and I tried to save the situation but was too late. I don't want to say the moment we should have had a corner decided it, but we thought: 'How is it possible?'
Your switch to Tottenham seemed to come out of nowhere – how long before transfer deadline day did you find out about it? Was it a surprise even to you? Did you wake up that day with no idea where you'd go?
Sophia Ashton, via Facebook
It was very last minute. Jose Mourinho had been honest about my chances at Real Madrid, telling me they'd bought Mesut Ozil to play in my position. He said I could stay, but that I wasn't in his starting XI. At that point I was still keen to stay at Real for another season, so I headed to a training camp with the national team.
But at around 4pm on deadline day, my lawyer called me to say Spurs were interested in signing me. I asked him if I could think about it. He replied that I had to decide within two hours! I started to evaluate everything, then took a little nap. Suddenly I was jolted awake by the phone going off. It was about 5.40pm and my lawyer was on the phone again, telling me that I had to decide there and then. I thought for a split second, then said, "Yeah, let's do it!" I had no time to overthink it or discuss it with anybody – it was pure intuition. Very soon I realised how happy I was with the decision. From the moment I arrived at Spurs Lodge, the club's former training ground, I felt at home.How did Harry Redknapp at Spurs compare to your previous managers? He must have been pretty different...
Josh Hodgson, via Twitter
He was a magical guy – a father figure – but Harry could also be rock-hard. He was very much an old-school type of coach. During a team talk, he'd pull out a little piece of paper on which he'd written down the starting XI and would say things to us like, "Just give the ball to Luka [Modric], then Luka can try to find Rafa, and you will win the game." Then, if we'd played a really good first half, he would openly praise you, saying things like, "Fucking hell, Rafa, what a player!" He gave you a boost – you would run faster for someone like him. Redknapp's style suited my own very well, and it all fitted in perfectly with my overall positive image of the English game while I was at the club.
Why did you kiss that old woman after you scored in Tottenham's 2-1 victory against Aston Villa in October 2010? Was she shocked?
Will Farmer, via Facebook
I remember that! After scoring, I ran into a corner of fans and actually fell into her arms. It was more like a hug. It seemed like a lady of 80 years old – I don't know who she was.
In your short career with Tottenham you managed to score a lot of goals against Arsenal and gave their fans some stick, too. Do you still hate the Gooners? How did the North London Derby compare to your other derbies?
Michael Kay, Surbiton
I never had anything against Arsenal, but when I joined Spurs I tried to learn about the club's traditions and I soon found out about the magnitude of the match. I always try to immerse myself in the emotions of the fans, and in the derbies against Arsenal I tried to give Spurs fans a little bit of their pride back. I wanted them to have something to cheer about at work the next morning. Other derbies I played in were really special, too. Real against Atletico was a good atmosphere, and I played in El Clasico. That isn't strictly a derby, but it's seen globally as the biggest game of the year – you can definitely feel it. All over the world, people are talking about it, and it almost feels as if you're going to play the World Cup final.
Did Jack Wilshere say anything to you after you'd utterly humiliated him by nutmegging him twice in the space of a few seconds?
Alex Fuller, via Facebook
I don't remember him saying anything to me. All I remember is what I said to him afterwards: "Close your legs next time!" I still regard that Spurs-Arsenal game [in April 2011] as my best day in football. It was on a warm spring night, with a little evening sun and a brilliant atmosphere in the stadium – just the perfect footballing conditions. I had one of my best games that night. We went 1-0 down, I scored the equaliser, but then we let in two before pulling it back to 3-3, with me scoring another goal. Luka Modric missed a big chance to make it 4-3 towards the end, which was a pity because we needed to win. I don't think the supporters had often experienced a derby quite as good as that one – it was an incredible match.
Why did Spurs fall away in 2011/12, having looked like being right in the title race? Did the England rumours around Harry Redknapp distract the players? Spurs were amazing in the opening six months of that season…
Thomas Kemp, via Facebook
I remember in the January we played a big match against Manchester City, who were five points ahead of us at that point. We were 2-0 down, before coming back to 2-2. In stoppage time we got this big chance, where Gareth Bale raced away, only to play the ball just too far in front of Jermain Defoe, who poked it wide. Moments later we gave away a penalty. Mario Balotelli scored it, we lost the game and the gap became eight points, which was a huge blow to our title aspirations. Until then, we'd been in such good form that it felt as if we had a genuine opportunity to win the Premier League title.
You've gone on record as saying how much you regret leaving Spurs, so how exactly did that exit come about? Did you not really see eye to eye with AVB?
Ella Spencer, via Facebook
Andre Villas-Boas wasn't the ideal coach for me. He bought Gylfi Sigurdsson and then told me he would be his new No.10. I found that a little bit strange considering what I'd achieved over the previous two years. I started the first match of the season on the subs' bench, so when Hamburg approached me, I thought it was a nice opportunity to go back. But I shouldn't have left Tottenham, though it's always easy to say that with hindsight. I had some brilliant times during my second spell in Hamburg, but the fact that we were in the relegation play-off in the second and third seasons wasn't good.
Where has it all gone wrong for Hamburg since your first spell there? They were Champions League regulars back then, but now they seem to be struggling at the bottom every season...
Marko Weisz, via Twitter
I don't know. To be honest, when I moved back to Hamburg I was underwhelmed with the quality of their squad, especially as I'd come from such a good team at Spurs. Still, we managed to go from bottom of the table up to seventh place. That was a big achievement.
You took your grandmother along to your unveiling at Real Betis – what was the story behind that? There is a picture where she was kissing you and you looked a bit embarrassed...
Michael Bachmeier, via Facebook
Not at all – it was great that she was able to be there. My grandparents on my mother's side are from Spain and live not too far from Seville, so they came over to see my unveiling, as they did when I went to Real Madrid, too. It was great that they could attend.
How did your move to Midtjylland happen? Did you pick a team in Denmark because your partner currently plays handball there for Esbjerg?
David Hicks, Bolton
There were a few factors in my decision. Firstly, my girlfriend (Estavana Polman), plays handball in Esbjerg. She's got a long, successful career ahead of her, so I was hoping that I could live quite close to her. At the same time, I wasn't playing a lot for Betis and Midtjylland showed an interest, so it was a win-win situation. Also, I'm still not that far away from Hamburg, where my 11-year-old son from a previous marriage lives. [FFT: Have you ever played handball?] No, she hasn't taught me anything yet!
What would say was the biggest mistake in your football career?
Luka Moran, London
Leaving Tottenham was not my best choice, but apart from that, there haven't been too many big regrets during my career.
Be honest – do you ever wish that you'd been able to play in a different era when attacking midfielders and playmakers got appreciated by managers more, rather than now when they're asked to track back and do as much defensive work as the rest of the team?
Christine Venema,Amsterdam
I've experienced some good times, but yes, we seem to have experienced a tipping point. Nowadays, there's a lot more emphasis on pace and power in teams, and technically refined players seem to have less of a chance to shine. I experienced that at Betis, three years ago. I started off pretty well, but then I picked up an injury and couldn't get back in the team. The manager [Pepe Mel] told me that I was the best player on the ball but that he needed another kind of player in midfield.
When I saw the team, I couldn't believe it – these players would kick the ball straight out of the stadium, but still get applauded as they were running around and doing lots of slide tackles. That's not the kind of player I wanted to be. I hope the times when playmakers were appreciated more will come back again. Andres Iniesta, David Silva, Isco – those are the players that you want to go and watch week in, week out.
This feature originally appeared in the April 2018 issue of FourFourTwo. Subscribe!
Thank you for reading 5 articles this month* Join now for unlimited access
Enjoy your first month for just £1 / $1 / €1
*Read 5 free articles per month without a subscription
Join now for unlimited access
Try first month for just £1 / $1 / €1
Get FourFourTwo Newsletter
The best features, fun and footballing quizzes, straight to your inbox every week.
Arthur Renard has been writing for FourFourTwo since 2013, when Ronald Koeman hosted him for a Readers interview in a small room in stadium De Kuip. Two years later Arthur moved to London, where he still lives and from where he covers English football, while he has also been travelling the world to cover events like the World Cup and Copa America.