Blind ambition: England's visually impaired out to prove they're made of tough stuff
As the World Games approach, Aaron Fowler sheds some light on the Three Lions' hopes of success in Seoul – and the Grand Plan going forward...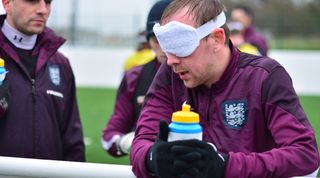 "I'll have to tell you this before anyone else does. We always get asked 'How do you know you've scored a goal?'
"It was the first game of the 2010 World Cup and we were playing in front of about 900 people. I picked the ball up in the bottom-right corner of our pitch. I've gone past one, two, three players and I was through on goal on my left foot. I hit a shot sweetly and side-footed it towards the corner.
"The crowd behind the goal erupted and I went mad – I was pulling out all sorts of celebrations, only to find out a few seconds later that the goalkeeper has picked up the ball and thrown it down our end. The ball had gone just past the post and nestled in the side-netting. The crowd couldn't see it."
Meet Keryn Seal, the Welsh captain of England's blind football team. How? Well, the 33-year-old Arsenal fan from Exeter qualifies to play for the Three Lions via residency, and made his debut in 2005. "I often get asked how a Welshman ended up captaining England and I get plenty of stick," he jokes.
(Video: June 2011)
The intervention
Blind footballers intrigued a global audience at the London 2012 Paralympics, displaying skills and ball control any professional would be proud of.
You might remember David Clarke, the England blind football legend and former captain whose international record of 128 goals in 144 appearances makes Bobby Charlton's 49 international goals seem mediocre. "It's not a record that's burning on my horizon to break, basically because I wouldn't be able to even if I wanted," says current skipper Seal, who has scored nine goals in 90 appearances.  
The Three Lions are currently managed by their former goalkeeper and assistant manager Jon Pugh, who became head coach of the national side last September.
The 38-year-old made more than 100 appearances for England between 1996 and 2008 thanks to some handy circumstances. "I live in the same town as the then-head coach Tony Larkin," he tells FFT.
"So he asked me if I would come to training and see if I liked the sport. I fell in love with it straight away, and that's my 20 years of involvement filled."
In 2013 the team became professional, but its long-term future was cast in doubt last year when UK Sport pulled the plug on funding. Thankfully, the FA stepped in to inject £1 million over the next two years.
In October last year, a purpose-built blind football pitch was opened at St George's Park. The only other pitch in the country opened in 2008 at the Royal National College for the Blind (RNCB) in Hereford.
"We're all very fortunate that the FA have thrown their hat in the ring and made such a precedent in making us the first disability football team to have full-time contracts," says Seal. 
"The fact we can spend so much time together means we can work on our team shape, our tactics and stuff we weren't able to when we were amateur. We only had one training camp per month if we were lucky."
Rules of the game
Blind football is played by athletes who are either totally or almost completely blind, and have a B1 sight classification. Essentially it's five-a-side with four blind outfield players who wear blindfolds, and a sighted goalkeeper. The ball contains ballbearings which make a noise, allowing players to locate it.  
Players rely on instructions from the coaches and keeper during the game, as coach Pugh explains. "In blind football the pitch is divided up almost into three," he says.
"You have a guide behind the goal who coaches the attacking zone, the fully-sighted goalkeeper controls the defence and I stand off the pitch on the halfway line giving out tactical information."
Tackling is another matter entirely, says Seal. "If you're within two to three metres it's at the discretion of the referee, but you have to say the word 'voy'," he explains. "It's a fairness thing really, so you can't rock up out of the blue and smash someone.
"If anyone has seen the game then they will know it's a very dribbling-based game, so there is less passing than you would see in any other form of football. Players need to be able to dribble with both feet, and the ball is a lot closer to you than in sighted football."
Stay still and shout
The team have training camps two or three times per month at St George's Park or the RNCB. Away from their camps, players train six days a week, with focus on technical, fitness, strength and yoga sessions.
While there are many similarities to the game as we know it, Pugh says it's important as a manager to, well... stand still. This is no game for Jose Mourinho. 
"When you put yourself into a coaching position, you're using yourself as a reference point," says Pugh. "When we're doing tactical stuff on the pitch, it's important the coach doesn't move around too much because otherwise they [the players] can become disorientated.
"We do a lot of educational stuff in the classroom using tactile tactics boards so we can get across our ideas and what we are trying to achieve in a particular session. The players can feel it and they can ask questions, so when they go out on the pitch they've got a good understanding."
The big year ahead
This is an important year for the Three Lions, who will compete with the best teams in the world at May's International Blind Sports Association World Games (catchy, eh?) in Seoul. It's a particularly big tournament for them this time out, having not qualified for last year's World Championships.
Recent form has been strong: England are unbeaten in 13 games, having played Japan in three February friendlies, winning two and drawing one. But they're still behind the likes of Brazil, Argentina, Spain, France and China, who have all enjoyed professional status for longer and brag better participation levels. 
In August, Pugh's Three Lions will compete in the European Championship in front of a home crowd in Hereford, and must finish in the top two to qualify for the 2016 Paralympics in Rio.
"The World Games is going to be a huge tournament in terms of our preparation for the European Championship," says the England chief. "We've done very well over the last 12 months," adds Seal.
"We've gone undefeated in 13 games and had some fantastic results but they've all been friendly matches," the skipper continues. "Tournament experience at the World Games will be a great marker for us in terms of how we're doing. We're fully expecting to go into the Euros challenging for the gold medal.
"We've probably got the most technically adept and fittest squad we've ever had, and you can rely on every player to start a game and do a great job."
But what of England's fully-sighted goalkeepers? "I think within our three we've definitely got the best in the world in Dan James, and the other two aren't far behind him," says Pugh. "I don't think a professional goalkeeper who has just retired would be able to meet the standard of our goalkeepers."
Play up, people
But the sport in England needs some help. Despite its popularity at the 2012 Paralympics, Seal says there's been no growth in participation levels. "Sadly there's not been a positive influence," he admits.
"We've had some nice cases of some young players coming up through different channels, but the participation levels in our national league haven't really increased."
It's a statement backed up by Pugh. "Introducing new players into the sport and team [is the hardest thing]," he says. "Relatively small numbers play blind football, but the FA have invested a lot of time and resources into creating a scouting network team."
So there's plenty of reasons for positivity, but blind footballers: England needs you. 
Quizzes, features and footballing fun
Get the best features, fun and footballing frolics straight to your inbox every week.
Thank you for signing up to Four Four Two. You will receive a verification email shortly.
There was a problem. Please refresh the page and try again.