Michael Owen: "After France '98, I'd get home at 1pm every day and sit there until 11pm replying to mail"
By Michael Owen published
As Gareth Southgate's boys have learned, returning from a World Cup having performed heroics for your country can propel a player into a new stratosphere of fame – and it's not all fun, as Owen explains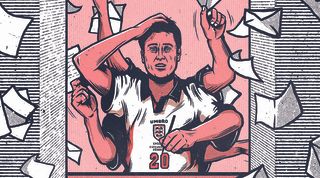 Illustration: The Sporting Press (opens in new tab)
I had so much belief in my own ability that night against Argentina. Physically, I wasn't as strong as Kylian Mbappe at 19 – you don't look at him and think he looks like a young kid, whereas I really did. Technically, I wasn't as good as Mbappe either – I couldn't do some of the skills he does. I'm not sure who would have been the quickest, but I was possibly mentally stronger than him at an earlier age. He's a year older than I was in '98.
In my mind, I was always older than my age. Mentally I was tough, and that was the key. I was clinical in front of goal. Whenever there's a chance to score, most players' heart rates go up. You need to go the other way. You need to be ice cool.
Mentally, going to Lilleshall turned me into a man. Leaving home at 14 is tough, spending two years away from your family. But it teaches you things quickly. Living with 31 other lads, I learned what it was like and what would come later on when I walked into a senior dressing room. Wes Brown, Alan Smith and Michael Ball were at Lilleshall at the same time as me – we all went on to play for England.
ACTION REPLAY Remembering Lilleshall: Football's answer to Hogwarts
Growing up fast
I'd been at Liverpool for four years when they sent me to have trials at Lilleshall, the FA's School of Excellence. Myself and Steven Gerrard were in the last trial, but he missed out. I had posters of Liverpool players like Robbie Fowler and Neil Ruddock on my bedroom wall, as it was the club I was always going back to. I aspired to be like Fowler.
Many of the first experiences I had in football were successful. I got into the England U15 team and smashed all the records, played for the U16s and U17s, then broke into Liverpool's reserve team when I was a kid and won the FA Youth Cup.
I would ask myself which came first – was it the goals I scored that gave me belief, or did I score because I had belief in the first place? Mentally, I was ready. I scored on my Liverpool debut against Wimbledon at the end of the 1996/97 season, but still didn't think I was going to play much the following year.
Stan Collymore joined Aston Villa but Liverpool then signed Karl-Heinz Riedle, who'd played for Germany millions of times, so I thought I'd never get in the first team – it was going to be Fowler and Riedle up top. That's not how things turned out, though – I started the first game of 1997/98 – at Wimbledon again – and played pretty much every match. I ended up scoring 18 goals and shared the Premier League Golden Boot with Dion Dublin and Chris Sutton, which was amazing for someone who'd started the campaign as a 17-year-old – particularly when strikers like Ian Wright, Andy Cole, Alan Shearer and Robbie Fowler were around at the time.
For most of that season, though, I didn't think I was anywhere near the national side. I thought if I kept scoring and won the Golden Boot, I might have a chance the next season.
But in February, I was playing golf with my dad and heard my phone ringing. It was Doug Livermore, Liverpool's assistant manager. I thought, 'What have I done wrong?' When I answered, he said, 'I've got some good news for you. You're in the England squad.' I was four up against my dad before that call and ended up losing, which shows you what that did to my concentration. I was just so excited – I couldn't wait to call everyone I knew.
Young Lion
Joining up with the squad for the first time, I was very respectful of everyone – I met Paul Gascoigne, my childhood hero. But I went there believing I was good enough. When I crossed that white line, I didn't really have any respect for anyone in football. I felt I belonged, or that I was the best player on the pitch – that horrible attitude you've got to have.
It makes you cringe when a boxer says, 'I'm the best in the world and I'm going to knock someone's head off.' But if you don't think like that, you're never going to be the best. Off the pitch, you don't have to act like that in football, but on the pitch it's going through your head. I'd get compared to various other young players when I was 17 or 18 and I'd think, 'Are you sure? I could play blindfolded with two feet tied together and be better than him.'
Having said that, when I scored my first goal for England, a month before the World Cup, it was still a huge relief. If you haven't scored, you can get edgy and snatch at chances. But after that goal against Morocco, I thought, 'OK, I'm up and running now'. Glenn Hoddle said to me, 'You're not coming to the World Cup as a passenger. You won't be starting the first game but I will be using you.' That was amazing – to know I was going to come on and be trusted to make a difference.
The first group game against Tunisia was the worst match to come into, from a selfish point of view. You want to make a real statement and get in the team, so being in the lead when you come on with five minutes to go is the worst.
But we were 1-0 down in the second game against Romania – that was my opportunity. I came on, scored, and that was that. I started the last group game against Colombia, though I did an interview with Glenn a few months ago and he told me that he'd always planned on starting me in that game.
He knew Colombia played with a high line and thought I would be tailor-made against them. That surprised me. I'd put all that pressure on myself to score against Romania so I could get in the team, and I would have played the next game anyway…
Hello, world
Then, after Colombia, came Argentina. I kept my place and the rest is history. It was a massive game so there were nerves, but no doubts. I had so much self-belief that night – I didn't even know who we were playing, basically.
I'd heard of Gabriel Batistuta, but that was about it. I wish I could have bottled that feeling throughout my whole career – that innocence of youth, that fearlessness, that total confidence in my ability, and that contempt for the opposition. You lose some of that as you get older. Later in my career I'd think, 'I'm playing this team today. The right centre-half is quick and strong, so I'll try to play off the left centre-half.' Back in the day, I didn't give a monkeys who we played – it was just, 'How many am I going to score today?'
I didn't know many of Argentina's players, and they can't have seen too much of me because they played right into my hands. I went on a run early in the game and it sent shockwaves through their team.
I beat one or two players, got nudged over and won a penalty, which Alan Shearer scored to make it 1-1. That made me think, 'Right, I've got them', and it probably put a big seed of doubt in their minds, too.
If you look at the goal I scored a few minutes later, you could take a picture of where players were standing on the pitch and you'll never see that again. David Beckham gave me the ball, and at that moment I was thinking about keeping it and laying it off to Paul Ince or David Batty, because I was near the halfway line.
Then I noticed Jose Chamot was a yard too close to me, and that if I took a decent touch I could sprint past him. It was when I took that first touch, wriggled past him and got my head up that my eyes lit up. I thought, 'I'm through'. Then I saw Roberto Ayala what seemed like a million miles away. He'd felt my speed for the penalty and dropped so far back. You never see defenders positioned like that.
I just ran. Paul Scholes came up alongside me, but I was never going to leave it to him at that point. When I scored, it was a huge outburst of adrenaline and emotion for 10 seconds, while everyone else jumped on me. But so quickly you refocus on the game. You forget how many millions of people are watching back in England.
'Don't be me'
I had to take a penalty in the shootout after the 2-2 draw, and even though I'd scored that goal, I still had this feeling of, 'Please don't let everyone down'. As I walked up to the penalty spot I thought, 'If we're going to lose, please don't be me'.
I beat myself up about having that feeling, but I can only say how I felt. Maybe it was a negative English thing, but should you be going up to take a penalty fearful that if you miss, you're going to end up on a pizza advert? If everyone else was thinking that, maybe that's why we lost so many shootouts over the years.
When I scored my penalty, the feeling wasn't joy, but relief that if we did lose, I wouldn't get the blame for the rest of my life. It scars people: you meet certain players and people forget what they did for 15 years – they'll just remember one moment when they missed a penalty, or slipped over. That must be pretty hard to take.
If I'd been 28, there are things I'd have done differently after we lost that match – as an 18-year-old, it was hard to think clearly. The first thing I would have done was gone up to Beckham and consoled him. I was the hero, he was the villain and that was how it was going to be portrayed. I would have been more of a team player, but my emotions were probably different to the others. Everyone kept coming up to me, patting me on the back and saying, 'Brilliant, don't worry, you've got 15 years of this'. Everything was positive towards me.
We flew back to England on Concorde and the captain said, 'Will you come into the cockpit for landing?' They gave me a huge England flag and said that as soon as we'd landed, I could wave it out the window. That was great, although I was a bit embarrassed about it. Then I got driven home, and I remember turning up at my estate and the streets being lined with well-wishers, photographers and TV news channels. The whole estate clapped me in to welcome me home.
Every morning I'd get in my car and play golf with my dad, and I'd have a convoy of people following me around. There were people rustling in the bushes taking pictures. It all became quite intrusive.
Never the same
Loads of people knew about me before the World Cup, as Liverpool are one of the best-supported teams in the world, but the World Cup catapults you into everyone's living room. It changed everything.
People would get excitable whenever they saw me, and I went from maybe a handful of letters a day before the World Cup to literally four sacks every day.
I'll be honest, that was a problem. When you're brought up like me, with the values my mum and dad had, I'd go to training with Liverpool and then get home fast because there was such a backlog. My mum would spend all morning, afternoon and night going through the mail, getting it all out so I could sign it. I'd get home at 1pm every day and sit there until 11pm, just replying to my mail. Even doing that, we were getting nowhere. It was stressful for my mum because she'd say, 'Oh, these lovely people are saying nice things about you,' and she wanted to reply. I'd been brought up to do the same, so I was there for weeks trying to catch up. It was swamping our lives, to the extent that it was affecting me as I had to leave training early to deal with it.
It was my agent who stepped in and helped us – he took it all away, employed someone to get it organised, and then for an hour a day I'd squiggle on 500 items and it would get sorted. Looking back at it now, it was funny, but it was definitely a problem.
When I started playing for Liverpool again after the World Cup, I felt under more pressure than ever. People's opinions of me were always really important. As a kid, I'd been petrified of people thinking I was big-headed. The thought of anyone ever pointing the finger at me and saying, 'He's gone Billy Big Time' would have been the most insulting thing that could have happened, especially if it had been my manager or one of the players. I feared people would call me a flash in the pan.
In the spotlight
Out of that negative thought, I found motivation. I scored in my first game back at Southampton, then hit a hat-trick at Newcastle.
That Newcastle match was the first time I'd experienced someone targeting me. I jogged into position, then Stuart Pearce gave me a bit of a fright. 'You're playing against me today, boy,' he said. 'Just you be careful.' It was an eye-opener, but I was pretty fearless.
I was more scared when I won BBC Sports Personality of the Year. It was the first time I had to do a speech and I was more worried about not slurring my words than the actual award. I was also named best young player of the World Cup. It's weird, because at the time you're so focused on other things, you don't necessarily think about awards.
It was the same when I won the Ballon d'Or in 2001 – I didn't have a clue how big that was. Gerard Houllier said, 'You've won the Ballon d'Or' and I thought, 'That's good'. I was delighted, but I can guarantee I went to bed having totally forgotten about it. I probably didn't think about it again until three weeks later when I was presented with it on the pitch at Anfield. Then once I'd received it, I was thinking, 'Get it off, I've got to score two or three goals in this game'.
You appreciate it 10 times more when you retire. I'll watch the Ballon d'Or awards on TV now, look to my left and see the same trophy that Lionel Messi or Cristiano Ronaldo are picking up. It's the same with the BBC Sports Personality of the Year trophy.
I make no apologies for taking those awards for granted during my career. It was, 'Right, that's in the arse pocket, what's the next thing I can win?' If you don't think like that, you'll never keep going and keep winning. I've spoken to Tony McCoy and Phil Taylor, and it's never the enjoyment of doing it, it's the absolute fear that someone is going to be better than you and win the trophy. The jealousy of seeing another team lift the FA Cup. I could have punched the TV every time.
The transition
A new generation of English players became heroes this summer in Russia. I'll admit, I thought my generation were twice as good – Frank Lampard, Steven Gerrard, Paul Scholes, Rio Ferdinand, Wayne Rooney. Name a player who would have got in our team? I don't think many. But the spirit of this squad took them further than their ability. They were a joy to watch and I was proud that they were representing England.
For the players who have been thrust into the spotlight after a great World Cup – guys like Harry Maguire and Jordan Pickford – they've got to use it to their advantage now. It can only give you confidence, but you have to stay humble off the pitch.
My biggest strength was that I could differentiate between real life and being a footballer. I used to drive into training, and when I got through the Mersey Tunnel it was like a switch clicked, and I was in job mode. I loved my job, but there were 50,000 people chanting your name. It's not normal for thousands of people to be chasing your car, stopping you for autographs, photos – from nothing, from being a kid in a park.
Footballers get thrust into this world, and some get caught up in it and think that's the norm, but I felt that switch go when I went back through the Mersey Tunnel. When I got home, I was a brother, I was a son, I had a girlfriend, I had a dog. I did the same things as everyone else – I was just normal. Going through the tunnel into Liverpool, that was the phoney world. You love it, it's the best life in the world, but if you get caught up in that crap you'll have a massive bump. That's why some turn to alcohol and drugs and can't cope afterwards – they've got sucked into thinking that adulation is the norm, and it's not.
Hopefully these England players will use it as a positive experience. A few could get carried away and others might forget their roots, but for some it'll act as a spur to have an even better career.
I won the Golden Boot again the season after the 1998 World Cup, sharing it with Dwight Yorke and Jimmy Floyd Hasselbaink. In my own mind, even with all the pressure, I was always sure I was going to be one of the best players in the world. I had that belief.
I hope if someone sees me in the street now, they'll remember the positive moments in my career, like my goals in the 2001 FA Cup Final against Arsenal, scoring a hat-trick in Germany, and that goal against Argentina. I appreciate that. For very positive reasons, scoring against Argentina changed my life.
This feature originally appeared in the October 2018 issue of FourFourTwo. Subscribe! (opens in new tab)
Thank you for reading 5 articles this month* Join now for unlimited access
Enjoy your first month for just £1 / $1 / €1
*Read 5 free articles per month without a subscription
Join now for unlimited access
Try first month for just £1 / $1 / €1
Quizzes, features and footballing fun
Get the best features, fun and footballing frolics straight to your inbox every week.
Thank you for signing up to Four Four Two. You will receive a verification email shortly.
There was a problem. Please refresh the page and try again.