Ronaldo's 2002 World Cup redemption... according to him: "In that moment, I felt complete"
A seizure denied Ronaldo the 1998 World Cup winner's medal he and many others felt he deserved. Then a string of career-threatening injuries left him facing a long and painful battle against his own body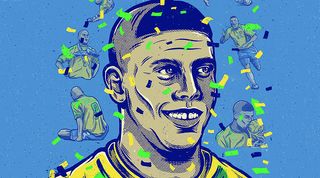 I vividly remember waking up in my hotel room and realising that I was surrounded by lots of players and our team doctor, Lidio Toledo. They wouldn't tell me what was happening or why they were there. I asked them to go and have their discussions somewhere else. I just wanted to go back to sleep.
Instead, I was taken for a walk through the gardens of the hotel. I was told that I'd been unconscious for two minutes, and for that reason wouldn't play in the World Cup final against France that night. I wouldn't accept it. I had a duty to my nation and didn't want to let anybody down. I thought I could still help the team, so didn't give the coach any option. I had to play in that match.
The dread
Even now, 18 years later, I can't cope watching the scenes from the first leg of the Coppa Italia final against Lazio. Every time I know it's about to be shown on television, I make sure I look away. When I see those images, it's like the pain is running through me all over again.
Funnily enough, that moment probably shaped my character and made me a better man more than any other. Everything I had been through in order to get back on the pitch was a test I knew I would have to battle to pass.
It was my first game back after spending the previous six months recovering from minor surgery, and the last thing I was expecting was to get injured again so soon. But in April 2000 I was forced to have more complicated surgery, and the recovery process was far more lengthy. During that moment, it felt like my whole world was falling apart. I couldn't believe it.
The World Cup in South Korea and Japan was still a couple of years away, so it had only really been something that was at the back of my mind. But suddenly I started to feel like my chances of being fit for the tournament were at risk.
There was no guarantee that my recovery would be successful, let alone quick enough. There had been no similar cases in the past, so we didn't know how well or how quickly it would heal. There was no history for me to analyse to reassure myself. I was facing an injury that no one in football had suffered before.
To be honest, that just meant we were all more patient – there was no set timeframe, and no rush. We had to respect that the healing process would take time, and that it may be quite a long time.
Eventually we started the physical exercises. I can remember that eight months through the recovery, I still couldn't bend my knee back over 90 degrees. It was a huge barrier to doing any exercise. That was the most difficult period of my life. We were halfway through the recovery process and I couldn't even bend my knee to 100 degrees. There was no flex in my knee. That was such a horrible realisation. I felt depressed. I was shocked. The only option I had was to keep working, even though I had no idea if I'd ever see the results I desperately wanted.
Staying strong
But I never, ever thought about giving up. At that stage, the only thing I knew for certain was that if I didn't give all I had in order to get fit, I would never play football again. The only guarantee I had was that if I failed, I would have to retire. I was ready to put the work in. Even though the pain was sometimes extreme, the thought of not being able to play football again hurt even more.
So I tried not to think about it. I had tunnel vision. I could only see my daily recovery sessions, my treatment schedule, the physiotherapy, the exercises, all of those repetitions – every element of this masterplan to save my career.
Eight months after the first injury, I decided it made sense to hear some different opinions from doctors all around the world. Could they explain why my knee was bending so little? I travelled to the United States, and a well-known specialist said there was no chance that I'd play football again. The best he could recommend was trying a new surgery that would 'unblock' my knee and hopefully allow me to bend it that extra 30 degrees once again.
I never questioned my own will or desire to get fit again as soon as possible. I never doubted I would be able to do what was necessary to come back. Not for one moment. The thing I doubted was science. I wasn't sure if there were actually treatments available that could help me to play again.
I am not a doctor. I am not a physiotherapist. I haven't studied any of these complicated things. So I learned a lot from all of my injuries. The reality was that this kind of scarring – after so many screws and stitches – didn't really match the image you'd expect of a footballer. In some ways it was practically a miracle that I made it back again. Perhaps it was a reward for my hard work.
Quite a lot was said and written about me during this time. People judged me and that always made me really upset, especially when there were misconceptions not based on any medical information or science. My injury was previously unheard of, and I had to listen to so many doctors in Brazil, and across the globe, telling me I wouldn't be able to play again. One even told me there was a chance I wouldn't be able to walk again.
I was always in a bad mood because I wasn't able to play football. I couldn't think of anything other than getting fit again. It was a long, long period of sacrifice.
Eventually, I could see some slow progress. I could see the World Cup coming around the corner, though I still couldn't picture myself holding the trophy. I was still weighed down by fear and doubt. My recovery had taken so long that I was uncertain about what would happen. I almost felt haunted by it.
Long-time love
I've always loved the World Cup finals. Not only is it the most important sporting event in the world, it's also a unique festival of different cultures.
Everyone who has won the World Cup for Brazil is a hero of mine: Pele and all of those who were in Sweden in 1958; then Garrincha and the team of '62; Rivellino, Gerson and Tostao in 1970; Romario, Bebeto and the rest in 1994; and then Rivaldo, Ronaldinho and my team-mates in 2002.
Fortunately, as that tournament came around, little by little my knee had got better. Slowly, I was able to start some physical and muscular exercises. My future was still very uncertain, and I still couldn't see myself playing at the World Cup. After all, it was very unlikely that the coach, Luiz Felipe Scolari, would call up a player who'd played so little in the past couple of seasons.
But eventually, after almost two years of struggle, I felt fit again. I slowly and steadily returned to action with Inter. Then, in March 2002, Big Phil called me into the squad for a friendly at home to Yugoslavia in Fortaleza. I only played 45 minutes – my first Brazil appearance in nearly three years – but it was enough to secure my spot at the World Cup.
This was a historical moment for me, because looking back to the time when I first got injured, it seemed like there was no hope of me going to this tournament. The only thing that kept me going was the immense love I feel for football. That was what helped me overcome the difficulties I had faced. It transformed me as a person.
I'm so grateful for the confidence that Big Phil showed in me. The easy option would have been to call up another striker who'd been playing regularly over the course of the season, and a player in better shape, but he placed his faith in me. I told him at the time that I'd do whatever it took to be in his team. I'd do whatever was necessary to get fit and repay him during the World Cup. It made me even more motivated than before.
Our first match of the tournament, against Turkey, was particularly important for me in terms of rediscovering some of the confidence I'd lost. It didn't look particularly good when Turkey took the lead in the very last minute of the first half. There was great tension. Then, five minutes into the second half, Rivaldo received the ball on the left wing and crossed it with speed into the penalty area.
I knew the only chance I had to score was by throwing myself at the ball. So that's what I did. I got the crucial touch with the very tip of my right boot, and scored the equaliser. It wasn't the most beautiful goal I ever scored, but it didn't matter. It was a goal, and a goal for my country at the World Cup.
During that game, I didn't feel pain and was able to play almost the entire match. But the day after was agony. I was in so much pain, because I hadn't played a full match for such a long time. I felt confident again, especially because Turkey were a physical and aggressive team. They had been pretty rough with me throughout the game, but I'd come through it.
We ended up facing them again in the semi-final, and by that stage I'd also scored against China, Costa Rica and Belgium. Once again, we started slowly – in fact, we weren't playing well at all.
I had a small muscular injury in my right thigh, and that's probably the reason why I scored the winning goal with a toe-poke. I was in pain and didn't feel my muscles could cope with me hitting the ball hard with the laces or inside of my foot. When you do a toe-poke, the power comes more from the hips, so I could spare my thigh a little by kicking the ball in this way.
This kind of technique is used in futsal, which I played a lot during my childhood. I actually took quite a few tricks from that time into my professional career, but this one was definitely the most famous. It was a World Cup semi-final, after all.
In the moments after the final whistle, when we'd secured our spot in the final, I felt a mixture of joy and relief. But soon I was hit by a feeling of insecurity, because of everything that had happened in the hours before the final four years earlier. Suddenly, everything that happened in the hotel in France came back to me.
On that occasion I'd decided to get some rest after our team lunch. The last thing I remember is getting into bed. That's when I suffered the convulsions that ended up affecting pretty much every member of the team before the France game.
I was told I couldn't play, but I wouldn't surrender. I went to talk to the doctors and to our coach, Mario Zagallo. I talked to anyone and everyone because I wanted to hear an alternative answer. I wanted to be told that I could play. I knew I deserved to be playing in that final. I convinced the medical team that we should do some fitness tests to guarantee my wellbeing. I did the tests, and none of them showed anything abnormal. It was like nothing had happened. Still, as we prepared to travel to the stadium, the message from Zagallo was loud and clear – I wouldn't be playing.
I was holding the results of all those tests in my hand and I had Dr Toledo giving me the green light. So I approached Zagallo at the stadium and said: 'I'm fine. Here are the results of the tests – they show I am fine. I want to play.'
I played, but perhaps everything that had happened had affected the whole team, because those convulsions must have been a very scary thing to witness. It's not something you see everyday, and the whole experience was traumatic for all involved.
Fighting the past
This time around, because of those bad memories, I was actually afraid of going to sleep after our team lunch on the day of the final.
I purposefully avoided it, and didn't get any rest at all. I tried to find some of my team-mates to talk to, but everyone was in the habit of getting some sleep after lunch, especially before such a big game.
Eventually I discovered that our substitute goalkeeper, Dida, was awake, and we ended up chatting for an hour or so. He was really kind to me. He distracted me, because he knew every time I thought back to the 1998 final, I would remember the convulsions. The idea of that happening again was my biggest fear.
When we got on the coach to travel to the stadium, I was finally able to focus on the game. I left all of those things behind and could play the final with freedom.
And what a wonderful final it was for us. We faced a very strong German side, but thankfully I was able to score twice to secure the title and bury traumas of the previous four years once and for all. Everything that I'd been through was running through my mind before the final whistle had even gone. I was substituted about five minutes before the end, and when I got back to the bench I hugged Rodrigo Paiva, Brazil's media officer, who had always been by my side during that long journey back. I started to cry and kept saying, "We did it. It was so hard but we won it."
I almost collapsed, overpowered by the emotion. You could say I was the happiest man on earth. We were playing so well that the referee could have added 100 minutes of injury time and Germany wouldn't have been able to stop us. I was intently watching those final minutes with tears in my eyes at the thought of not only Brazil winning another title, but also my own personal victory.
In that moment, I felt complete. I hadn't just won the World Cup, I'd also won a battle with my body that lasted more than two years. That was the biggest victory of my career – and of my life.
These days
Now, if I stand still I don't feel pain. I think my body was desperately begging for a rest after so many years playing football, so I had to give it that rest. These days I do get the chance to enjoy some other sports: I go to the gym, and also play a bit of tennis.
But the fact is that whenever I play football, I still feel pain. Getting my body ready for football is far more complex than it is with other sports. Football demands speed, sudden movement and explosive acceleration. All of these things put different kinds of pressures on different parts of your body. When I go out onto the pitch, my mind wants to do one thing but my body can't keep up with it anymore.
I always say football was my university. I didn't have time to go to college but football taught me more than any masters or doctorate. No course could ever have offered me what I've got from my life as a footballer. I'll always be grateful to football and all it gave me to become the person I am today. Being in a collective sport teaches you how to deal with people and to always give everything you've got for your collective cause, every single day.
Perhaps the biggest thing football has taught me is exactly how strong I am. Until I suffered those injuries, I had no idea. I won a lot in my career and scored a lot of goals, but I can honestly say that football gave me so much more than I gave football.
Illustration: Adam Forster (opens in new tab)
The original version of this feature appeared in the May 2018 issue of FourFourTwo. Subscribe! (opens in new tab)
Thank you for reading 5 articles this month* Join now for unlimited access
Enjoy your first month for just £1 / $1 / €1
*Read 5 free articles per month without a subscription
Join now for unlimited access
Try first month for just £1 / $1 / €1