Supported
The football coach who was diagnosed with cancer after practicing kick-ups – but never stopped scoring
Julian Fiano was given just months to live after discovering he had cancer. Faced with tough treatment, giving up his dream job and tonnes of paperwork, it was only with the help of Macmillan Cancer Support that he could find his inner strength again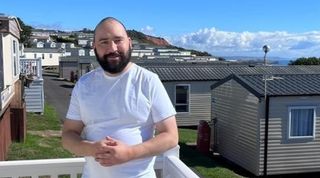 (Image credit: Julian Fiano)
"One season I was top goal scorer – and I had cancer!" Julian had been telling us that his cancer diagnosis in 2016 had come with a prognosis that he had six to 12 months to live. Yet a couple of years later, he was back playing five-a-side football and scoring for fun.
"Yeah, I'm proud of that," he laughs.
The key is understanding that everyone's cancer story is different – and that the stories don't always feel like they run in a straight line. Julian has had ups and downs in the six years since he found out he has cancer, but over time and through the help of Macmillan Cancer Support, Julian has found a growing freedom to talk about his feelings which has massively helped him deal with what he is going through.
He was just 28 years old when he noticed regular numbness in his left foot. But it was only when he was trying to play football one day that he realised something was wrong. "I was doing kick-ups one day. I never had a problem doing kick-ups, but that day I was all over the place. My left arm wasn't functioning properly, I couldn't pick things up."
At first, the doctors thought he had had a stroke, and was rushed off to a stroke unit, where an immediate MRI scan showed he had a mass on his brain "the size of a golf ball".
A week after those attempted kick-ups, he got the news that it was stage four glioblastoma, and was given his pessimistic life expectancy.
He had always been a good footballer, playing all sorts – five-a-side, sevens, or 11-a-sides – and was comfortable anywhere on the pitch, though preferring attacking positions. "Anywhere except goal. I'm 5'9", and I'm scraping that," he chuckles.
Learning he had cancer hit him hard, particularly because of what it meant for his ability to play.
Mentally and physically, he was going through so much. "I've tried five different chemotherapy drugs to treat my cancer. They failed. I also had two bouts of brain surgery, to reduce the mass as it kept growing."
On top of getting to grips with his diagnosis, Julian had to make some quick life decisions and couldn't believe the amount of paperwork that came with it, which was adding additional pressure to an already highly stressful situation.
He had not long landed his dream job as a football coach, but sadly he had to make the decision to retire: "I didn't know anything about disability benefits and what you can claim because I've always been a working man."
That was where a Macmillan (opens in new tab) nurse was first able to help, he says. "She told me, 'You relax, you've been through a traumatic experience. I'm going to deal with this. You don't have to worry about it.'
"That was such a relief. Paperwork is long, and to have someone to step up and do it really helped. I was thinking about the prognosis, the time I've got left and the memories I want to make. When the Macmillan nurse came in she was like an angel. My Macmillan angel!"
The "advice, financial help, and relief" Macmillan provided meant he felt able to confide in her about his darker moments that he didn't want to saddle his loved ones with.
"It's easy to give up," he says. "I'm not going to lie, some days I wanted to give up. Give up treatment and wait to die. That's a poor attitude to have and it's not fair on the people around me who love me. They know it's difficult, but they motivate me to carry on going."
So having a nurse around was different, and it helped Julian open up. "She'd always ask me how I feel.
"I remember telling her I felt suicidal and that made me feel like I was letting people down. She told me not to ever feel like I was letting people down. She told me off, basically – but in a good way! She told me there is light at the end of the tunnel."
That made him realise he wanted to share more with those close to him, including other male friends – and was surprised to find out it was easier than he expected. "I had a lot of support from my mates, so I told them how much I loved them.
"It turned out it wasn't hard. I told them how much I appreciated them and they said the same back. Any issues I had, I could ring them up and tell them I was struggling."
That made Julian re-evaluate the ideas that he's grown up with; that men shouldn't talk and shouldn't open up. "When we were younger, men opening up would be classed as a 'wuss', because you're showing your feelings. Since I've been diagnosed, I've been very open about my feelings."
And he credits a new generation of men in the public eye with helping create a better discussion around these things, too. As a Manchester United fan, he points to the abuse that United captain Harry Maguire has received online and his response to that as a useful talking point.
"To have people like Harry Maguire and top players coming out about their mental health and how important it is to talk is great. We come from an era where we were told to hold in our feelings," he says.
"My dad never showed his feelings. He was very old school, the same as my grandad. The idea was that if you're showing feeling, you're showing weakness.
"In fact, I think you're showing strength."
Research by Macmillan shows that sadly many men do still struggle to open up and though men make up just over half of cancer cases, in 2020 only 31% of calls to Macmillan's own Support Line, came from men. It's that kind of support that kept Julian going and now feels in a much better place. Julian hopes that by sharing his story, other men going through cancer or affected by it, will find the confidence to talk about it too.
"It's not easy to talk about cancer but it could help. Macmillan is at the end of the phone and online to provide support. Call 0808 808 00 00 or visit macmillan.org.uk (opens in new tab) and ask anything. For those who would prefer to speak online, there is also the Macmillan Online Community - join and chat anonymously.
Conor Pope is the Online Editor of FourFourTwo, overseeing all digital content, and joined the team in February 2019. He plays football regularly, both on grass and artificial surfaces, and has a large, discerning and ever-growing collection of football shirts from around the world.
He supports Blackburn Rovers and holds a season ticket with south London non-league side Dulwich Hamlet. His main football passions include Tugay, the San Siro and only using a winter ball when it snows.
Quizzes, features and footballing fun
Get daily World Cup 2022 news, updates and other football frolics to your inbox
Thank you for signing up to Four Four Two. You will receive a verification email shortly.
There was a problem. Please refresh the page and try again.