Supported
This young teenager diagnosed with cancer was told he would never play football again – now he's helping others on the same journey
After an unwillingness to talk left him facing a late diagnosis, Rian wants to break down the stigma around men opening up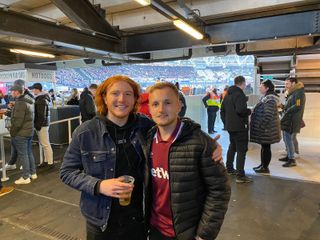 (Image credit: Macmillan)
Rian was first diagnosed with leukemia in 2014 when he was 14 years old. Having joined a new football team over the school summer holidays, he started to notice his leg was seizing up. Other small, seemingly unconnected things were happening to him too, night sweats, throwing up in the morning, and when he first tried shaving, a small cut simply wouldn't stop bleeding.
As these varied symptoms grew – he could barely walk, he was becoming increasingly pale and suffering from panic attacks – his mum took him to A&E.
"I was a kid, but I was at an age where I could understand what was happening. If someone said 'cancer' to me, I knew what that was," he tells FourFourTwo now.
In fact, it was the cancer journey of former Celtic and Aston Villa midfielder Stiliyan Petrov that meant when the consultant said "leukemia", he knew what that meant.
"It all happened in a five or six day period. I was a normal teenager, and then, bang: you're told you've got cancer, that you might lose your leg or die, then you're on chemotherapy, and you're told you'll lose your hair, you have to have physiotherapy, but you probably won't be able to play football again and do things that you love…"
The next period was, unsurprisingly, tough, as his world changed. "I would go home for three or four days, then back to hospital for four weeks. Hospital became home and home became an occasional weekend break."
One of the small pleasures he found in hospital came from the charity, Macmillan Cancer Support and their drop-in lounge, where he could see his grandparents when they came to visit.
"Sometimes people confuse Macmillan for end of life care. I used to think that it was just for older people, but the drop-in lounge and support from the charity became a safe haven for me. It became a comfortable place that reminded me of home in an odd way." It was that setting that made talking with his family during his darkest time easier.
Thankfully, the worst-case scenarios didn't come to pass. Rian went into remission, and the physiotherapy paid off. He defeated the odds and was back to playing football again and had a "normal summer".
By the next Christmas, he started to notice symptoms again. "First thing was little nosebleeds, then a cold that wouldn't go away. I was pale again, and having night sweats."
"I didn't tell anyone. I knew deep down what it was. I knew my leukemia was back. I was scared, and in the way you do as a youngster, thought if I don't accept it, it's not real. If I don't talk about it, it's not happening."
He's not alone in that. Only 31% of calls to Macmillan Cancer Support's Support Line - which is a free, confidential phone line open seven days a week from 8am to 8pm - come from men. Despite accounting for just over half of cancer diagnoses, men find it hard to talk about.
"March 3 was my official one year of remission. We went out as a family to celebrate. And I just sat there. I felt like a fraud. My nan was asking me if I feel alright because I was so pale, and I was snappy with her. I wanted her to stop asking."
That moment felt like the last straw. "My body gave me a signal the next day that I couldn't hide anymore. I woke up in the night with a massive blood clot in my mouth. In the morning, I woke up with a golf ball-sized lymph node and realised I couldn't hide it anymore. I had to walk into the kitchen and tell my mum that it had definitely come back.
"I went in for blood tests and when I went to get my results and told the consultant, 'I know what you're going to say.' He said, 'Yes. It has come back.'"
Again, the journey was tough. This time, he needed to wait for a transplant donor. Post-transplant, he had to spend six weeks of summer in an airtight room with only three designated visitors. "It was July and one of the hottest summers we'd ever had. I had to turn my phone off because all I could see on social media was my friends out partying after finishing GCSEs."
When he recovered, his approach again was one of silence.
"My first thought once I was out was: cut everything out, don't ever speak about cancer. Again, I felt if I didn't talk about it, it was gone."
Five years passed before he felt ready to talk about his experiences. But once he did, the dam inside him broke and he now advocates for cancer patients, particularly men, encouraging them to talk about their experiences through his Instagram page, The L Card (opens in new tab).
"I set these social media profiles up and started talking about it. I did it for me, but I realised there were other people out there who needed to hear it."
It started in 2020, when a friend invited him onto his podcast to discuss his journey. "It took us two hours," Rian says. "He just sat there and listened and I talked it through from start to finish. It was the first time I'd ever done that.
"When I got home, I felt exhausted by it, but I felt so much lighter."
Before speaking out on the podcast, Rian had felt embarrassed and hesitant to tell people about his cancer diagnosis. He would have brief chats about it with his family, but never went into detail. He had wondered why it was eating away at him. "I was getting unfit and unhealthy, falling out of love with things I used to really enjoy. Then once I started talking about it, things started to get better."
Research from Macmillan shows that sadly many men, like Rian, suffer with this feeling of embarrassment, with some feeling 'too proud' and worried it could make them 'look weak' and for others, they aren't aware of the support like Macmillan, that is available to them.
Rian said: "Some of the people who follow me are guys who don't talk about it yet, but are listening to me talking about it, and it helps them get to a place where they can talk about it. Maybe not in a public setting, but they know they can personally talk about it."
Rian has joined forces with Macmillan to try and break down this stigma and get more men talking about cancer.
It's not easy to talk about cancer but it could help. Macmillan is at the end of the phone and online to provide support. Call 0808 808 00 00 or visit macmillan.org.uk (opens in new tab) and ask anything. For those who would prefer to speak online, there is also the Macmillan Online Community (opens in new tab) - join and chat anonymously.
Conor Pope is the Online Editor of FourFourTwo, overseeing all digital content, and joined the team in February 2019. He plays football regularly, both on grass and artificial surfaces, and has a large, discerning and ever-growing collection of football shirts from around the world.
He supports Blackburn Rovers and holds a season ticket with south London non-league side Dulwich Hamlet. His main football passions include Tugay, the San Siro and only using a winter ball when it snows.
Quizzes, features and footballing fun
Get daily World Cup 2022 news, updates and other football frolics to your inbox
Thank you for signing up to Four Four Two. You will receive a verification email shortly.
There was a problem. Please refresh the page and try again.